The recipe for Baked egg bread slices yields crispy bread with soft baked egg. Perfect for the kiddos who struggles in the breakfast table. Can be baked for the entire family at a single stretch, which reduces standing time in the kitchen.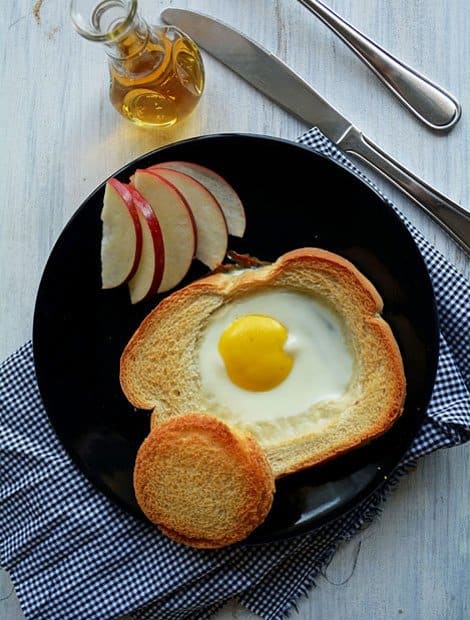 Serving for the children is always involved the tremendous amount of creative thinking. Serving them with regular bread and omelettes or scrambles or even french toast makes them boring. If the children get fascinated every day with the food, there are more chances of making them eat food without much fuss and mess.
The making baked egg bread is a common recipe but serving is very unique. Be creative with the shapes and sizes for the children to have fun on the dining table.
The bread is crispy and melts in the mouth, the egg turned off soft and moist. Everyone in our family loved it. Can be made in the breakfast when everyone needs a small pep to start their day.
You may also like other kids friendly recipes like, Nutella stuffed cake pops, Raspberry crepe, butternut squash mac and cheese.
Baked Egg Bread Slices
Prep time : 10 min
Cooking time : 15 min
Yield : Serves 2
Ingredients:
Bread slices  – 4
Egg  – 4
Salt  – 1/2 teaspoon
Pepper Corns / Chili Flakes  – 1/2 teaspoon(optional)
How to Make:


1. Preheat oven to 400°F and Line the baking tray. Arrange the bread slices.


2. Using the cookie cutter or any lids, cut the center of the bread slices. Carefully remove the chopped out portion.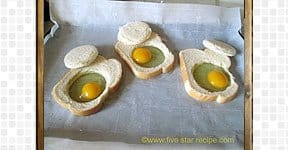 3. Place the tray on the even surface. Break and drop an egg into the hole. Sprinkle salt. Sprinkle pepper or chili flakes if needed. Bake for about 15 minutes or until the egg is done completely. Serve hot.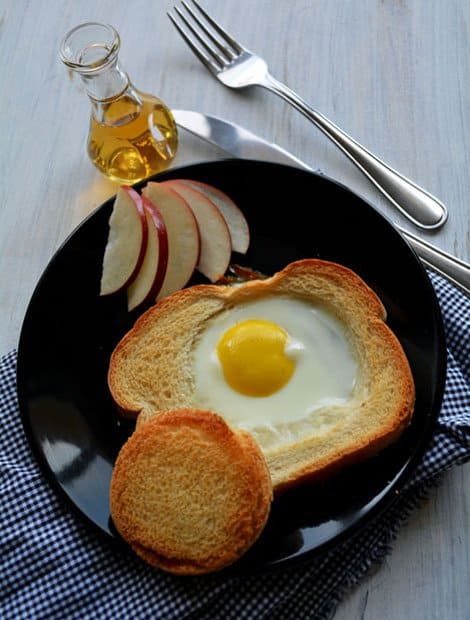 Serving Suggestions:
1. Serving in the morning for breakfast, or as the snack in the teatime would be the ideal timings.
Tips and Variations Baked Egg Bread:
1. Try adding different herbs, and different shapes to cut out the bread.
2. While serving for the kids, be innovative in using different cutters, try using your kid's favorite characters cookie cutter to make them feel interesting.