Stir fry green beans-Beans Mezhugupuratti is a Kerala style Beans Stir Fry recipe. It is a simple, everyday dish which served with the rice for the lunch. This recipe yields well-coated spring beans with spicy hot masala. To adjust the intensity of the spiciness, increase or decrease the number of red chilies you are adding to this recipe. This recipe is perfect to have with dal, rasam etc.


Spring beans aka beans(that's how we call it, just "beans"), is a veggie that we include at least once in a weeks time. As it is abundantly available, also healthy green veggie with tons of nutrients. We normally make it just with coconut, cooked dals.
If you are thinking of making the spicier side dish for a bland main course, then this Kerala style stir fry could be your best choice.
If you are searching for other green bean recipes, then do check Best Chinese Green bean, Balsamic Green Bean, Beans Poriyal recipe.
Stir fry green beans-Beans Mezhugupuratti
Prep time : 10 min
Cooking time : 15 min
Yield : Serves 2
Ingredients:
Beans/Spring Beans  – 500 grams
Onion  – 1 (Medium Size)
Red Chilies  – 2-4
Garlic  – 3 pods
Cooking Oil  – 3 tsp
Mustard Seeds  – 1 tsp
Urad Dal  – 1 tsp
Curry Leaves  – 1 Sprig
How to Make Stir fry green beans:


1. Wash and clean spring beans well. And chop them into small sized pieces.
Hint: I prefer to have it small sized cubes, but can also be chopped as per you desire.


2. Add these chopped beans to a pan along with 1/2 cup of water. Cook, it by covering it with a lid. Remove from fire once it is completely done. Drain excess water if any, or use this water for any other dish.


4. Grind chopped onion, red chilies, and garlic into fine paste. Increase or decrease the red chilies quantity as your choice.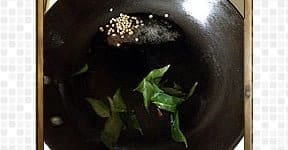 5. In a pan, add a cooking oil followed by mustard seeds, urad dal, and curry leaves. Wait till the mustard gets splutter.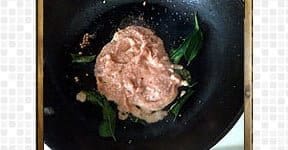 6. Add the ground onion paste to the pan.


7. In simmer flame, saute it until it leaves out the raw flavor. Add a teaspoon of cooking oil if necessary.


8. Once the masala is completely done, add cooked beans. And in medium flame, continue to saute it until beans are well coated with the ground masala. Add grated coconut and remove Stir fry green beans from the fire.

Serving Suggestions for Stir fry green beans:
1. Serve along with white steamed rice,  sambar rice.
2. Adding grated coconut is an option. Avoid adding it if you are a healthy freak.
3. It is a side dish to be served with rice.
4. The left over can be had as stuffing for a sandwich.
5, The left over can be added to dosa batter to make Oothappams.
Tips and Variations:
1. Add chopped carrots to make a colorful, healthy variations.
2. To retain all the goodness of the vegetable keep them covered while cooking.
Tips For Cooking in Non-Indian Kitchen:
1. Avoid seasoning with mustard seeds, urad dal, if they are not available to you.
2. Try experimenting seasoning with just cumin seeds, or any other lentils.
Liked this Stir fry green beans recipe? You may also interested in checking out "Kerala Style Aviyal"