Looking for Indian style spicy recipes with chicken breast, here is the best recipe for you, Fresh Coriander Chicken Breast Recipe.  This is the recipe for hot, spicy, coriander flavor chicken to really spice up your day. The ground coriander leaves added here, blends well the chicken and brings out a beautiful flavor.


Chicken breast portions are very good for grilling, frying etc…but it is really a tough job to incorporate chicken breasts with any Indian styled gravies. As it does not blends well with the gravy.
So, If you are like me, have chicken breast in freezer and still wish to make Indian style dish…this is the perfect recipe( I always opt for chicken thigh portions for making Indian gravies).
When you are planning to cook chicken breasts, take these points into considerations..
Chicken breasts tends to cook faster. Solution: Cook in medium flame.
It becomes chewy when overcooked. Solution: When the pieces are no longer pink in the center, they are cooked.
Less potential to absorbs flavors. Solution: Marinate the breast for at least 20 minutes.
Do you want to check other chicken breast recipes and their treatments?  World's easiest Tandoori Grilled chicken recipe, Lemon Grilled Chicken Recipe, Garlic Chicken, Easiest Teriyaki Chicken. 

Coriander leaves have unique beautiful flavor, I say chicken and coriander leaves are like conjoined twins, inseparable. Whatever may be the chicken recipe, sprinkle some fresh coriander leaves to it and feel the difference. Mostly Indian non-vegetarian dishes ends up with sprinkling of fresh coriander leaves.
The medicinal properties of coriander leaves have a long list to be discussed but to say a few, it is good in controlling cholesterol, it is a traditional treatment for type 2 diabetes, and it contains antioxidants, which delays the spoilage of food. Rather than its medicinal values, it tastes and smells good which is on of the the basic reason to include in our food.
Chicken Breast with Fresh Coriander Leaves
Prep time :  7 min,  Cooking time :  20 min,  Yeild : Serves 2
Ingredients:
Fennel Seeds  – 1 tbsp
Chicken breast  – 500 g
Onion  – 1
Chili Powder  – 1 tsp
Coriander Powder  – 1 tsp
Cooking Oil  – 3 tbsp
Salt as required
Ingredients For Grinding:
Tomato  – 1
Ginger  – 1″
Garlic  – 3 cloves
Chopped Coriander leaves  – 1/4 Cup
How to make: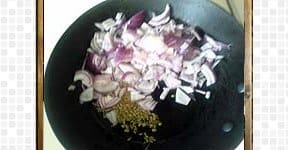 1. Heat oil in the pan, add fennel seeds and wait until it becomes golden brown. Then in medium flame, add chopped onion and fry till it becomes soft and pink.


2. Meanwhile, wash, clean and prep ginger, garlic, fresh coriander leaves and tomato. And grind them in the mixer grinder/blender to fine paste.
3. Once the onion in the frying pan turned soft and this ground paste and reduce the flame further and fry them for another 2-3 minutes. Stir them occasionally and make sure nothing sticks to the bottom of the pan.
4. By this time ginger and garlic should out left out its raw smell, if not fry them little longer for a while. Then add half a cup of water and salt, bring them to boil.


5. Add chopped chicken, and in medium flame, cover the lid and allow it gets cooked completely. Stir them occasionally whenever needed.
6. Drizzle some fresh chopped coriander leaves and serve Coriander Chicken Curry hot along with rice, roti.

Tips and Variations:
Try your hands with mushroom, paneer, cauliflower etc. with the same recipe.
Do not miss latest recipes and its tips, Follow us on Facebook, Pinterest, Instagram