Super Easy Garlic Pull-Apart Rolls Recipe are made easy with flavorful thyme and olive oil. Very easy n quick to make, which gets us lots of appreciation. Forgot to tell you, it is cheese less recipe.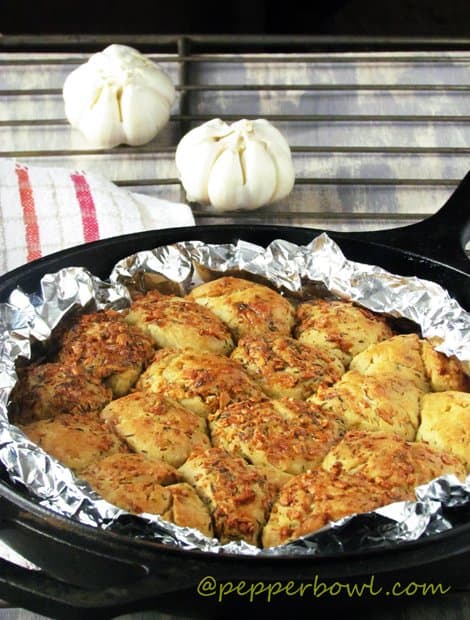 This Garlic Pull Apart Rolls is an easy bread for party lovers. We are addicted to garlic bread because of its strong flavor and its rich taste. I do love the flavor of the herb 'Thyme', like to add the thyme in most of my recipes, with chicken, Rotis, and in any side dishes, when I need a strong flavor. The combo of garlic and thyme mesmerizes everybody.
So I decided to go for thyme with garlic for the pull apart bread. It started bombing the entire house with the garlic flavor, early from its backing session. I had the yeast to make pizza crust, which doesn't require a resting period. I just went with the directions in yeast envelope. It requires just beat and knead the flour and that's it….no resting time, waiting time…just bake it immediately after preparing the dough. It came out good. And everyone in my family is happy with the final product. I went with this fast n easy pizza crust yeast. But we can also go with regular yeast and with the regular process of making this Garlic Pull Apart Rolls.
Do not forget to check into one more super tasty 'Pineapple Bread'.
Super Easy Garlic Pull Apart Rolls
Prep time :  5 min,
Cooking time :  20 min,
Yield : Serves 4
Ingredients:
2 Cups of All Purpose Flour
1 tsp of Sugar
1 tsp of Salt
1 Envelope of  Pizza crust Yeast(2¼ tsp of active dry yeast)
4 tbsp of Olive oil
1 Pod of Galic
2tsp of Thyme Dried
How to make Super Easy Garlic Pull Apart Rolls:


1. Take yeast, here I have added 1 packet of yeast, which required 2 cups of flour.


2. Combine 2 tbsp of olive oil, 2/3 cup of warm water, 1 tsp salt, 1 tsp sugar, 1 pocket yeast, and 1 cup of all purpose flour.


3. Beat them well for 1 min and then add the remaining 1 cup flour. The flour will be sticky like this.


4. Combine melted butter, minced garlic, thyme with olive oil, to form a paste like consistency.


5. Olive oil can also be substituted with butter or any other oil.


6. Make small portions of the flour. Oily fingers make possible to make the small ball like portions.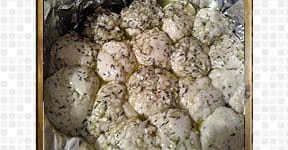 7. Cover the balls with the garlic n thyme dip, which we have prepared already.
8. Bake in the preheated oven for 425 degrees F, for 20 min, till the upper crust becomes golden brown. Serve Garlic Pull Apart Rolls hot.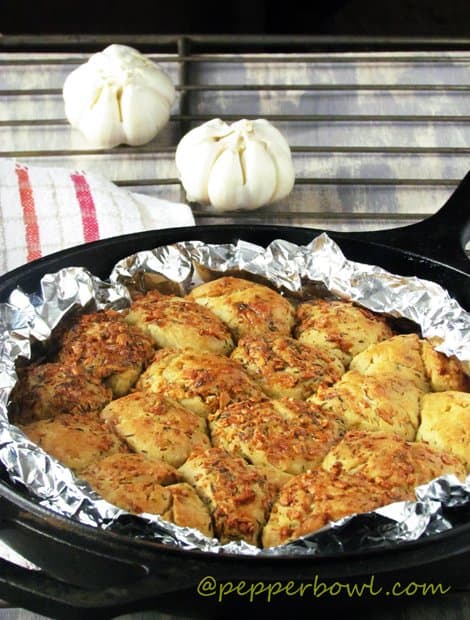 Serving Suggestions:
Serve along with fresh salad, makes this as a wholesome food.
Tips and Variations Super Easy Garlic Pull Apart Rolls:
1.Frozen dough can also be used for making this pull apart garlic n thyme bread, but make sure you thaw it before baking.
2.Regular yeast can also be used, but it requires waiting time as per its direction.
You may also check with other baking recipes like Apple Chips, is another way to treat yourself.
Liked our Garlic Pull Apart Rolls recipe? Follow us on Facebook, Pinterest, Instagram