Paneer Sandwich Recipe is the best recipe for complete food. One bite can give us the soft textured bread, buttery cheese, ice lettuce, tender tomatoes, crunchy onion, pepper's superb texture, juicy and moist meat with the drizzle of tomato sauce with the crunchy fires. hmmm…yummy..lip smacking.. One day in restaurants? we need not think about the calories, the fats…but that cannot happen in our home.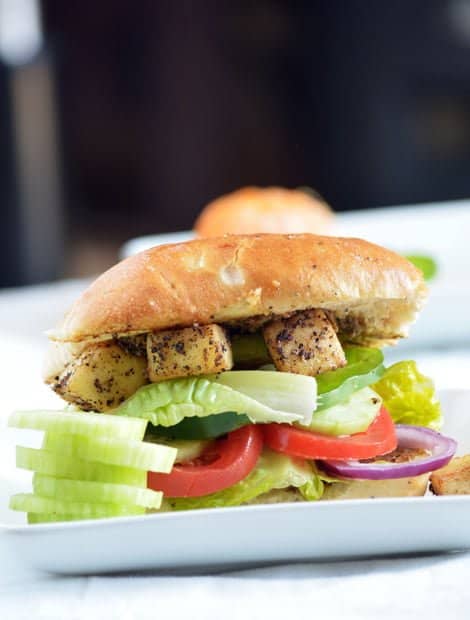 I'm alone to have my lunch today and I don't feel like cooking for myself. Sandwiches are my choice, for the lazy days, where I need not spend hours in cooking. Just slice the vegetables, put them inside a soft bread, yes we are done.
I planned to go with the cottage cheese (paneer) sandwiches with a little Indian twist. Cottage cheese can substitute with both meat and cheese. While I have this dish for the lunch, I will have Grilled Lemon Chicken for dinner.
Searching for more Paneer Recipes? check Paneer Tikka and Chettinad Paneer masala.


As it has cheesy flavor and also meaty texture. Here, I no need to tell everyone about the goodness of Cottage cheese, everyone knows it already. It is a good source of calcium and protein, It is best for the people who are diet conscious(hehe…I'm not into that category). I did prepare my sandwich today by following this step.
Paneer Sandwich Recipe
Prep time :  5 min,
Cooking time :  5 min,
Yield : Serves 1
Ingredients for Paneer Sandwich Recipe:
2 slices of Bread(any)
2 tbsp of Coriander chutney (left over)
8-10 cubes of Cottage Cheese / Paneer
2 slices of Onion
2 slices of tomato
4 slices of Cucumber
2 leaves of Lettuce
2 slices of Capsicum/bell pepper
How to make:



1. My chopping board has onion, tomato, bell peppers, lettuce, cucumber, cottage cheese, leftover coriander chutney.


2. Clean, wash and slice the veggies.


3. Saute cottage cheese in little oil with the drizzle of salt and pepper.


4. Keep the sauteed cottage cheese aside.


5. In the same pan, toast the bread with little olive oil.


6. Layer the bread by spreading the chutney and the sliced veggies. Let the cottage cheese/paneer to be on the top layer. Cover it with the other bread by pressing them little firmly.
7. Serve Paneer Sandwich with fries, if you are on the diet side, serve them with a salad. A super crisp and nice salad can also be prepared with the leftover sliced veggies.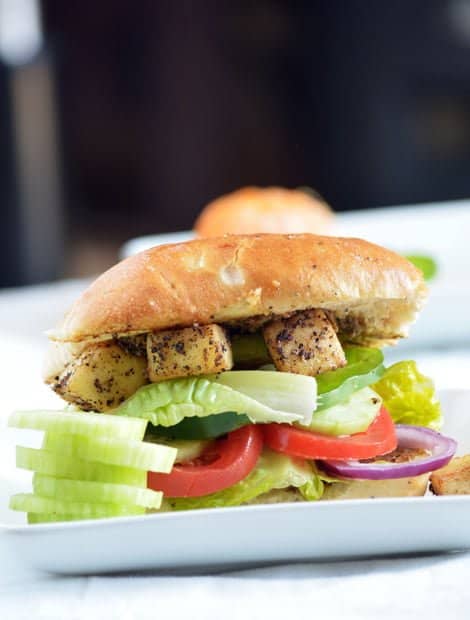 Tips and Variations for Paneer Sandwich Recipe:
Do not discard the remaining sliced veggies, serve it as a salad with little salt and pepper.I love to have this yogurt fruit salad as the side.
Do not miss latest recipes and its tips, Follow us on Facebook, Pinterest, Instagram