Egg scrambles, yes everyone of us knows it already to make it and this is for the beginners who are new to the kitchen. This recipe is to make our life easier.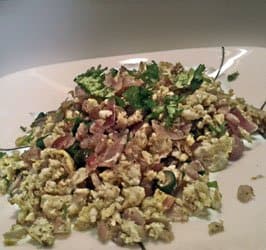 Handling are the first thing I learnt in the kitchen. I could always remember my school days, where my mom taught me to make this. I always wonder like a magic in front of my eyes. The gooey mixture turns into a perfect crumbles…wow ..it is a feast to the eyes.
To get the perfect egg scrambles, always cook them in the medium to low heat. The high flame cooking needs constant stirring sometimes may leads to burn on the edges. Burning and sticking at the bottom gives out non edible smell, which I hate always. When the eggs scrambles gets burned, I feel my entire kitchen stinks.
To get your egg scrambles even richer, add butter instead of cooking oil in this recipe. If you have time and makes this recipe even more colorful, you may add grated carrots and grated cabbage. They also blends perfectly with egg and makes your food to worth for anything in the world.
If you have mastered this recipe, You may also check out other egg recipes like, Indian Egg Gravy, Egg Bread Cups, Baked egg for the kids could also become the easiest job.
You may also interested in tips for boiling the eggs perfectly every time we make.
Egg scrambles
Prep time :  3 min
Cooking time : 3 min
Yeild :  Serves 2
Ingredients:
3 Egg
1 medium size of Onion
1 Green Chili
2 stalks Coriander Leaves
How to make:
Chop onions, chilies and coriander.
In a pan add oil and then add onions, green chilies and egg with salt and stir it for 3-4 min …
Season it with crushed pepper, and now perfect egg scrambles is ready.
Note:
Cook in the medium to low flame.
To get make your scrambles crunchier, do not fry the onions too long.
Adding curry leaves and coriander leaves gives out Indian style, but you can also avoid them from using it.
Liked our recipe? Follow us on Facebook, Pinterest, Instagram