Green apple blueberry on skewer sticks makes it look appetitive and appealable. Can be a perfect party food. A real simple way of serving food to the fuzzy eaters. Making this fruit recipe is very easy, just cut them, insert them in the stick, sprinkle some salt and here you go, it is ready to be served.


Somehow or the other, I have always attracted towards fruits and its colors. Even If we go for buffets, I prefer to try out the fruits first, though they might be in the dessert sections most of the time. I could really feel a couple of raising eyebrows, and could always hear my son's whispering voice, 'Mom, desserts should be in the final course'.  It may kind of look weird for others, but it shows my love towards the fruits.
My guys at home love these green apples, rather than the red apples. The taste of the green apples are peculiar, always puts me in doubt whether it has to be considered as vegetable or fruit. I throw in some salt and crushed pepper and serve. For us, green apples are the Western version of Indian mangoes.
If you are searching for other easy and eye appealing salad recipes, then do check Healthy strawberry salad, Dragon Fruit Salad, Cranberry Salad.

Green Apple Blue Berry Salad-party appetizer Recipe
Prep time : 5 min
Cooking time : 0 min
Yield : Serves 2
Ingredients:
Green apple  – 1
Blue Berries  – 1/2 Cup
Skewer Sticks  – 8
Salt  – a pinch
Crushed Pepper  – few pinches
How to Make: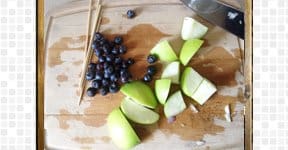 Wash and clean apple and blueberries. Cut green apple into bite size pieces and keep them ready. Gently insert the apple cubes and blueberries alternatively into the skewers. If skewers are not available, then toothpicks are also the better choice for this party appetizer. Finally, sprinkle some salt and crushed pepper. Serve immediately.

Serving Suggestions:
1. Serve along with dipping sauce of your choice.
Tips and Variations:
1. Try experimenting with various fruit varieties.
2. Careful and proceed with caution when serving for children.
3. If you do not wish to serve with skewers stick or toothpicks, then serve them as assorted.You may also interested in checking out "Quinoa Corn Salad"
Do not miss latest recipes and its tips, Follow us on Facebook, Pinterest, Instagram