This pickle powder is South Indian style very spicy powder. Very easier to make and can be stored for up to months. Can be used for making any kind of pickle.
Pickles are part and parcel of every South Indian's life. A jar of pickles owns its place permanently in every Indian's kitchen counter top. In our family, pickles making are like festive occasion in every summer. Buying fresh veggies, process them, preserve them and distributing them among the friends and relatives, with love and affection. Apart from the recipe, its a culture which brings everyone closer.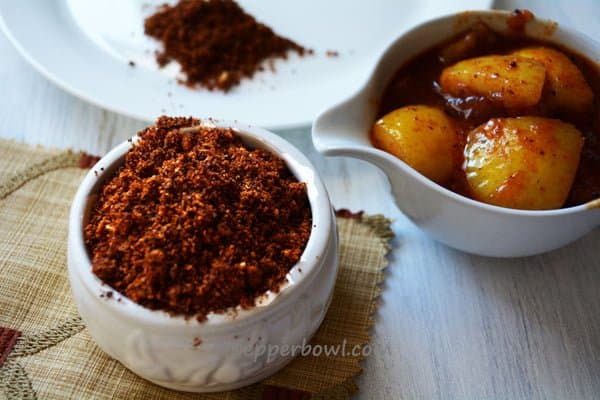 Super hot South Indian Style pickle powder, which could preserve the pickles for more than a month's time. This powder is perfect to make any instant pickles.
Pickles are generally made in the summer months and stored for the remaining months. As summer brings the wide range of vegetables from mangoes to lemon. So pickle powder would also be made in such a way that it would preserve the veggies longer. Oil, mustard, and salt acts as a preservative and keeps the pickled veggies for more than a year.
But if you are preferring to make pickles for the shorter duration, then this recipe would be the ultimate choice. I always make and stores this powder, and whenever needed I add this pickle powder to the salted veggies, then super duper hot pickles ready in moments. And this pickle powder makes the pickle to long last for more than a month's time.
You can make Amla pickle, maa inji pickle with this powder.

Instant Pickle Powder, South Indian Style
Prep time :  3 min,
Cooking time :  5 min,
Yield : A cup of powder
Ingredients:
1 Cup of Red Chilies
1 tsp of Mustard
1 tsp of Methi/fenugreek seeds
1 tsp of Cooking Oil
1 tsp (preferably solid version) of Asafoetida
How to make:


1. In the medium flame, heat oil in the pan, add mustard seeds, fenugreek seeds, and asafoetida. Allow the mustard to get splutter. Then keep them aside. Then in the same pan toss red chilies, till they become crisp and changes its color.


2. Bring all these ingredients to the room temperature. Using mixer grinder grind finely and store them in air tight container.Takes few teaspoons of pickle powder whenever needed.

Tips and Variations:
Store this in air tight container for stay fresher for the longer time. I usually make this once in a while, but often I use the same powder to make the variety of pickles.Check out the recipe of making Lemon Pickle with this pickle powder. Have you checked Idli podi/chutney powder recipe to make at home?
Do not miss latest recipes and its tips, Follow us on Facebook, Pinterest, Instagram