Masal Vadai /Kadalai Paruppu Vadai whatever name you call it, id doesn't matter. Popular and delicious food will be always called by different names in different regions.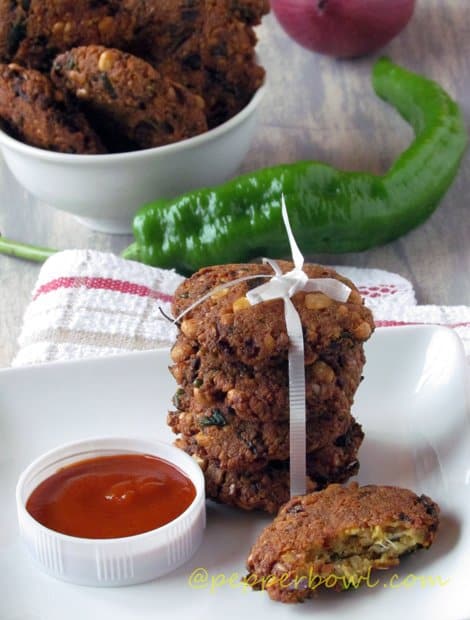 This is the most popular street food in Tamil Nadu and best snack to have it with Tea. Bengal gram is rich in proteins and it is ideal for kiddos too. It is freezing rain outside and masal vadai in this weather…hmmm.. makes me swim in the clouds.
The other South Indian snacking recipe of Crispy Pakodas, Easy Murukku, Namkin Pare could help you surprise you guests instantly. Let's dive into the recipe now.
Masal Vadai / Kadalai Paruppu Vadai
Prep time :  10 min,
Cooking time :  15 min,
Yield : Serves 6
Ingredients:
1 Cup of Bengal Gram / Kadalai Paruppu
2 each of Red, green chilies
1 medium size of Onion
2 stalks of Curry leaves
1″ of Ginger
4 cloves of Garlic
1 tsp each of Fennel seeds, cumin
Salt to taste
Oil for Frying
How to make:


1. Soak Bengal gram for about 60 min. Crispiness is completely depended on the soaking time. If we need soft and tender vadai's then we can prolong the soaking period, may be for about 2 hours.


2. Grind ginger, garlic, fennel seeds, cumin, red chili. and followed by soaked Bengal gram and salt.


3. To the mixture add minced onions, curry leaves, and green chilies. Make small balls out of the mixture and deep fry them in the oil till both the sides become golden in color.
4. Our crispier Masal vadais are ready…and now it is the time to have it with tea, sauce, chutney….It can be paired up with anything, as you like.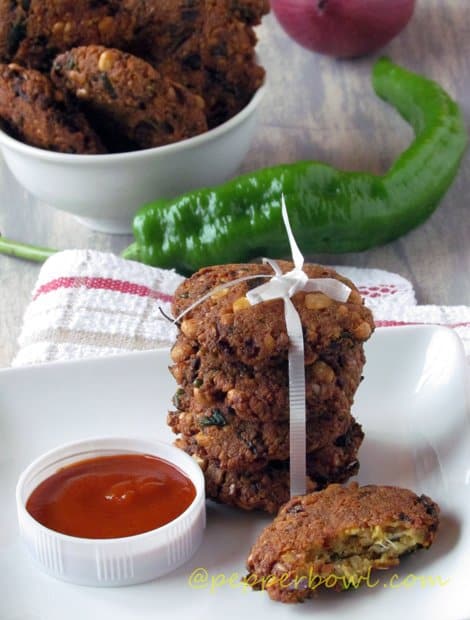 Do not forget to check out other interesting South Indian snack recipe, Banana Bonda.
Serving Suggestions:
1. It is a crowd pleaser recipe, Best for making South Indian Parties. 2. Usually served as a snack for the evening time or as a side dish for lunch in South Indian homes.
Tips and Variations for Masal Vadai:
1. If the Bengal gram/ kadalai paruppu soaked for longer than the prescribed time, then it may be consuming more oil, while frying.
2. Fry the vadais/fritters in medium flame, these makes the vadais to cook completely.
3. For very crispier version, pat the vadai mixture into flat circles before frying them in oil.
4. In our home, we call them as amai vadai(maybe it resembles tortoise shell shape pattern), to get this pattern, we need to keep the ball mixture in between the center of our palms and press them gently to get, elliptical shape, makes the amai vadai, crispier extremes and softer in center.
Liked this Masal Vadai recipe? Follow us on Facebook, Pinterest, Instagram