The creamy texture of 'Malai Kofta Recipe' and slightly tangy gravy of the cottage cheese ball make the dinner heavenly.

Can you just tell me an Indian restaurant, which does not have 'Malai Kofta' in its menu card? I did not come across, one such restaurant in India or elsewhere. All most all Indian restaurants have few menus in common, and 'Malai Kofta' can be listed in top ten. I think restaurateurs include this in their menu card for its richness, taste which makes everyone like it.
The delicious aspect of this recipe is very easy and simple to prepare at home. This recipe requires to add fresh cream, we can substitute with light cream to suite 'diet programs'. I prepared this yesterday for the family and everyone loved its creamy texture and its taste.
Searching for more side dish recipes for Roti, Paratha? Do check Paneer Butter Masala, Moong Vadi Subji.
I love to serve with the garden fresh green salad like Cantaloupe Salad along with this gravy.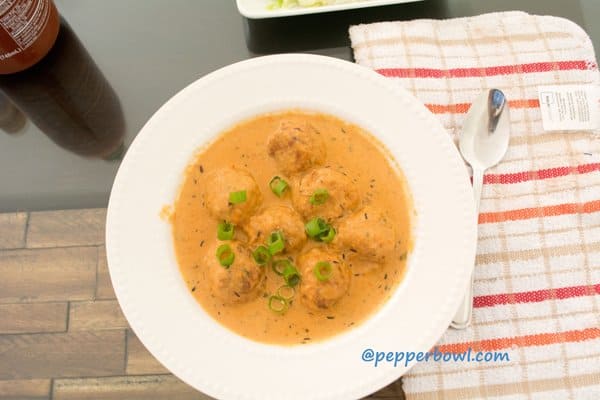 Malai Kofta Recipe / Cottage cheese balls in tomato gravy
Prep time : 15 min,
Cooking time :7 min,
Yield : Serves 2
Ingredients for Malai Kofta Recipe:
1/2 cup of Grate Cheese
1/2 cup of Mashed potato
2 stalks of Coriander leaves
Salt to taste
1 tsp of Shahi jeera
1 tsp of Kasurimethi
Oil for frying
2 tsp of Rice flour
For Grinding:
3 tbsp of Chopped onion
3 tbsp of Chopped tomato
1 tsp of Chopped ginger
1 tsp of Chopped garlic
1 tsp of Chili powder
1 tsp of Coriander Powder
Salt to taste
How to make:


1. Mash paneer well and add the equal amount of potato and combine both well.


2. Add the little salt, chopped coriander leaves to the above mixture and blend them together well. Make this mixture into small balls.


3. Make a thick paste with rice flour and water. Dip and coat these balls with this paste.


4. And fry them in oil, till they become golden brown in color.


5. Saute chopped onion, tomato, ginger, garlic and chili powder, coriander powder. Allow it to room temperature.


6. Grind above ingredients with little water to form a thick paste.


7. In a pan add oil, shahi jeera. After jeera splutter in the oil add the ground paste and fry them till oil separates. Bring it to low flame, then add fresh cream and milk.
8. Once everything starts boiling add the koftas and crushed Kasturi methi. Garnish it with coriander leaves/spring onion. Serve Malai Kofta with rice or parathas.
Serving Suggestions:
Serve as a side dish for roti/chappati/paratha.
Tips and Variations Malai Kofta Recipe:
The same recipe can be used with paneer also.
Liked our recipe? Follow us on Facebook, Pinterest, Instagram