I had a little ready-made brownie mix in my pantry. So, I thought I could make him the thin layer of brownie and gave the recipe title 'brownie crust' :). From the beginning to end it took only about 20 min including the baking time.


My son was sitting behind me, while I browse through other bloggers sites. We had a chance to see the variety of cakes, with so many options, with/without egg, with/without oven etc. My son got tempted and wished him one. I had only a little time left, so I decided to bake a brownie as cake, with requires no prep works.
Pancake mix Cookies would be another easy cookie, you can make straight away from the store bought ready made mixes.
Do not forget to check out another recipe of Hot Pocket Cookies, here in PepperBowl.
Nutty Brownie Crust
Prep time :  5 min,
Cooking time :  15 min,
Yield : Serves 4
Ingredients:
1/4 Pocket of Brownie Mix
1 Egg
3 tbsp of Oil
10 Fresh Cherries
4 Walnut
6 Pecans
Method: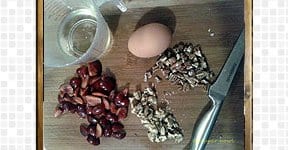 1. Chop cherries, walnuts, pecans. The directions on the brownie mix box require egg and 1/4th cup oil.


2. Beat the egg well till it becomes fluffy. Add 1/4th cup of any oil and beat them again well.


3. Add brownie mix in three times and combine the flour and whip the batter well.


4. Dust chopped walnuts in the flour. Sprinkle walnuts as the bottom layer.This makes the walnut to appear on the top, when we turn the cake, once it was done.


5. Then pour the beaten mixer on top of the chopped fruits and the nuts.


6. Bake it in the preheated oven for 350 degrees for about 12 -15 min(as per directions on the brownie mix box). Use the toothpick to check whether brownie was done or not. Let it cool for some time.


7. Turn it upside down, and cut them into desired pieces. Serve them with chopped nuts or with chocolate syrup.
Serving Suggestions:
I love to have in my coffee time.
Tips and Variations:
For the little variation, add dates.
Do not miss latest recipes and its tips, Follow us on Facebook, Pinterest, Instagram