Peerkangkai thol thuvaiyal/ Beerakai Chutney is a side made from the skin of Ridge Gourd. This chutney is little tangy, mild and loaded with tons of fiber. Thuvaiyal, refers to thicker consistent chutney, commonly made in every Tamil homes. Ridge Gourd has hard skin, which gives a perfect texture to the chutney.


I got introduce to this chutney only after my marriage. My FIL buys peerkangkai from the market only to make this chutney and asks me to prepare this chutney. He is very fond of this recipe, same like his son and same like his grandson. So whenever I plan to go for this recipe, I could always remember my FIL. This chutney is little tangy, mild and loaded with tons of fiber.
Looking for some other chutney recipe? check out this Gonkura Pachadi, Ginger Pachadi.

Peerkangkai thol thuvaiyal / ridge gourd peel chutney / Beerakai Chutney
Prep time :  5 min,
Cooking time :  5 min,
Yield : Serves 4
Ingredients:
2 Ridge gourd / Peerkangkai / Beerakai
Half of Onion
2 Red Chili
1 small sized ball of Tamarind
1 tsp of Mustard
1 tsp of Black Gram
1 tsp of Asafoetida
1 tsp of Cooking Oil
Salt to taste
How to make Peerkangkai thol thuvaiyal:


1. Wash and clean ridge gourd.


2. Peel the skin with the help of a peeler or you can also remove the skin with the sharp knife.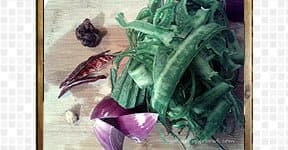 3. You don't need coconut for this chutney as ridge gourd skin already contains more of fiber. For the tamarind, prefer little sweeter verity. This makes the chutney more delicious.


4. In a pan add oil, mustard and black gram and wait till the mustard splutter.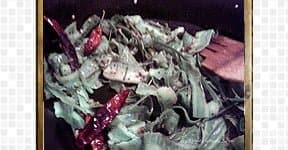 5. Then add onions and asafoetida and fry them till the onion becomes softer. Now it is the time to add ridge gourd peel and fry them till the peel becomes soft and tender. Let it cool and bring it down to the room temperature. Grind this mixer in the blender / mixer to the coarse paste. (If you are going to the fine paste, then you will loose its texture).


6. Serve Peerkangkai chutney with hot Idlies, Dosais, Rice. I always love to have this Ridge gourd peel chutney / Peerkangkai thol thuvaiyal as a side for my rice for the lunch.
Tips and Variations for Peerkangkai thol thuvaiyal:
Tamarind for the chutney / thuvaiyal, prefer the little sweet verity of tamarind.
I always stock both the verities of tamarind, sweet and sour.
Sweet tamarind I always use for these type of chutneys. And the sour tamarind I use for making Samber, Fish curry etc.
Do not miss latest recipes and its tips, Follow us on Facebook, Pinterest, Instagram