Rajma Masala, Spiced Red Bean Gravy, A complete and a very famous meal across Northern India. An irresistibly tasty gravy but very easy and simple to make, a real treat to everyone. Step by step procedures with pictures, with other alternatives of using ready made ingredients, also discussed here.

You can find the tips for making a Non-Indian Cooking version, below.
Rajma Chawal recipe needs two separate processes. The first procedure is to cook the rice. And the next procedure is to make Rajma Masala. For making the first step-cooking the rice-follow your own successful method. Everyone's tips and tricks are different, so follow your own. Sure I will come up with another detailed post for the best methods of making Rice.
For making perfect and evenly cooked rajma, soak it for 6-8 hours and pressure cook it for 4-7 minutes. The cooking time depends on upon the quantity and pressure cooker. So decide accordingly.
Liked this Rajma Masala Recipe? and If you are looking for other Indian side dishes like Malai Kofta, Paneer Peas Masala, Aloo Palak Gravy, do check them.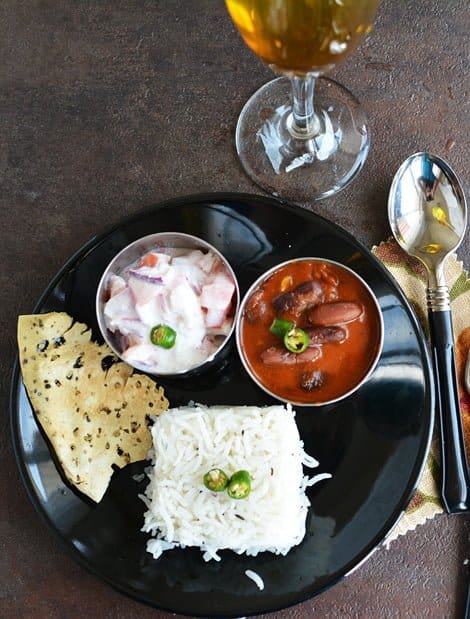 Rajma Masala, Rajma Chawal, Spiced Red Bean Gravy
Prep time :  15 min ,
Cooking time :  45 min ,
Yield : Serves 2
Ingredients:
Basmati Rice  – 1 Cup
Cooked Rajma/ Red kidney bean  – 1 Cup
Onion  – 1(large size)
Tomatoes  – 3
Chopped Ginger  – 1 tbsp
Chopped Garlic  – 1 tbsp
Shahi Jeera  – 2 tsp
Chili Powder  – 3/4 tsp
Coriander Powder  – 1/2 tsp
Turmeric Powder  – 1/4 tsp
Garam Masala  – 1/2 tsp
Salt  – 1 tsp or as required
Cooking Oil  – 2 tsp
How to Make Rajma Masala:


1. In the beginning, add a teaspoon of Shahi Jeera and a teaspoon of salt. Continue to follow your usual method of cooking the rice. My way of cooking the rice is, 1. soak the rice for 10 mins. 2. Add 5-6 cups of water in a big pot 3. Once the water starts boiling, add pre-soaked rice. 4. Cook it for 8-10 mins in medium to high flame. 5. Drain the excess water.


2. Heat pan over medium to high flame, add a teaspoon of oil along with a teaspoon of shahi jeera. Wait for a minute until shahi jeera makes the little crackling sound.


3. Add chopped ginger and garlic to the pan, saute until ginger and garlic starts leaving out its raw smell.  Add chopped onion and continue to saute it in medium to simmer flame(Be cautious and keep an eye on the pan, onions may get burnt easily. The Burnt onion flavor can spoil the whole dish). Cook onions until they become pink and translucent(sorry I did not have a picture for this process, as I was busy in chopping other veggies :).


4. Make tomato puree, by grinding 2 tomatoes using mixer grinder. And add it to the pan.


5. Add chili powder, Coriander powder, turmeric powder, garam masala and a teaspoon of salt. Continue to cook until the gravy starts leaving out its raw flavor.


6. Add cooked rajma beans. Simmer the flame and cook again for 10 minutes. Add chopped coriander leaves and serve hot with Rice or with Roti/Chapathi.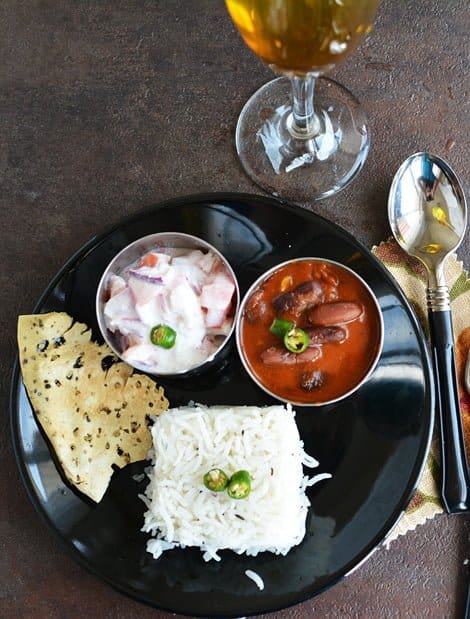 Serving Suggestions Rajma Masala, Rajma Chawal, Spiced Red Bean Gravy:
1. Serve along with rice/ Roti/ Chapathi.
2. Raita/Yogurt salad, rice, and Rajma masala would be the best combo.
3. Can be your Lunch/Dinner menu.
Tips and Variations:
1. Rajma can be soaked and cooked bulk in advance. Divide them into small portions and deep freeze them in ziplock bags.
2. Adjust the chili powder according to your taste.
3. The same basic procedure can be used for any other veggies of our choice, cooked chickpeas, or any other beans.
4. In the final stage, adjust water according to the desired consistency. Allow it to boil for 2-3 minutes after adding water.
5. You can also go with ready made tomato puree and canned Red beans.
Tips for cooking this recipe in Non-Indian Kitchen:
1. You can skip using chili powder, coriander powder, turmeric powder. You can use Cayenne pepper powder instead.
2. If Shahi Jeera is not available to you, you can use cumin seeds. Cumin seeds are available in all leading grocery stores in Asian Isle.
3. Garam Masala, you need this to bring the flavors to the dish.
Do not miss latest recipes and its tips, Follow us on Facebook, Pinterest, Instagram.