Raw Mango chutney, a great condiment to be served with any main dishes. Can be served as the chutney for Parathas, Idli, dosa. As a dip and condiment for every appetizer. The tanginess of the mangoes makes this recipe unique and distinct.

The hot summer can be bearable only because of watermelon and mangoes. It's mango season in India, Back in my city, we could see mangoes occupies a predominant place almost everywhere. Most of the families busy in preserving them for the rest of the year, in the form of pickles or sun drying them.
In summer, mangoes are the important ingredient, in all our dishes. We throw them in sambar, Ku ham bus, make side dishes like Mango Pachadi, mango salad. We also loved to have them as a snack. We used to cut them into strips, drizzle salt and chili powder over it. Yummy, You should not miss this by tasting at least once.
This mango chutney is also one such recipe to incorporate mangoes into chutney recipe. Here we do not get Indian mangoes, So I use to go with frozen packages which are available in our local Indian Stores. Though it cannot be compared with fresh mangoes, but I'm quite Ok with it.
If you are searching for other chutney recipes, then do check Ginger Chutney, Chickpea Tomato Chutney, Instant Tomato Chutney.
Raw Mango Chutney, a must recipe on Mango Season
Prep time : 5 min
Cooking time : 5 min
Yield : Serves 2
Ingredients:
Cut Raw Mango  – 1 Cup
Bengal Gram  – 2 tbsp
Urad Dal  – 3 tbsp
Red Chilies  – 3-5
Asafoetida  – 1/2 tsp
Salt  – 1/2 tsp or as required
Ingredients For Seasoning:
Cooking Oil  – 1 tsp
Mustard Seeds  – 1/2 tsp
Urad Dal  – 1/2 tsp
Curry Leaves  – 4-5
How to Make mango chutney: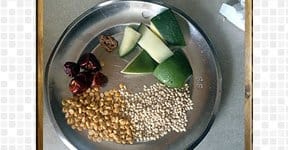 1. Cut raw mango. Measure and take 1 cup.
Hint: (a)Red chilies can be adjusted to everyone's preference. My family opts for spicier chutney, so I went with 4 red chilies. (b)If you have ground asafoetida you can use it, but I feel the solid version has longer shelf life and retains its flavor longer time.


2. Dry roast the ingredients separately, by starting with Bengal gram. In medium flame, dry roast Bengal gram until it becomes golden brown, transfer them to a plate. Again start dry roasting urad dal until they also turn golden brown. Add few drops of oil and roast asafoetida and red chilies together.
Hint: Bengal gram and Urad dal are different in its thickness, and accordingly got different cooking time. So we are roasting them separately.


3. Allow all the ingredients to cooled down to the room temperature. Once it is cooled down, transfer them to the mixer grinder. Add salt and grind it until they are smooth in texture.
4. Seasoning is optional. For seasoning. Heat pan, add a teaspoon of cooking oil followed by mustard seeds and urad dal. Allow mustard seeds to splutter. Add curry leaves, let the curry leaves sizzles in the oil for few seconds. Pour the seasoning over the chutney. Serve immediately.
Serving Suggestions:
1. Serve mango chutney along with South Indian breakfast dishes like Idli, dosa, Upma or anything.
2. Can be served as a dip for appetizers.
Tips and Variations Raw mango chutney:
1. Stays good when refrigerator for about 2-3 days.
2. Can be diluted with little water for flowing consistency. And this diluted version of chutney pairs up greatly with crispy dosas.
Tips For Cooking in Non-Indian Kitchen:
1. Seasonings are optional, so you can cut down many ingredients from the list.
2. Bengal gram and Urad dal are added due to its nutrients and protein content. But either one can be used.
3. Another hard to find ingredient is Asafoetida, which gives flavor to the dish. It is believed that it minimizes gastric issues in the body. But leaving them from the list will not much affect the taste and texture of the chutney.You may also interested in checking out Celery chutney Recipe.