Sauteed Bok Choy chicken Recipe is a very easy recipe made with minimal ingredients. But a flavorful dish, perfect to suits lunch or dinner and can also be served as an appetizer dish.
Does your local stores carry Bok choy in their shelves, then definitely you should try this recipe.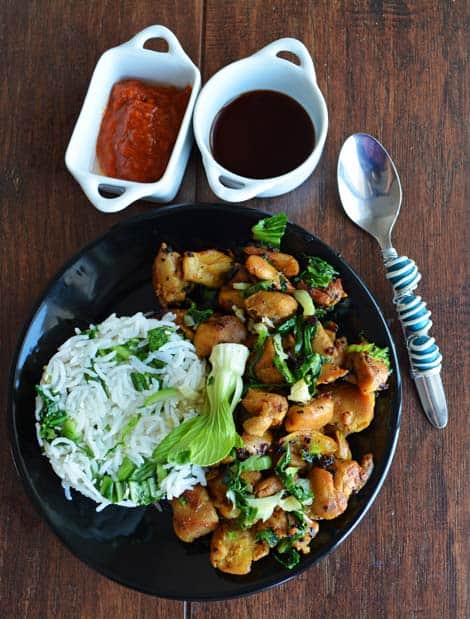 Bok Choy is a green leafy vegetable, which can be found the produce section in your grocery store. I do not find them very often here, but I grab them immediately when it has one. We prefer them as Its has got unique flavor which can bring the Chinese flavor to the dishes without any extra efforts.
We have one step extra for the cleaning Bok Choy. Sprinkle salt to every floret of bok choy. Try adding to each leaf too. Leave it for half and hour to one hour. Then wash it well in the running water. Rinse them around 3 times to remove all the excess sprinkle salt. Drain them and keep them ready for cooking.
The cooking method and process of this bok choy chicken is very easy. We are going to saute just garlic along with chicken and with some soy sauce and finally ends up with adding the green.
If you are looking for recipes of Chinese based, then look into a Vegetarian wonton, Chinese garlic chicken, easy to make Pan-fried wonton.
Sauteed Bok Choy chicken Recipe
Prep time : 40 min
Cooking time : 20 min
Yeild : Serves 2
Ingredients:
Chicken   – 500 grams(breast meat)
Bok Choy  – 150 grams
Soy Sauce  – 2 tbsp
Salt  – 1/2 tsp
Cooking Oil  – 2 tsp
How to Make Sauteed Bok Choy chicken Recipe: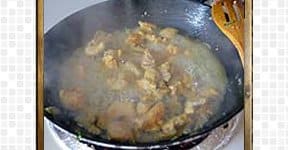 1. Chop garlic. Clean bok choy by generously sprinkling salt all over it. Rest them up for half an hour. Then rinse for 3 times to removes dirt, excess salt. Drain well. Once it drained completely shred them and keep it ready for cooking
2. Heat oil in the pan, add chopped garlic. Saute for a minute until it starts emitting the beautiful aroma.
Add 3/4th cup of water and bring it to boil. Then add chopped chicken pieces, soy sauce, and salt. In medium flame, cook it by covering.
3. Stir occasionally to avoid the dish stick on to the bottom of the pan. Once the water completely evaporates and the chicken gets cooked 95%, Add shredded bok choy to the pan, and continue to cook until bok choy becomes tender.
4. Lower the flame to low heat and cook the chicken further for 3-4 minutes until the chicken absorbs the flavor of the bok choy.

Serving Suggestions:
1. Serve hot with rice, noodles or any other Chinese main course.
2. Can also be served as the appetizer, along with sauces.
Tips and Variations Sauteed Bok Choy chicken Recipe:
1. Along with soy sauce try adding your favorite sauces to customize as per your choice.
2. You can also use mushroom, paneer, potatoes instead of chicken for the variations.
3. If the chicken you are using comes with bones, add cooking time extra.
Do not miss latest recipes and its tips, Follow us on Facebook, Pinterest, Instagram