Spinach | Pasalai Keerai Kootu Recipe, nutrients loaded creamy recipe, suitable for all the ages. My son grew up having this most of the time. A simple everyday dish, which I make very often in my kitchen.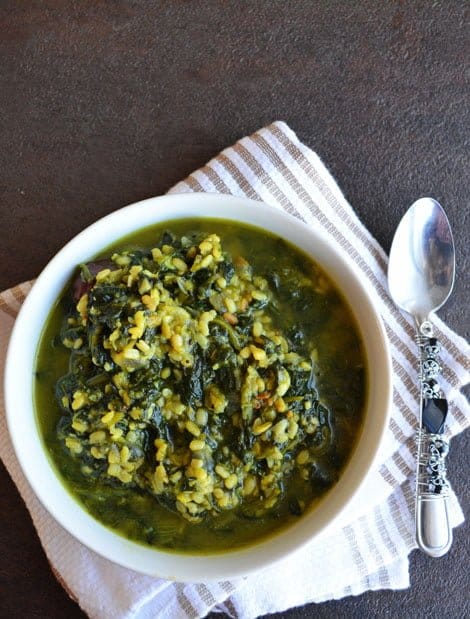 See below for the tips to make this recipe for non-Indian Kitchen.
Cooking in the pressure cooker is an art. It is one of the most important modern inventions. A pressure cooker reduces the cooking time by half, and also by retaining the mineral values. In open pan cooking method, Spinach may lose its vitamins and minerals. So we use most of the time, not only to reduce the cooking time but also to serve healthy food to our family.
Moong dal and spinach tends to cook in no minutes, so pressure cooking it in simmer flame for 4-5 minutes makes it perfect every time. Traditionally, the grated coconut will be added to this spinach kootu at the end of the cooking process. I have not added in the recipe, but if you wish you can include it in the process.This is one of the most sought recipes among South Indian kids. We add 1-2 teaspoons of ghee/clarified butter while serving for the small kids. They love pasalai keerai kootu, because of its creaminess and no spiciness.
Liked this Pasali Keerai Kootu? and If you are looking for other green veggie recipes, do visit, Broccoli Rabe Kootu, Chow Chow Kootu, Vendhaya keerai kootu.
Spinach / pasalai keerai kootu
Author : Pepper Bowl,
Prep time :  7 min ,
Cooking time :  7 min ,
Yield : Serves 2
Ingredients:
Spinach  – 1 bunch
Moong Dal/Pasi paruppu/ Yellow Moong bean  – 1/4 Cup
Chopped Onion  – 2 tbsp
Chopped Garlic  – 1 tbsp
Red Chili  – 1
Salt  – 1/2 tsp as required
Ingredients for Seasoning:
Cooking Oil   – 1 tsp
Mustard Seeds   – 1/2 tsp
Urad Dal/Black Gram  – 1/2 tsp
Asafoetida  – 1 pinch
How to Make Pasalai Keerai Kootu:


Step 1. Wash and clean spinach leave. Chop onion, garlic and spinach leaves.


Step 2. Heat pressure cooker in the stove, add a teaspoon of oil. Followed by mustard seeds and urad dal. Let the mustard seeds to splutter. Then add a pinch of asafoetida.


Step 3. Add washed and rinsed moong dal/pasiparuppu to the cooker. Add half a cup of water.


Step 4. Add chopped spinach leaves, onion, garlic on top of moong dal in the cooker. then add chopped onion, garlic, turmeric powder and a red chili.
Step 5. Allow the cooker to go for 1 whistle and simmer the flame and again cook it for another 4-5 minute.
Sep 6. Remove from the fire, allow the pressure cooker to release the pressure on itself. Remove the lid once the pressure cooker cooled down completely. Serve hot along with Rice.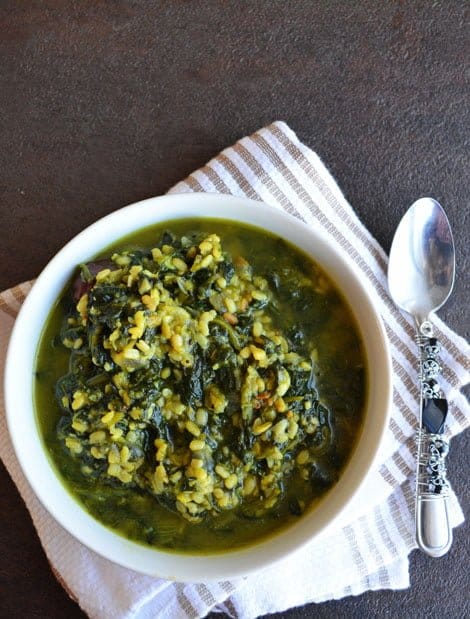 Serving Suggestions:
1. Serve along with steamed rice.
2. It can be served as a side dish with rice and sambar.
3. It can also be served as a main dish just alone with rice.
4. If you are serving for the children, mash them a little. Add the liberal amount of ghee, mix it with rice and feed the kiddos. This is the most wanted recipe of South Indian kids.
5. Can be had as a side dish for roties/Chapathies.
Tips and Variations for Pasalai Keerai Kootu Recipe:
1. Add grated coconut, traditionally this spinach kootu is prepared with adding grated coconut.
2. Increase or decrease the number of red chilies in the recipe according to your taste.
3. Add one small sized tomato, to make it even more interesting.
4. Seasoning is optional to a non-Indian kitchen.
Recipe in Non-Indian Kitchen:
Avoid the seasoning procedure, with mustard seeds, black gram, asafoetida, if these ingredients are not available to you.
Do not miss latest recipes and its tips, Follow us on Facebook, Pinterest, Instagram.