Strawberry Salad recipe has to be tried when these cute looking pink strawberries are in season. These fruits taste yummy when we consume as it is, but can you imagine the flavor it brings when the hint of lemon juice and green chilies are added?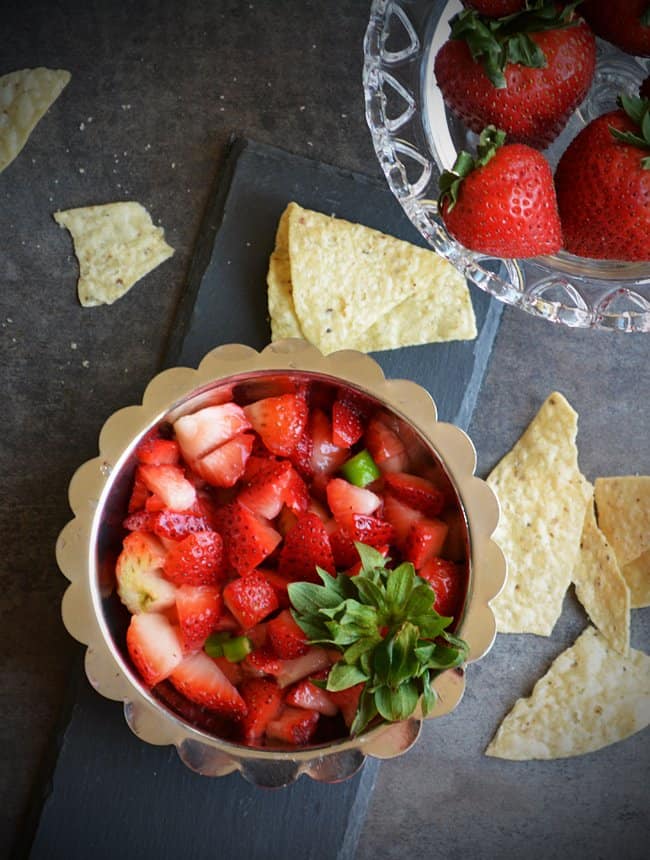 I always wonder the natural holders that these berries have, the leaves. Enjoy eating it by holding its leaves as holders, is something amazing. Which is not found in any of the other fruits. The berries from the stores are delicious, but in sometimes they are bland and needs some extra flavors to be added in.
The berries which I have brought today are bland and needs lots of citric acids to be added in. So, I squeezed half a lemon. But you adjust according to the taste you need in. Green chilies are just for the flavors, and if you cannot bear the heat, just deseed them before adding to this recipe.
If you are looking for other healthy salad recipes, then look into Chinese green bean salad, Quinoa Corn Salad, Dragon Fruit Salad.
Ingredients:
Fresh Strawberry  – 1 Cup
Lemon  – 1 half
Green Chili  – 1
Salt  – 1/4 tsp
How to Make Strawberry Salad Recipe:

Wash and clean strawberries and chili in running water to remove any impurities sticking on to the skin. Juice from a half lemon is sufficient to give the tanginess for the salad.  Adjust lemon juice according to your choice. Cut lemon in half.

2. Chop strawberries into small bite size pieces. Cut chili into small pieces. Remove the seeds, if it is too hot for you to bear.
3. In a mixing bowl, add chopped berries, chilies. Squeeze lemon juice, and finally, add salt. Give them a gentle mix, to make the lemon juice and salt coats fruit well.
4. Serve immediately with your choice of chips, taco, nachos, or as a side dish for the dinner.
Serving  Suggestion:
Serve along with appetizers or as the side dish for the dinner recipes.
Serve immediately to retain all the nutrients of the ingredients, want to store for future uses, store in air tight containers and refrigerate it immediately.
Tips and Variations:
Try adding other fresh vegetables like grated carrots, cabbage etc.
 Try adding other fresh berries like black and blue berries to give it a dramatic look.