Paneer Tikka in Oven recipe is the foolproof recipe, perfectly matches to any kind of occasion. It is crowd pleaser dish, where the skewing can be done in advance. Whenever necessary, just transfer the paneer threaded skewers from refrigerators to the oven.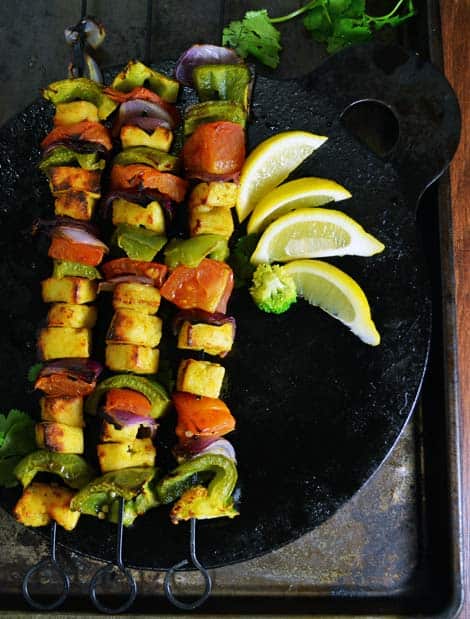 I have a huge fascination towards rainbow of colors. Today, my plate was like a painter's palate with all astonishing colors. If I could see those vibrant colors on my plate, image how it could be for a person like me. And this recipe is one of my most favorite because of its ease of making, lesser ingredients, more room for innovating with other veggies.
If potatoes are your favorite, include threading them in between the paneer. Small red potatoes are my best choice to be paired up with paneer cubes. Can be made with stove top method as well. For the stove top method, keep the skewers over a flat bottomed pan, drizzle 2 teaspoons of oil over the paneer by rotating them occasionally.
Liked this Paneer Tikka in Oven Recipe? Do not forget to look into other grilled recipes like Grilled Corn In The Cob, Grilled Veggie Sandwich Recipe.

Tandoori Paneer Tikka,
Prep time : 10 min
Yeild : Serves 2
Ingredients:
Paneer cubes  – 1 1/2 cups
Capsicum(green peppers)  – 1
Onion  – 1
Tomato  – 1
Tandoori Masala/Tikka Masala  – 1 tsp
Salt  – 1/2 teaspoon
Cooking Oil  – For Spraying
How to Make Paneer Tikka in Oven:


1. Dice onion, capsicum(green peppers) tomatoes into bite size pieces.
Hint: Be more innovative and add other veggies like zucchini, red potatoes etc.,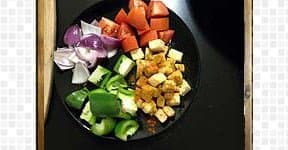 2. Add store bought tandoori masala/tikka masala powder to paneer cubes, and rub them gently to get coated with the masala.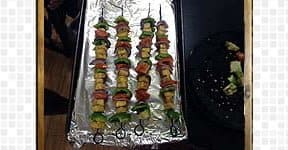 3. Thread, capsicum, tomatoes, onions alternatively into the skewer. Keeping in mind the paneer cubes to take a prominent place in the arrangement. Bake it at 300°F for about 20 minutes, or until paneer cubes cooked completely. Set the oven into broiling mode for about a minute to give charred look to the tikka.
4. Once done, remove it from the oven and serve hot as the appetizer along with lemon, mint chutney.

Serving Suggestions:
1. Serve as an appetizer with condiments like green mint yogurt chutney.
2. A perfect crowd pleaser recipe. If you planning on making it in parties, thread paneer and veggies well in advance. Store in refrigerator and bake it whenever needed.
Tips and Variations Paneer Tikka in Oven:
1. Pay close attention while baking, as the prescribed baking time differs for every oven. Paneer gets cooked easily.
2. When you are broiling definitely not more than a minute.
Tips For Cooking in Non-Indian Kitchen:
1. Paneer is cottage cheese, which is available all around the globe.
2. In the absence of Tandoori masala / Tikka masala, curry powder can be used along with a tsp of Ground paprika.
3. Whats capsicum? The other part of the world calls green peppers as capsicum.
Do not miss latest recipes and its tips, Follow us on Facebook, Pinterest, Instagram