Avocado Paratha is an insanely delicious option for Indian takeout you have never dreamt of making in under 30 minutes. And there is no close replacement for this protein-packed avocado Paratha.
This is a fusion recipe for making Indian recipes with American vegetables. Clean eating real food is possible with pantry-ready ingredients available in most kitchens. Prepared with whole wheat flour, avocado, cilantro, and red chili powder.
Heck, you can cobble together for breakfast, lunch, or dinner. Invite the whole family and enjoy this avocado Paratha over and over again.
I have grown up with a tradition of eating parathas every weeknight. And so I have made parathas zillions of times with many variations like gobi paratha, cauliflower paratha, aloo paratha.
I'm also obsessed with repeating the same every weekend until today. Since it is minimal and delectable, it has been permanently placed in our favorites list.
Making avocado Paratha is the most excellent way to include avocados in our menu. Furthermore, this is one of the best avocado recipes recently. My husband is not a huge fan of avocados, so obviously, this recipe would be the best, in my opinion, to consume nutrient-rich avocados.
Avocado Paratha has a neutral flavor taste and looks green in color. While tasting, no one can predict the ingredients of the paratha unless you disclose them.
Accordingly, this became one of the tasty paratha recipes for the lunch box and one of the easy avocado recipes for kids.
What is Avocado paratha?
Paratha is an authentic Indian flatbread typically made with whole wheat flour and vegetables. It is always made fresh just a few minutes before eating, which is one of the essential secrets to its deliciousness. In Vegetable parathas, veggies are often stuffed or, at times, mixed along with the flour.
Do you want to relish Indian food and worry about long-listed ingredients? then this healthy paratha is the best to start with. The essential elements are simple and may be readily available in your kitchen.
Since avocado and whole wheat flour have a neutral flavor, many improvisations and customizations can be done on top of it. Avocado paratha or avocado chapati or guacamole paratha, however, you call it, at the end of the day, is an ultimate effortless healthy dish.
Other parathas you may like,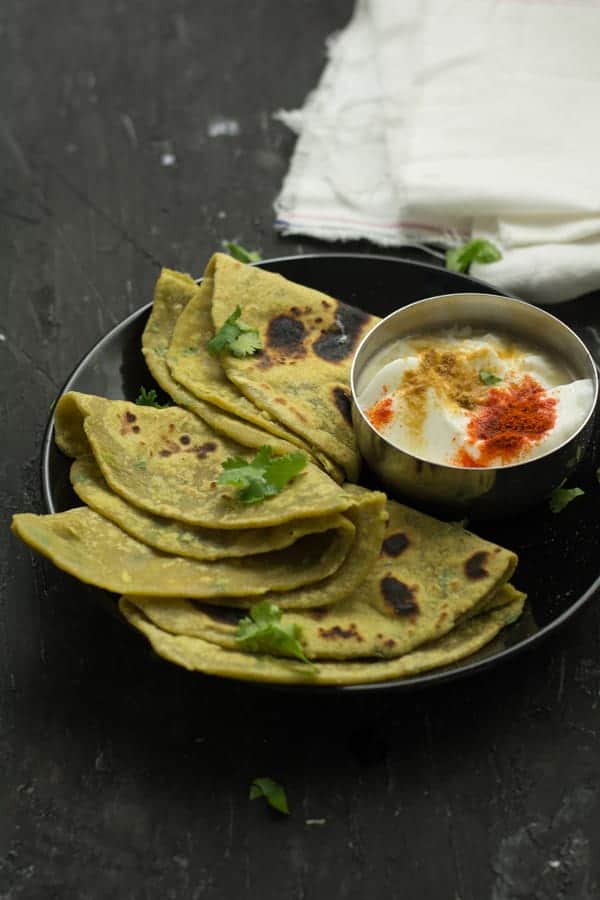 How to make Avocado paratha
The ingredients and substitutions
Avocado and whole wheat flour are the critical ingredients of this recipe. So, substituting these two ingredients would result in an entirely new dish.
Avocado. Any variety of avocados will be working out for this recipe. Ripe ones are great for making this recipe. Before cutting, make sure the avocado is soft when touched. This buttery texture makes the paratha soft and smooth.
Whole wheat flour. You can use any brand of whole wheat flour. Do you know how to find the best flour using its package instructions? It is super simple. While purchasing, ensure the package says it is 100% whole wheat flour or pure whole wheat flour. You may also confirm by looking at the ingredients list on the reverse side of the package.
Red chili powder. Adding red chili powder to this dish increases the color and balances the subtle taste of the main ingredients. It is not easy to get red chili powder here in the United States, besides local Indian stores. This can be swapped with cayenne pepper paprika.
Instead, substitute with Kashmiri chili powder for better color and lesser heat.
Cilantro. Fresh cilantro or coriander leaves make the paratha fresh and green. Avocado always plays a perfect role with cilantro. In its absence, you may replace it with fresh mint leaves or fenugreek leaves. Each of these herbs has its intense flavor, so each addition brings a new face to the avocado paratha.
The recipe directions
Prep the ingredients. Choose a ripe avocado and cut it in half. Remove the seeds and the skin. Add it to the large mixing bowl. Mash them thoroughly without any lumps. Secondly, mince fresh cilantro finely.
Mix. Add red chili powder, salt, minced cilantro, and wheat flour to combine them to form a smooth dough. Add a little water at a time, if necessary.
Pro-tip. Knead the dough without adding water at first. Incorporate mashed avocado well with the flour, and then add a little water at a time to avoid any disappointments.
Knead. An important step in this recipe is to knead until it forms a smooth ball. The more you knead, the softer the paratha would be. Add the final stages of kneading, add a teaspoon of cooking oil, and knead for another 2-3 minutes. The cooking oil will make the dough softer.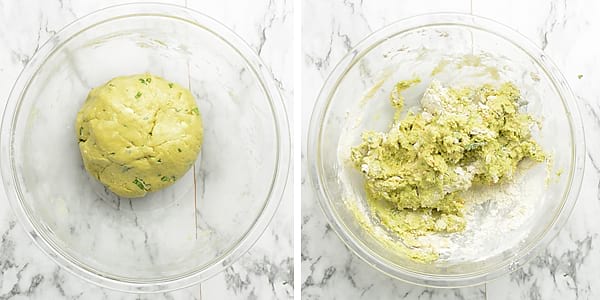 Make paratha. Divide the dough into small size balls evenly. Dust the dough with wheat flour on both sides. Using a rolling pin, spread the dough like circles(similar to Tortillas).
Cook. Heat a flat-surfaced pan on medium heat(a griddle would work fine). Cook both sides until it is cooked thoroughly, by applying oil.
Pro-tip. How do you determine whether paratha is wholly cooked? Small dark spots will be visible on the surface; the paratha would be firmer when cooked.
Transfer. Transfer to the serving plate and serve immediately.
How does avocado Paratha taste like?
It has a mild flavor and tastes subtle, like warm tortillas with cilantro and avocado flavor.
What and when to serve?
Avocado paratha is best served with raita(Yogurt infused with vegetables). Perfect to serve with masala raita, pomegranate raita, or cucumber raita. Or just the Indian lemon pickle would be a great companion.
This perfect dish can be served as breakfast, lunch, or dinner. Depending on your time and mood, you can have this wholesome meal any day.
Variations for avocado Paratha
As I discussed earlier, this dinner recipe has a neutral taste. So it has more room for modifications and customizations.
Spice it up. You can spice it up with more red chili powder.
Alternatively, use minced green chili(Thai chili or serrano peppers). Deseed them to minimize the heat level.
Add authentic flavors. To make this paratha with more Indian flavors, add Ajwain(caraway seeds), which boosts the flavors to 200%. Use half to one teaspoon ajwain, depending on your preference.
Asafetida is another ingredient with authentic Indian flavor. What would be the portion size? from a pinch to a quarter teaspoon would be perfect for 2 people.
Add Herbs. You may also add chopped fresh fenugreek leaves or chopped fresh mint leaves.
Add lemon juice. To make a wholesome, self-serving dish, add lime or lemon juice.
Printable recipe card
Avocado Paratha
Avocado Paratha is an insanely delicious option for Indian takeout that made under 30 minutes. Very filling and a fabulous weeknight dinner recipe.
Print
Pin
Rate
Ingredients
2

avocado

pitted and peeled

3

tablespoon

cilantro

minced

2

cups

whole wheat flour

1

teaspoon

red chili powder

½

teaspoon

salt

water

as needed

2

tablespoon

vegetable oil

for applying
Instructions
For the dough
Mash avocado without any lumps seen.

In a mixing bowl, add whole wheat flour, mashed avocado, minced cilantro, red chili powder, and salt.

Knead them to form a smooth ball by sprinkling water in between when needed.

Add a teaspoon of oil and knead again for 2 minutes.
For making
Divide the dough into equal sized balls.

Using the rolling pin, spread like flat circles.

Heat a flat surfaced griddle in a medium flame.

Cook the parathas on both the sides by applying cooking oil.

Transfer to the serving plates and serve immediately.
Notes
Store the leftover in the refrigerator for two days.
Nutrition
Calories:
571
kcal
|
Carbohydrates:
69
g
|
Protein:
13
g
|
Fat:
31
g
|
Saturated Fat:
3
g
|
Sodium:
413
mg
|
Potassium:
957
mg
|
Fiber:
17
g
|
Sugar:
1
g
|
Vitamin A:
490
IU
|
Vitamin C:
13.4
mg
|
Calcium:
43
mg
|
Iron:
3.8
mg
**Disclaimer: The nutritional information provided is an approximate estimate only.