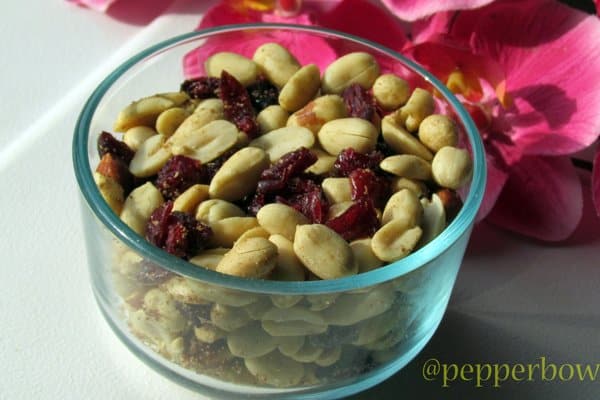 Oven roasted Peanuts with added little sweet and tangy twist with Cranberries. Best as healthy snacks should be substituted for all junk foods.

Everyone knows that Peanut is a healthy snack, No one will deny it. The sweetness of the dried cranberries blended in Indian spices with the peanuts does mesmerizing magic. MD always prefers this for his cocktail party, this is the first bowl gets emptied in his party. Because of its high protein content, this quick oven roasted peanuts is great for children too.
Do not forget to check out another recipe of Baby Carrot Salad, Dal Thadka here in PepperBowl.
Few reasons to make roast the peanuts in the oven
First and foremost reason is this it does save you money. Store bought peanuts can burn your pockets, if you rely on them for a long time.
If you have raw peanuts handy, you do not need to run for the grocery stores when you crave for them. This may sound silly to read, but this is my experience and this is what I have felt when I make them. Some may make fun of me about this, but only a real foodie can understand my statement.
Dry roasted peanuts recipe is super easy to make at home, since because the stores are loaded with roasted peanuts. It is not necessary to grab them when you can make the same quality peanuts at home.
Another important reason for try roasting peanuts in the oven is to customize to your choice. Like chunky cajun season with garlic flavor? Combine both the seasoning together and make your own? Do you want to experiment how rosemary peanuts taste if it has a spicy coat? Well, it is the time now to bake the peanuts in the oven.
It needs only a sheet pan, so the cleaning job is like a breeze.
These parched peanuts are super delicious, filling, healthy snack.
Things you need for oven roasted peanuts
Peanuts-The peanuts come in various sizes, with or without shell, skin on or skinless. Each of these has its own cooking time and needs its own way of treatment. In this post, we discuss the shell-less, skin on peanuts of normal size. Soon I try to come up with the others also soon.
The Cooking oil-We need very little oil just to coat them for even cooking. So you may use whatever you use in the kitchen. Sesame seed oil, sunflower oil, coconut oil, clarified butter, canola oil are to name some.
Salt-you may make with or without salt. If you are a health freak and want to reduce sodium, you can make oven roasted peanuts without the salt. Moreover, saltless roasted peanuts are great to add as a topping to salad, ice cream.
Like the cooking oil, you may use sea salt, kosher salt, Himalayan salt, black salt depending on your preference.
Water-Sprinkling water is my secret for the well-spiced coated peanuts. The little water acts as a binding agent and helps the spice to cover the peanuts seamlessly.
Spices-Add in your favorite spice, like cajun seasoning, garlic powder. Keep the spices simple and minimal. Today I have made with just the salt.
How to roast peanuts in the oven?
The oven roasted peanuts is also called as Parched peanuts. This method is super simple and easy. No need to preheat the oven. All you need is spread the peanuts in a single layer in a baking sheet.
Add raw peanuts(with or without skin), salt and ground black pepper and a teaspoon of cooking oil.
Mix it well, till the peanuts are lightly coated with the spices.
Keep it in the middle rack, and set the oven temperature at 400-degree Fahrenheit. As soon as when it reaches the 400-degree temperature.
Switch off the oven completely. But do not remove the baking tray.
Allow it to be there for around 15 minutes.
Voila, perfectly done roasted peanuts are ready effortlessly.
Mix oven roasted peanuts with your favorite dry fruits for a sweet and crunchy taste. I have added sweetened cranberries but raisins can be also used as its replacement. Mix both peanuts and cranberries when the peanuts are hot.
Serve Baked Peanuts as a snack. I used to have this when I feel very hungry in between my meals. They are good at maintaining the metabolism rate too.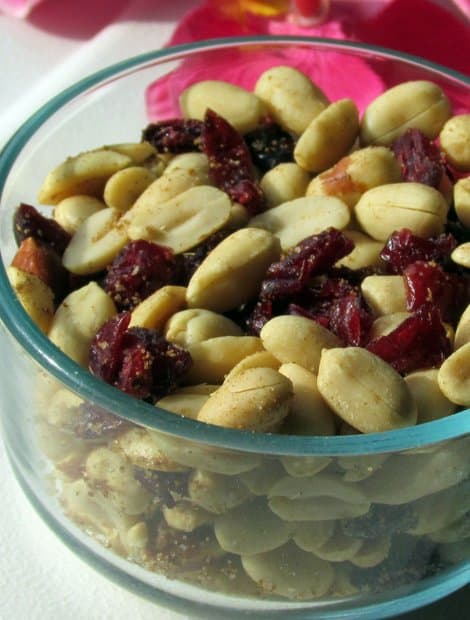 Peanuts baked
Peanuts baked with warm Indian spices with added little sweet and tangy twist with Cranberries. Best as healthy snacks should be substituted for all junk foods.
Print
Pin
Rate
Ingredients
1

lb

Peanuts

Raw

1/2

Cup

Cranberries

Dried

1

tsp

Carom seeds

/ Ajwain

1

tsp

Ground Cumin

1

tsp

Oil

any

1

tsp

Salt

or as required
Instructions
Preheat the oven to 320 degrees Fahrenheit.

Grease the baking tray. Add raw peanuts, salt, ajwain, jeera powder and one teaspoon of oil. Mix it well, till the peanuts are coated well with the spices.

Spread the peanuts. Bake for 20 min or until they are done.

Remove from the oven and ,mix both peanuts and cranberries when the peanuts are hot.

Serve Baked Peanuts as a snack.
Nutrition
Serving Suggestions:
1. Serve as a healthy snack.
2. Pack this protein-rich snack when you are in travel.
Tips and Variations:
1. Always have an eye on the oven, as unattended for a while can result burned down peanuts.
2. Mix peanuts with your trail mix for a variation.
3. Add dried fruits like dates, dried grapes, dried figs etc for more nutritional value.
Do not miss the latest recipes and its tips, Follow us on Facebook, Pinterest, Instagram