A Banana milkshake without ice cream can be prepared in minutes, is easy and simple, and will be a great surprise for anyone with its richness. So, the goodness of banana and milk in one excellent drink.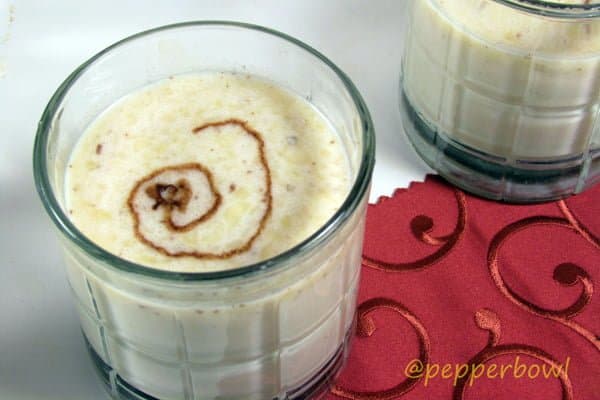 Children are always getting out of bed just a few minutes before school. And often, we find them ending up with not a fulfilled breakfast. Solid food always gets struggled in the morning hours—this thick banana milkshake recipe is an instant energizer for the many.
Everyone's preference for banana milkshakes without ice cream is for the texture of the milkshake. Some do not wish to have their shakes with lumps on them.
But people like me always wish to find the fruit chunks while drinking the shake. So, I pulse the blender for a few minutes till I see tiny banana chunks on my milkshake.
Add a large-sized straw if the shake is smoother, and serve without a straw if they have chunks over it.
Have you learned how to make a banana milkshake without ice cream? Also, look into Kiwi Milkshake, Mango Smoothie, fresh kiwi juice, and fresh homemade apple juice, which could also have a filling feeling. It can provide instant energy because of its new fruit content.
The goodness of a banana milkshake without ice cream
The first and foremost advantage of this recipe is that it is skinny. There are zillions of recipes for a banana milkshake, but most are with ice cream, which is unsuitable for everyone.
This is healthy, a perfect milkshake for breakfast or a mid-day meal.
A filling and satisfying drink like this mango juice is desirable for everyone in the family.
This easy milkshake recipe without ice cream is straightforward, just a few minutes, and no cooking is involved like any other smoothie recipe.
More possibilities for customizations and variations. You give a whole new face by adding other fresh ingredients.
Milkshake vs smoothie
Some of you might wonder what makes the milkshake differ from the smoothie. And this banana milkshake without ice cream sounds like a smoothie recipe, so why shouldn't we call it a banana smoothie?
Milkshake, the name depicts its contents. It is made primarily of milk-dairy products. At the same time, a smoothie is made with yogurt.
The ingredients of the milkshake are milk and fruit. The smoothie's components include grains, seeds, fruits, vegetables, and greens.
A milkshake is considered as a snack. On the other hand, the smoothie is viewed as a meal because it is made with all the essential ingredients suitable for making breakfast.
Key Ingredients for banana milkshake without ice cream
Banana. Theoretically, it is good to make with any banana, but I would suggest making with the ripened one that is seen with black spots on its skin. This makes the milkshake smooth and silky; it does taste sweeter than the regular banana.
You have some bananas that are ripening on the kitchen counter. No worries, peel the skin off, throw them in the airtight sealed containers, and freeze them for future use. You can use these to make milkshakes whenever needed.
Milk. You may use the milk that you regularly use. The recipe does not restrict the milk. It can be low-fat, 2%, 1%, or whole milk. The milk is the binding agent, and you can choose accordingly.
Vegans may choose plant-based milk like almond, coconut, or soy milk.
Sugar. The ripened bananas are so sweet that this milkshake without ice cream requires no additional sweetener.
But if you prefer, you may use natural sweeteners like honey or maple syrup.
Or you may use palm sugar or coconut sugar to make this nutrient-rich.
Spice. Cinnamon and banana are inseparable and balance well with each other. Pure vanilla extract mimics the ice cream flavor and enhances the taste. You may use both pure vanilla extract and cinnamon or any of them. There is no strict rule for adding spices. You craft yours according to your individual preference.
Printable recipe card
Banana milkshake without ice cream
Banana milkshake without ice cream can be prepared in minutes, easy, simple and It will be a great surprise for anyone with its richness. So the goodness of both banana and milk in one single awesome drink.
Print
Pin
Rate
Ingredients
1

banana

2

cups

milk

2

teaspoon

sugar

or as required

2

drops

vanilla extract

⅛

teaspoon

ground cinnamon

2

tablespoon

chocolate syrup

(optional)

1

cup

ice cubes
Instructions
To the blender jar, add banana, milk, sugar, vanilla extract, and ground cinnamon.

Pulse until it becomes smooth.

Transfer to tall glass, add the milkshake and top with chocolate syrup and icecubes.
Nutrition
Calories:
548
kcal
|
Carbohydrates:
85
g
|
Protein:
18
g
|
Fat:
17
g
|
Saturated Fat:
9
g
|
Cholesterol:
49
mg
|
Sodium:
252
mg
|
Potassium:
1156
mg
|
Fiber:
4
g
|
Sugar:
67
g
|
Vitamin A:
866
IU
|
Vitamin C:
10
mg
|
Calcium:
551
mg
|
Iron:
1
mg
**Disclaimer: The nutritional information provided is an approximate estimate only.
Don't forget to check out another Drinking recipe. Try this Mango Lassi, here in PepperBowl.
Serving Suggestions:
1. Serve it in the evening or as a healthy breakfast.
2. Sprinkle chocolate shavings or add chocolate syrup when serving kiddos.
3. Dried nuts can also be added to make it a wholesome food.
Tips and Variations for Banana Milk Shake Recipe:
1. Allow the milk to be cooled or bring it to room temperature while adding a banana.
2. Remove the ice cream scoop if you do not prefer it.
Do not miss the latest recipes. Follow us on Facebook, Pinterest, Instagram