Beet Stir fry is a classic South Indian side dish recipe. It's a savory dish with chopped beet, shredded coconut, and mustard seeds. A simple everyday home-cooked menu perfect for any weekday lunch or dinner.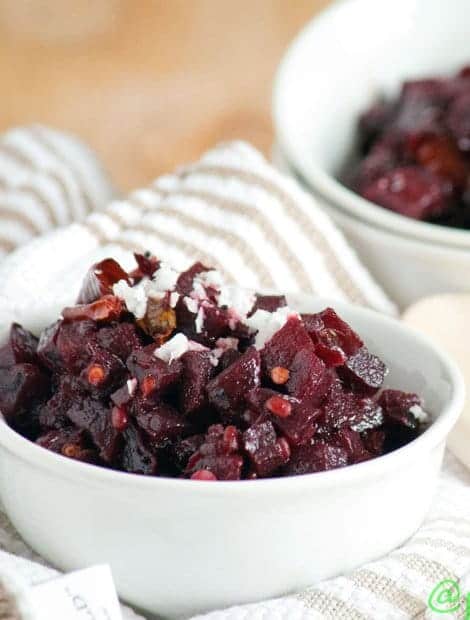 It is the summer season with many fresh, shiny vegetables; you can see plenty in the market and your backyard.
Make these vibrant vegetables every day and have a wholesome meal. Now you know the reason to make this Beet stir fry today. This is always one of our favorite side dishes like this radish sambar.
The goodness of Beet stir fry
We cook the vegetables in water by covering them with a lid. The idea is not to lose the nutrients of the veggies. The cooking oil is added to this recipe to give a glaze to the vegetables.
And finally, we garnish with grated coconut. Adding fresh coconut is always advisable, but frozen or designated coconut works fine.
Here in the United States, getting good coconut is tougher. So I always cook with the frozen shredded coconut available in the Indian stores, which also helps make beans poriyal and cabbage poriyal.
Why do I prefer this recipe?
Beetroot has a sweet taste. But this recipe neutralizes it with the coconut. But still, this is a beautiful balance of flavor.
I am not obsessed with the sweet tooth and do not like having lovely and sweet dishes. So, by this time, you may know why I like this Beetroot stir fry the most. This is my family's favorite because these are delicious and easy to make, like potato stir fry.
I used to stock vegetables for the whole week. The real challenge is making my family feel that they eat a variety of food daily. This is possible only by following a lot of different recipes.
I keep changing the recipes for every other vegetable; check these stir-fries recipes. But the recipe for the beetroot remains the same. Until now, I have never had complaints about making this recipe repeatedly in my kitchen.
My son, a picky eater, has never complained about the repetition.
He loves this so much; I always tell him that this is one of the most healthy dishes he could eat. So he also started developing a fascination with the Beetroot poriyal recipe, a South Indian stir-fry.
You may add chili powder or broken red chili if you want to make a savory side dish like a hot Andhra-style stir-fry recipe.
This will increase the dish's heat and give a distinct flavor to the South Indian style stir-fry.
You may cut the beetroot in any shape, but I prefer to have it done in small cubes, which is easier to chew.
The Key Ingredients
Beet. The summer will bring you a variety of beets in the grocery stores or the farmers market. You may choose any type of beet, whether red beet, golden beet, or white beet. This recipe suits any vegetable.
Shredded Coconut. Shredded coconut is added not only as a garnishing factor but also for its nutritional value. And it also adds crunchiness to the dish.
If you can access Indian or Asian stores, you may check in the frozen aisle for frozen shredded coconut.
A huge bag costs about a couple of dollars, and I would personally suggest is worth buying. Otherwise, you may also use dry shredded coconut available in the baking section of grocery stores.
Mustard Seeds. I have used black mustard seeds for any South Indian stir fry recipes like mushroom pepper, but you may also use yellow mustard seeds.
Skinless black Gram(urad dal). We generally add this for any seasoning in Tamil cooking. But you may substitute with moong dal(petite yellow lentils). Or you may skip this if these two are not available to you.
Want to try another variation for beet stir-fry? Prep the beetroot by grating them for quick cooking.
Though grating or cutting the vegetable sounds the same in the recipe, and though you follow the same formula, the result will be astonishing.
And they form into a whole new dish. The cutting makes all the difference in the taste and in cooking time. Beet stir fry will be tasty and healthy.
My mom used to add seasoning to the cooked vegetable, which needed two different pans—one for cooking the vegetables and the other for seasoning.
I always wanted to minimize the pan I use in the kitchen and reduce cooking time.
So I season and cook in the same pan.
I will also add a quick video to the bottom of the post for your convenience soon. Here, you can see the exact proportion of the ingredients for Beet stir-fry; please also comment if you need more information about this recipe.
Beetroot stir-fry, a simple everyday South Indian side dish. Usually served with rice. It is a perfect, colorful, kiddos-friendly side dish for rice. Here, we discuss the ideal way to cook beetroot by retaining its vitamins and minerals.
If you have a question, how to cook beetroot? This beetroot stir fry could solve your problem. While chopping this pinky beet, about God's creations. How cute all these vegetables are. Each one is unique in its way.
After chopping, wow.. the chopping board became pink, my knife, my hands. Pink.Pink.Pink.
This vegetable is only known for its juicy, dark pinkish color.
I grew up hearing all these positive stories about veggies. In my childhood days, my mom says, beet juice converts into the blood immediately after eating it :). And I'm also passing on these stories to my next generation, but with little modifications :).
How to cook Beetroot poriyal recipe South Indian stir-fry? It's straightforward: add water and chopped beetroot to a ¾:1 ratio.
Cook it in medium flame for 4-5 min, then in slow love for another 3-4 min, until the beet becomes soft and shiny.
Coming to Beet stir-fry is one of the essential preparations in South Indian homes, called Beetroot vepudu in Andhra.
I have added chili powder, which makes a perfect combo for the sweetness of the beetroot.
Recommended tools to make this recipe
Cutting board. Good quality is required for effortless work.
Cast iron skillet. It's heavy-bottomed, which ensures even heating.
Printable recipe card
Beetroot stir fry
Beet Stir fry, a savory dish made with chopped beet, shredded coconut and mustard seeds. A simple everyday home cooked mside for lunch or dinner.
Print
Pin
Rate
Ingredients
2

beetroot

medium sized

1

teaspoon

sunflower Oil

/or any cooking oil

1

teaspoon

black mustard seeds

1

teaspoon

urad dal

/skinless black gram

½

teaspoon

salt

or as required

¼

cup

water

2

tablespoon

shredded coconut
Instructions
Peel the skin of beetroot. And chop into small sized cubes.

In a pan add sunflower oil, black mustard seeds, urad dal.

Wait till mustard gets splutter.

And add chopped beetroot, salt and water.

Cover and cook it on a medium flame.

When water gets completely evaporated, remove the lid and cook further for another 3 min, in lowe heat. Stir occasionally.

If the beetroot is not cooked enough, sprinkle water and cook again.

Add shredded coconut, combine well.

Transfer it to serving bowl and srve hot along with rice.
Nutrition
Calories:
50
kcal
|
Carbohydrates:
5
g
|
Protein:
1
g
|
Fat:
2
g
|
Saturated Fat:
1
g
|
Sodium:
33
mg
|
Potassium:
146
mg
|
Fiber:
1
g
|
Sugar:
2
g
|
Vitamin A:
15
IU
|
Vitamin C:
2
mg
|
Calcium:
7
mg
|
Iron:
0.6
mg
**Disclaimer: The nutritional information provided is an approximate estimate only.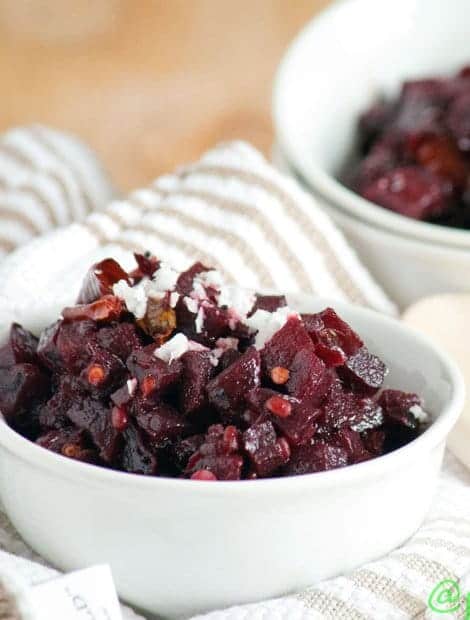 Tips and Variations Beet stir fry
The chopped beetroot looks more huge in quantity than it looks. So, decide the number of beets for the recipe according to it.
Cooked Bengal gram dal and moong dal for a creamy taste.
Planning to make for a large crowd, adding cooked Bengal gram/moong dal would help.
Serving Suggestions
Serve hot with steamed white rice, sambar rice, and rasam rice.
The leftover side dish can be refrigerated for about 3-4 days.