Black bean corn avocado salad with lime-cilantro dressing, a bright, refreshing salad for serving as a side or appetizer.
It is a tremendous, effortless addition for weeknight dinners or game days. A vegan, paleo, gluten-free, and low-carb dish made with vegetables and beans.
I firmly believe that weeknight dinners need not be complicated. And delicious meals are possible even with simple recipes.
I have got a handful of recipes to prove my statement. This black bean corn avocado salad with cilantro lime dressing is a cute example.
Black bean corn avocado salad is on my 'most favorite' list. And It will stay there forever. A recipe gets closure to the heart for many reasons.
Maybe the time it consumes for making or maybe its taste. Sometimes, the cost also plays a crucial factor in deciding to be the favorite. I could not conclude what made me like this salad the most.
But all these factors, plus my family's appreciation of this salad, made me like this the most.
If you've been here on my website for a while, you might have noticed that I'm sharing low-carb recipes. I'm focusing on reducing my weight by at least 10 pounds.
I'm not a strict low-carb diet follower, but I ensure I have a low-carb menu for a meal in a day. This is working out for me and I'm halfway through my success. I'm hoping I continue to control the diet to reach my goal.
If you are searching for low-carb dishes, you may check into,
Coconut chia pudding
Greek yogurt chicken salad
Lime Chicken
There are many ways to serve this salad. This can be served as a dip along with tortillas. This can go as the base for making the burrito.
Or it can be served as a spicy side dish for the outdoor barbequed food. At times, I have this in my sandwich. I like to have this salad in any form.
If you have a list of super quick recipes, add this black bean corn avocado salad to yours. Are you running out of time, and you expect the hungry children over the dinner table?
Then, without any further thinking, you can make this recipe if you have all these ingredients handy. On the same side, you will also have the satisfaction that you have served your family with a healthy dish.
What is the black bean corn avocado salad?
This is a Mexican-inspired recipe, which is simple. The title lets you know the ingredients: made with black bean, corn, avocado, jalapeno, lime, and cilantro. It is made super quick if you have all the ingredients ready.
Why should you make this black bean corn avocado salad?
There are many positive factors related to this salad,
It's a lightning-fast recipe number.
It's a healthy, protein-rich, low-carb diet.
It's a budget-friendly salad.
What does this black bean corn avocado salad taste like?
If you have tasted Chipotle burritos before, you can feel its bright flavors. Its aroma and taste are similar to the salad of Chipotle.
I give a big thumbs up to this salad since it is fresh and healthy. And still, I can customize the taste according to my preference.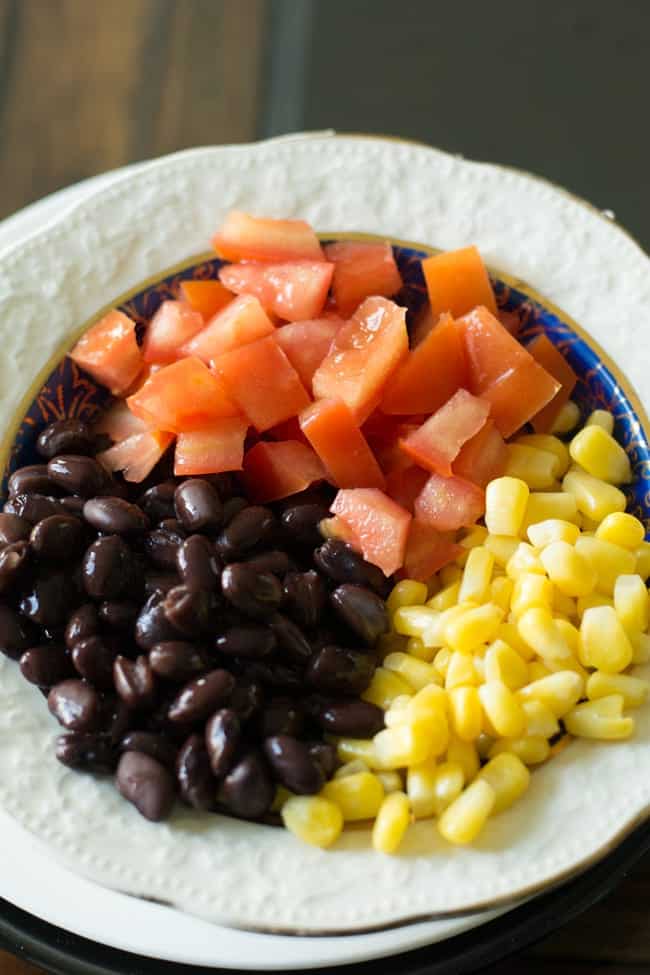 How long black bean corn avocado salad can last?
Avocado loses its color when it is stored for a longer time. So I prefer to consume it as soon as it is made. If you have the patience to remove all the chopped avocado from the salad, you can freeze it or refrigerate it. This way, it can last for a day in the refrigerator.
What goes with black bean corn avocado salad?
This is a wholesome dish for me. This energizing salad would be a great side salad for grilled dishes or an excellent dip for game day finger foods.
Make ahead preparations
I went with the canned black beans and frozen corn kernels. Getting these could cut down the preparation time for the weeknight dinners.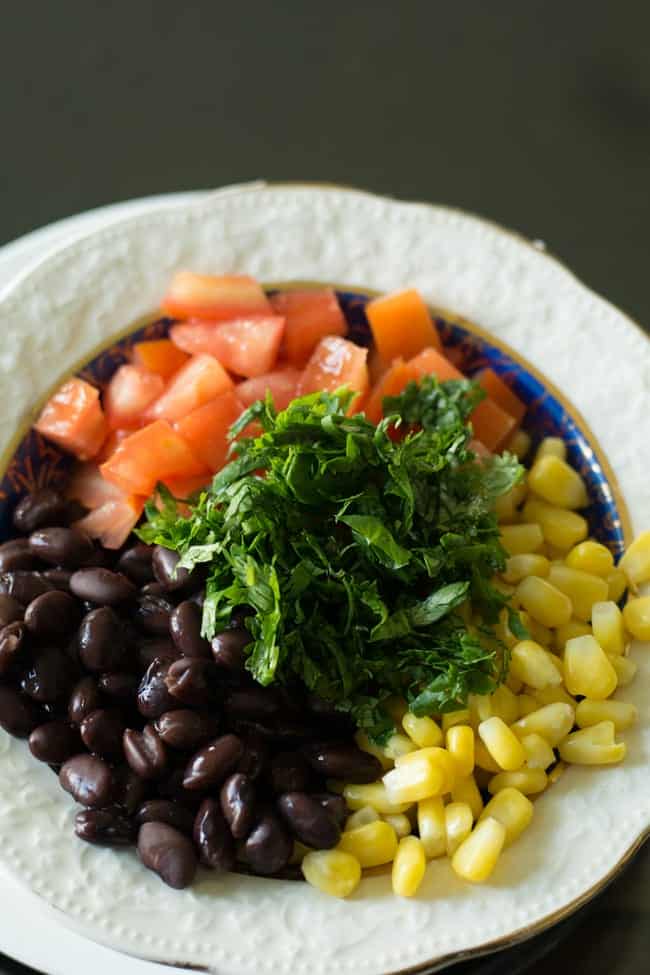 The key ingredients
The critical ingredients for this black bean corn avocado salad are the black bean, corn kernels, avocado, and cilantro.
The black bean
Black beans are available as dried, Canned, Frozen, and fresh. If you are using the dried bean, soak it for 8 hours. Then, cook over the stovetop or instant pot or the slow cooker. The cooking time and cooking method vary for each of these cooking methods.
If you use an instant pot, cook presoaked beans for about 10 minutes if you're cooking on the stovetop, 3-4 cups of water and a teaspoon of salt in a medium flame until thoroughly cooked.
If you use the slow cooker, cook black beans for about 6 hours in high heat.
Corn
You may also use canned or frozen corn. Any version is good to use. You choose according to the availability and affordability.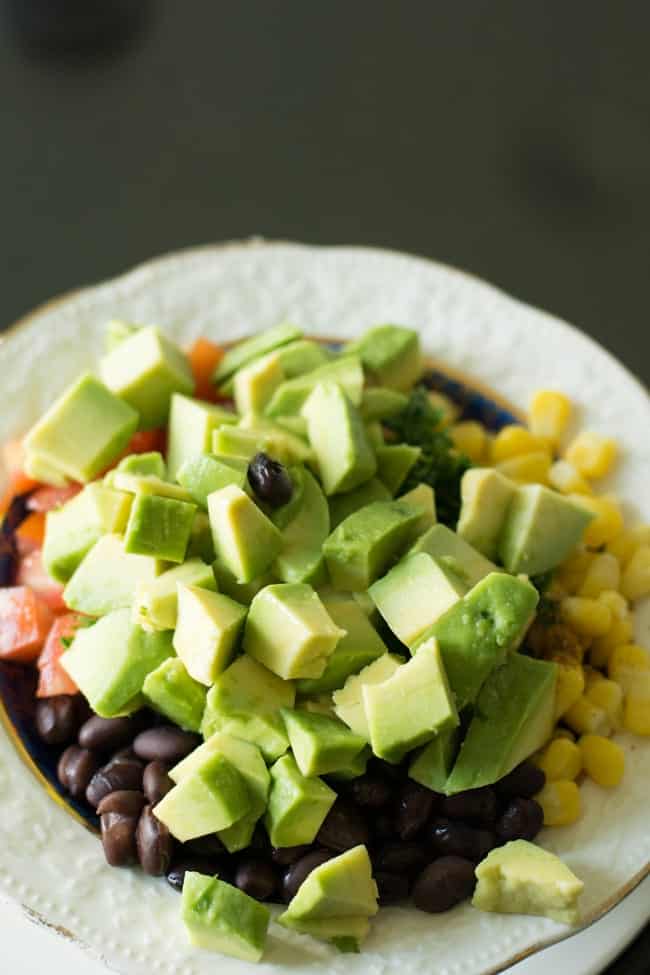 Variations for black bean corn avocado salad
Add roasted cumin powder and lime juice to make it the lime-cumin vinaigrette. This gives a pure Mexican flavor to the salad.
Add chicken to add protein.
If you want to make something with seafood, shrimp would be the best choice. The shape and the texture of the shrimp make the salad look fabulous.
Are you thinking of something more like lime cilantro dressing? you might consider red wine vinegar, which is also a good option.
Add tomato, cucumber, and carrots to give a refreshing look. And this adds extra crunchiness.
Can I make black bean corn avocado salad with Italian dressing?
This would be a fantastic fusion recipe made with Mexican ingredients in Italian dressing.
More salads,
Printable recipe card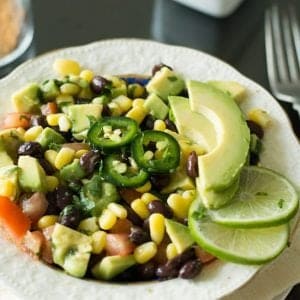 Black bean corn avocado salad
Black bean corn avocado salad with lime cilantro dressing, a refreshing salad great for weeknight dinners. Super quick and tastes delicious!!
Print
Pin
Rate
Ingredients
½

cup

black bean

cooked

½

cup

sweet corn

steamed

1

avocado

diced

½

cup

tomato

chopped

1

jalapeno

chopped

2

tablespoon

lime juice

2

tablespoon

cilantro

minced

½

teaspoon

salt
Instructions
In a mixing bowl, add all the ingredients-black bean, sweet corn, diced avocado, chopped tomato, lime juice, minced cilantro, and salt.

Gently toss, until all the ingredients evenly coated with the lime dressing.
Notes
If you prefer mild salad, deseed jalapeno before adding to the salad.
Nutrition
Calories:
262
kcal
|
Carbohydrates:
29
g
|
Protein:
7
g
|
Fat:
15
g
|
Saturated Fat:
2
g
|
Sodium:
667
mg
|
Potassium:
784
mg
|
Fiber:
11
g
|
Sugar:
3
g
|
Vitamin A:
560
IU
|
Vitamin C:
28.6
mg
|
Calcium:
24
mg
|
Iron:
1.8
mg
**Disclaimer: The nutritional information provided is an approximate estimate only.
Like this recipe? Follow us on Facebook, Pinterest, and Instagram.