Making Bread pizza without oven is the simplest of all pizza recipes. Requires not much ingredients and can be served at anytime and any occasion, like for breakfast or brunch or for game days or parties.

The first advantage of this recipe is that you can make and eat pizza in a moment you feel the craving for pizza. Another good part is that it  does tastes yum as same as the store bought fancy pizzas.
It vote favoring towards this recipe as we can control the cheese, the sauce and the toppings.
This bread pizza without oven is a great recipe for those you do not have access to the oven or not have enough time or patience to preheat the oven.
I never dreamt of achieving the same results without the oven, after the great lime chicken without oven. There are tones of easy peasy breakfast recipes, this is small attempt to list some of them online.
You can make exotic dishes even if you are left with few slices of breads and some vegetables in your refrigerator. Ingredients are not necessary to decide  dull or energetic breakfast. It need all  the creative and energetic mind.
If you are healthy reduce the cheese and if you are not a spicy lover then decrease the amount sauce you spread on the bread. It is only you is deciding the food and customizing it accordingly.
I made this bread pizza on stove top for my son, so you are seeing cheesy toast. But if you see the next batch which I made for myself, you will barely see cheesy topping. But my version does also extremely good.
But at times I make cheesy bites for myself whenever I feel down. And these few tiny treats are must for us to appreciate and motivate ourselves.
Few Tips for making Bread Pizza without the oven:
We need properly closing lid to cover the pizza while cooking, though oven is not need to make this melting cheesy  bread pizza.
The lid need not to be fancy, yet should does the work properly.
Mozzarella cheese is great but your favorite cheese will also works fine.
Green pepper, olives, tomatoes, onion, pickle, jalapeno, spinach or any other toppings will works fine in this recipe.
Do not have these vegetable toppings, skip it and make your own version.
But good pizza sauce is needed to make this perfect.
Bring the cheese to the room temperature for better melting.
And the lid that covers the pan should fit tight and proper.
Many verities brands of pizza sauces available in the market. Make a not that each one tastes differs and that reflects also in the result.
A good thick bottomed pan will be great to spread the heat evenly. You may use your tawa also to make this recipe.
How to make:
In low flame, heat a heavy bottomed pan, add a teaspoon of butter. Place two slices of bread. Flip it on to the other side.
Spread pizza sauce over the bread, and arrange your favorite vegetables. I feel sliced green peppers, olives, tomatoes are perfect.
Sprinkle cheese over the bread and close the lid. Wait until cheese melts down. Sprinkle chili flakes and oregano.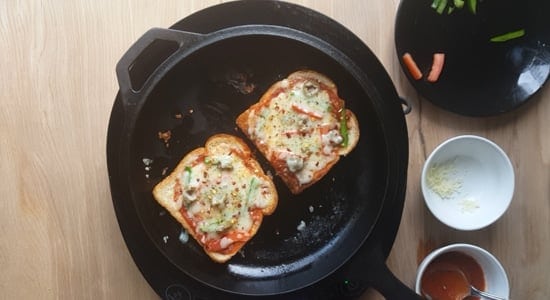 Serve immediately.
Bread pizza without oven
Making Bread pizza without oven is the simplest of all pizza recipes. Requires not much ingredients and can be served at anytime and any occasion
Ingredients
2

Slices

Bread

4

tbsp

pizza sauce

4

tbsp

mozzerella cheese

1

tbsp

green pepper

1

tbsp

olives

1

tbsp

tomato

1

tsp

dried oregano

1

tsp

chili flakes
Directions
In low to medium flame, heat the pan. Drizzle  few drops  of cooking oil.

Place 2 slices of bread on the pan.

Once the bottom of the bread turns golden brown, flip it.

Spread the pizza sauce evenly over the bread.

Arrange thinly slices topping of your choice over the sauce.

Spread the mozzerella cheese over the topping.

Sprinkle oregano, chili flakes and cover the lid immediately.

Cook covered until the cheese melts down.

Serve immediately with tomato ketchup.
Liked this Bread pizza without oven recipe? Follow us and Do not miss latest recipes and its tips, Follow us on Facebook, Pinterest, Instagram