Cardamom is another delicious spice generally used to make the deserts and to enhance the curry in Indian cooking.
The cardamom is considered as a flavoring agent in the cooking, on the other hand, balances the flavors of other spices. Additionally, It also enhances the overall character of the dish.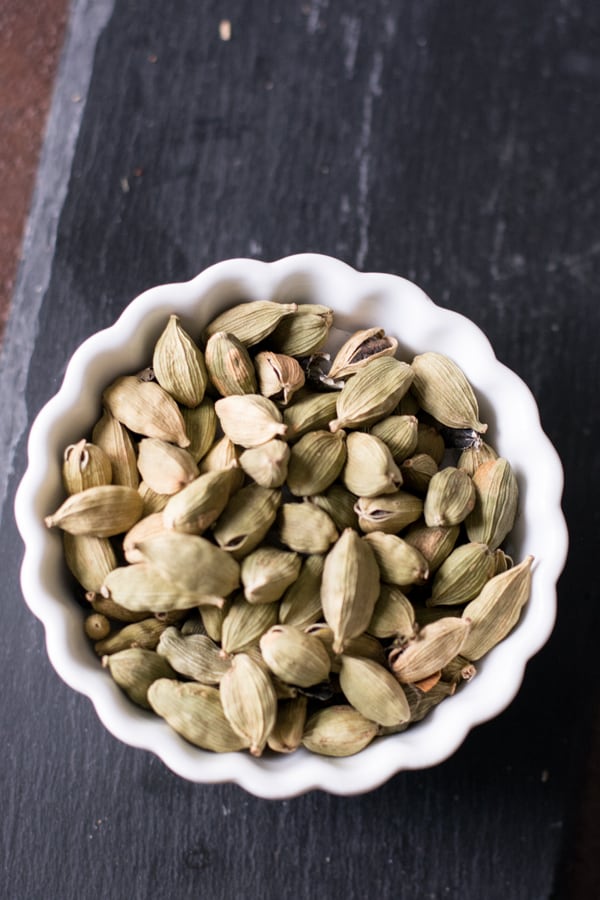 It has a robust and rich flavor. A single pod is more than enough for a curry made to serve four people. In South Indian cooking it is included mainly in the deserts and also in the making of spicy curries. Like Kashmiri pulao, and Rasmalai.
The origination
Cardamom has an intense fragrance and the most expensive spice, like saffron and vanilla. It is cultivated mainly in the southern part of India, especially in the regions of Western guards.
And slowly introduced to the other parts of the world. That is no surprise, why this is used in Indian cooking for thousands of years and plays a vital role in Ayurvedic medicine as well.
It's appearance
It has a thin, rich greenish outer skin and has around ten black seeds inside. Both the skin and the seeds of had flavor and used in Indian culinary.
Types
There are two types available in the market. They are green and black in color.
The green cardamom: This is a commonly available variety and widely used in both South Indian and North Indian cooking as a flavor booster. And now it is available across global. If any recipes simply mentioned cardamom, then they refer to the green variety only.
The black cardamom: This is from a different plant, looks dark in color, and slightly more significant than the green ones. The flavors are completely different from the earlier. This is used to make curries of North Indian style cooking.
Substitutions
This has got a unique and distinct rich flavor. And it is tough to substitute cardamom for its taste. However, it can be replaced with vanilla extract for its full, rich aroma. This is just the aromatic substitution for the recipe and not an ingredient substitution.
How to grind
The simple mortar and pestle do a great job of grinding the cardamom. And this is the most trusted way to achieve the best results. For this, add a couple of cardamoms to the mortar and pestle, then crush it until it becomes a fine powder.
If you are looking out for an easy way of including cardamom, you may tear the pod and add the skin, and mix. Finally, remember to discard the skin before serving.
Ground spice is great for immediate use because it loses its flavors within a short period. So I would suggest grinding just before using.
Cardamom pods vs. ground cardamom
Pods are more comfortable to store for a long time. It can be stored for more than a year in a sealed condition. Whereas the ground version does not have a longer shelf life and it loses its rich, elegant flavor over time. Roughly seven pods of cardamom are equal to one teaspoon of ground cardamom.
I bought this fragrant spice directly from the farm in India, and I kept in my freezer in an airtight container. I'm using it almost for three years it is still fresh and with the same beautiful flavor.
Where to buy
You may get good quality fresh cardamom from the Indian stores, Asian stores, the specialty stores like Wegmans or Whole Foods or you may also get it from the online shops.
Recipes made using cardamom