Old recipes are gold, and sometimes it keeps away from us for no reason. And this best carrot juice recipe is to bring back our life with a healthy routine. In this post, let us learn how to make carrot juice with and without a juicer.
This carrot juice recipe has a healthy twist that tastes delicious.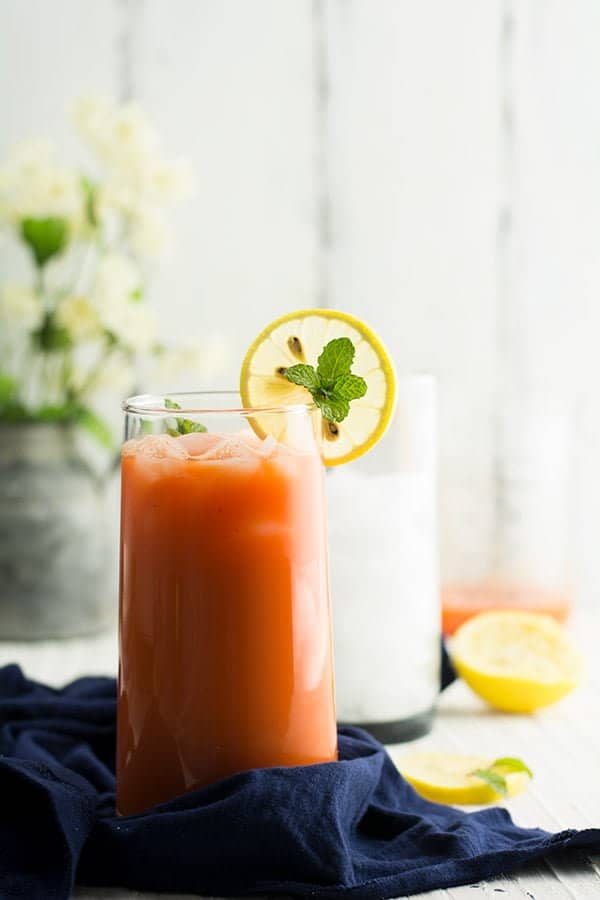 Pick up a bunch of carrots from the stores or from your garden. The fresher the carrot is more the tasty the juice is. So, always prefer to fetch garden fresh carrots.
This bright orange colored homemade carrot juice instantaneously gives a boost to my energy and makes me refreshing. My son literally cries on seeing this vegetable on his plate. He does not eat them as raw or as cooked. In his perspective, only the bunnies munch on carrots. How will I include this nutritious carrot for him?
Well, it was difficult until I learned how to make carrot juice deliciously. At present, no more complaints from each other. Is there anyone in the world who do not love carrot juice?
While you read a lot about the goodness of the carrot and are experiencing like me who cannot include them in the food. This tasty carrot juice recipe is definitely for you.
The juice is fabulous that rejuvenates the tastebuds and leaves gut light.
In case you are an expert cooking and probably you might think, why in the earth someone wants a recipe for juicing? Yeah, I could hear from you. This post not only talks about how to make carrot juice at home. But also speaks about the complimenting ingredients and the ways of squeezing, along with their pros and cons.
Inspiringly, today's world talks a lot about a healthy lifestyle and healthy eating. This simple carrot juice recipe is a small stepping stone to move further in a healthy way. I have not added additional sugar to the carrot but compensated with the lemon juice and the Himalayan pink salt. Ginger is a healthy spin to this classic homemade juice.
Leading a healthy life does not necessarily depend on modern kitchen gadgets. But it is possible with simple equipment that we have already in our home.
How to make Carrot juice
With Juicer
Remove the skin, chop of the top. Insert the carrots one after the other into the allotted slot. If the slot is smaller in your machine, then chop off the carrots into smaller sizes to fit. Keep a container to collect the juice on the other side. Press the carrots with the holder. Then add an apple, collect the juice. Add lemon juice, a pinch of salt and mint leaves. The apple gives a density and mint leaves add refreshing taste in this easy carrot juice recipe.
With Blender
Peel the skin of the carrot, chop of the top. Cut into small size pieces. Add it to the blender, add orange juice or pineapple juice. For a cup of carrots, a cup of orange or pineapple juice would be perfect. Pulse until it becomes a smooth pulp. Strain and combine with lemon juice and mint leaves. And serve.
With Grater
Remove the carrot skin, grate it finely. Grate apple in the same way. The squeeze and extract the juice. Add lemon juice, salt, and mint leaves. Combine with orange juice or cold water if desired.
Peel and chop off the head. Use the smallest shredding side, and shred as finely as possible. You may squeeze the juice with a muslin cloth or nut bag.
The pros and cons
When using the juicer
Using juice is a modern and easy method for juicing carrots.
Advantage. We can get the juice instantaneously and effortlessly. All you need is to peel the skin and dump one after the other into the juice slot. The juice is thick and condensed, the taste is incredible and one will fall in love with this immediately.
Disadvantage. The juicer is a pricy and expensive investment for many of us. On the other hand, I feel the juicer is not extracting the 100% juice from the carrots. The leftover is still pulpy and juicy. Or maybe the juicer I have is working this way. Leave your comment is you are happy with your juicer.
When using blender/hand blender
Advantage. This method is affordable, as we might have in the kitchen already. Extracting the juice with the blender is effortless just like the juice. And you have the option of squeezing the juice as much as possible. So minimal wastage, you get great satisfaction that you are seeing anything good is going to trash in this best carrot juice recipe.
Disadvantage. You need a heavy-duty blender, as the carrots are firm vegetables. Some low capacity blenders may struggle to crush the carrots. You need to strain the juice as an additional task. Added to this, you need to combine with water or orange juice to blend effectively. Besides, if you pulse the blender for a longer time, the machine may get heated up and can potentially kill some nutrients while carrot juicing. To sort this out, add ice water, ice cubes or cold orange juice to make this machine cool while it is working.
When using grater
Advantage. The most effective method to my knowledge and budget-friendly. In this classic method, all you need is just a grater. Nothing will get heated up to spoil the nutrients, we can extract the juice as maximum as can.
Disadvantage. This requires time-consuming laborious work. And highly impossible when you want to juice for the entire family.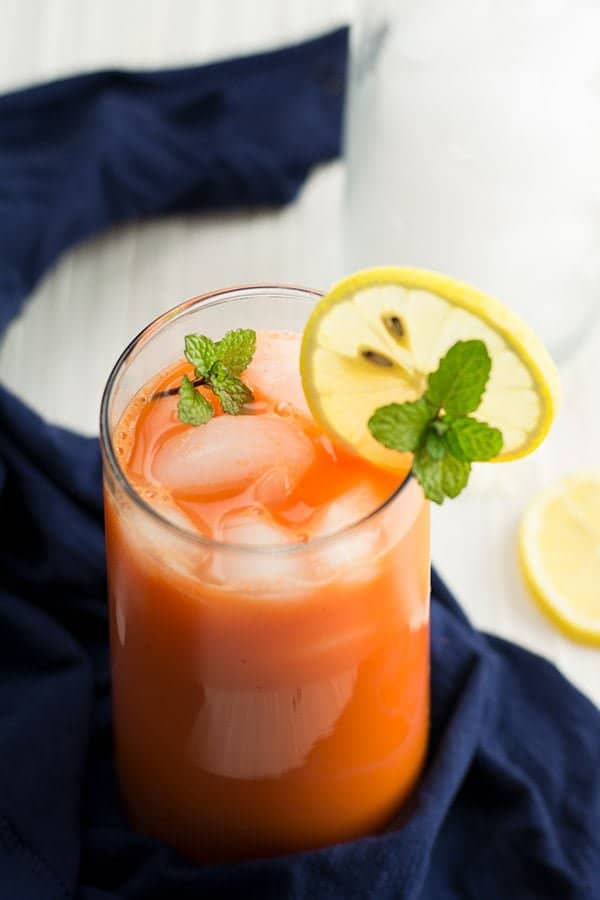 The straining equipments
The next question pops after how to make carrot juice is how to strain the juice. If you are using the juicer, the straining job is automatically done by the machine. All you have to do is discard the residue. But if you are using the blender or the grater, you require a strainer to extract the juice. For this, you have multiple options.
Normal steel strainer
The regular food strainer is my all-time favorite. This is the most reliable and effective according to me. I place a large bowl and rest the strainer on the top. I pour the pulp mixture and allow it to sit for a while. The juice will be collected in the bowl, and I use a wooden ladle to press with a gentle pressure to extract the juice to the best.
Nut milk bag
Another not so popular for the carrot juice recipe. You may use a nut milk bag also. It also works the same way as the strainer. You allow the juice collects in the bowl and we should use hands to extract the excess content.
Cheesecloth
I do not like this way to extract the juice, I feel it is messy and spoils my mood for drinking the juice. However, this is how I feel and everyone's view may be different.
How does this taste like?
This carrot juice recipe is packed with multiple flavors and tastes. It is made to preserve the natural sugar present in the carrots. It is slightly sweet, salty with a hint of lemon and mint flavor. This taste is very addictive that you cannot stop yourself with the first glass of serving.
Serve in a tall glass in the morning or as a midday snack. It gives you the satisfaction that you have started the day with healthy ingredients.
How long this stays good?
Since it is related to health and we are drinking for its healthy aspects. Fresh carrot juice is always the best and hearty. I would recommend consuming it as soon as it is made. But theoretically, you may store in the refrigerator for upto 6 hours or for a month when frozen.
Why you should try?
Apart from its medicinal benefits making carrot juice is an easy task. The modern kitchen gadget helps us to make it like a breeze.
The carrot is rich in vitamins and minerals.
According to Healthline, the carrot is a great source for fiber, biotin, vitamin A, B6, K1, Beta carotene, and potassium.
And also it is believed that it lowers blood cholesterol and good eye health.
It is delicious and gives instant energy and boost metabolism.
Other easy recipes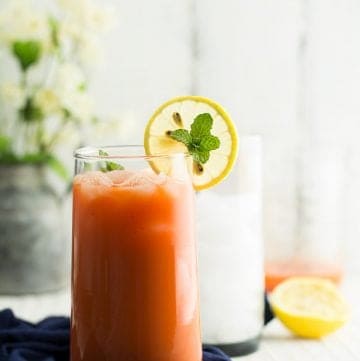 How to make carrot juice
This carrot juice recipe is one of the most in our everyday healthy routine. This is sweet, salty with a hint of lemon and mint. Let us learn how to make carrot juice using with and without a juicer.
Print
Pin
Rate
Ingredients
5

cups

carrot

roughly chopped

1

apple

½

lemon

¼

teaspoon

salt

1

cup

orange juice
Instructions
In a blender jar, add roughly chopped carrots, apple, salt, and lemon juice.

Blend until it becomes a smooth pulp.

In a large bowl, set a strainer on the top.

Pour the carrot mixture, allow to sit for 10 minutes for the carrot juice to drip.

Use a ladle and gently press to extract the excess juice thoroughly.

Transfer to tall glasses, fill with ice cubes and garnish with mint leaves.
Video
Notes
Mint leaves have strong flavor, so serving as a garnish will bring a beautiful flavor.
Nutrition
Calories:
242
kcal
|
Carbohydrates:
59
g
|
Protein:
4
g
|
Fat:
1
g
|
Saturated Fat:
1
g
|
Sodium:
514
mg
|
Potassium:
1407
mg
|
Fiber:
12
g
|
Sugar:
36
g
|
Vitamin A:
53756
IU
|
Vitamin C:
99
mg
|
Calcium:
132
mg
|
Iron:
1
mg