Celery Chutney is one of the delicious Indian recipes with celery. A condiment served with South Indian breakfast dishes like Idli and Dosa. A successful attempt in developing a fusion chutney using locally available vegetables.
This green fiber-rich chutney is wholesome perfect to be paired up with any food of your choice.
Generally, celery is eaten as raw, and it will be served along with the appetizers here in the United States. It is crunchy and loaded with tonnes of fiber.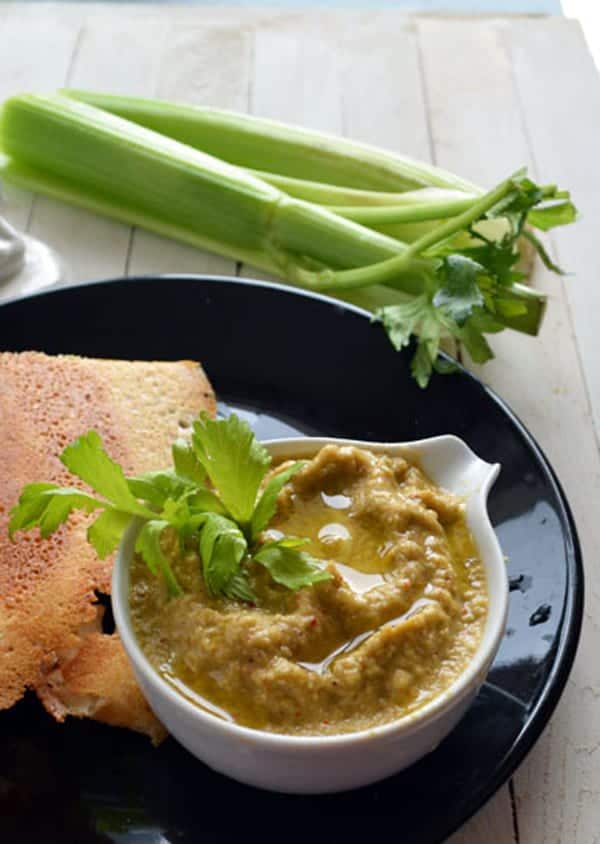 Chutney is an important dish of South India, which we cannot think of any breakfast dish served without chutney.
Usually made with vegetables and a good proportion of dal(which in turn adds protein to the dish) and seasoned with mustard and urad dal(skinless black gram).
Celery is not an Indian ingredient and it is really hard to find good Indian recipes with celery on the Internet. This celery chutney recipe is an effort to fill this gap, and I'm sure you will also approve this chutney as your favorite.
Generally, South Indian chutney is spicy, unlike western countries which are normally sweet based. Furthermore, chutney normally served with breakfast dishes and also with rice.
How does this Celery chutney taste like?
This ultra-tasty chutney is a perfect blend of hot, spicy, sour with the beautiful aroma of celery. We could feel the immense presence of celery predominantly with the sourness from tamarind and the heat from the hot red chili.
To put it in one sentence, it is the finger-licking taste.
If you are searching for other chutneys
The main ingredients.
This celery chutney is a typical South Indian style chutney which is hot and spicy. The recipe is simple and straightforward, and it is really fun if all the ingredients are available.
Celery. Celery grows just above the ground, and wash and rinse multiple times until the stem looks clean without any impurities. And there are some chances of mud stuck in between the stalk. So before cleaning, separate each stalk from the bunch and clean individually.
Tamarind. Being a South Indian, our pantry is always filled with tamarind. You may also use tamarind pulp instead of the tamarind.
Looking for the substitute for tamarind or tamarind pulp? Use raw mango or dry mango powder, as two ingredients are the closest substitute for tamarind.
Or you may also use lemon juice to balance the flavors of celery and the red chili in this celery chutney recipe.
Mustard seeds. You cannot think of any South Indian recipes without this ingredient. Mustard brings out an authentic Tamil style flavor.
Urad dal and Chana dal. These two lentils are otherwise called as skinless black gram and Bengal gram. These add a rich texture and notable protein content to this Indian celery chutney.
You may swap with any other lentils you have at home. But make sure you fry them completely in the cooking oil.
How to make Celery Chutney.
In the medium flame, Stir in cooking oil, mustard seeds, urad dal, chana dal, asafoetida, and red chili.
Fry them until chana dal changes its color.
Add roughly chopped celery, tamarind.
Saute them until celery edges become soft.
Let it cool down to room temperature.
Add salt and quarter cup of water.
Grind to a smooth consistency chutney.
Serve with South Indian breakfast dishes.
Dry roast Bengal gram and Urad dal separately, until they turn golden brown in color. Roast them in large quantities and save the remaining for future use.
Serving Suggestions
Serve as a dip for any appetizers.
Serve as chutney for the Indian Breakfast Dishes like Idli, dosa, roti, etc.
Tips and Variations for Celery Chutney
If raw mangoes are not available, then substitute with a small lemon sized tamarind.
Substitute onion/grated coconut for Urad dal/Bengal Gram.
We can also swap tamarind with raw mango pieces or Amchur powder(dry mango powder).
Replacing tamarind with raw mangoes provides some extra nutrients with unique refreshing flavor.
Celery Chutney
Celery Chutney, is a condiment to be served with any appetizer, Idli, Dosa, Roties. A successful attempt in making use of locally available vegetables.
Print
Pin
Rate
Ingredients
4

celery stalk

3

green mango pieces

1

tablespoon

chana dal

/Split chickpea

1

teaspoon

urad dal

/Skinless black gram

¼

teaspoon

asafoetida

¼

cup

water

¼

teaspoon

salt

or as required
Instructions
Dry roast chana dal and urad dal separately, until they turn golden brown in color.

Wash and clean mango pieces. To the mixer grinder, add roasted Bengal gram, urad dal, celery stalk, raw mango, red chili, asafoetida, water, and half a teaspoon of salt. Grind them to smooth fine paste by adding little water at a time.

Serve them as condiment for the appetizers or as a side dish for Idli, dosa etc.,
Video
Nutrition
Calories:
58
kcal
|
Carbohydrates:
11
g
|
Protein:
2
g
|
Sodium:
301
mg
|
Potassium:
165
mg
|
Fiber:
3
g
|
Sugar:
3
g
|
Vitamin A:
465
IU
|
Vitamin C:
64.7
mg
|
Calcium:
20
mg
|
Iron:
1
mg
Liked our Celery Chutney recipe? Follow us on Facebook, Pinterest, Instagram