This Chinese Garlic Chicken is a popular Chinese recipe that everyone will love this flavor. This tastes super delicious when served with rice, roti, naan, and noodles.
Indian restaurants always have a special place for these Asian recipes in their menu card. In India, the authentic Chinese dishes are customized to suit the Indian palate. And hence, there might be a vast difference between the original and the Chinese dishes in India. The same fact applies to this Chinese Garlic Chicken recipe as well.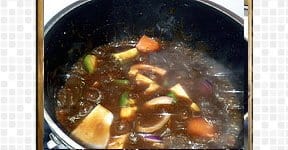 The Indians love the newly evolved taste of Chinese food from its origin and history. And they continue to love, patronage, and support them to the core.
Check the other recipes here. You may also like this Szechuan Fried Rice and Vegan wonton made with tofu.
Chinese garlic chicken soaked in garlic sauce is sticky, sweet, and sour. It's a perfect combination of tastes that you should try out. So, why wait? Bring home the Chinese restaurant for this weekend's dinner.
I'm sure you would not regret it, and this is better than the Asian takeout, including this Asian garlic noodle.
This Chinese chicken recipe is the easiest for those who want to experiment with Chinese cuisine.
Serving suggestions
This Chinese garlic sauce is humble and perfectly pairs up with any dish.
It can be an excellent appetizer to start the meal or works fine as a side dish. When served with this sweet and hot Chinese garlic chicken, your main dish becomes a fancy meal.
The main meals like rice and noodles will get an instant facelift; I strongly suggest trying this world-popular Chinese garlic chicken.
And to add more, it also tastes great when served with Indian bread—no doubt why this recipe became popular in India quickly.
The Indian restaurants serve this with paratha and naan.
And simple rice would be the ideal match.
If you prefer higher fiber and protein, consider serving it with brown rice or quinoa.
Any mild main course is a brilliant blend you can always expect when serving Chinese garlic chicken stir fry.
For those who prefer low-carb meals, cauliflower rice and broccoli rice is the ultimate variation.
Serving with a big bowl of vegetables is a healthy choice. Steam a big bowl of broccoli, carrots, and green beans for this. This vegetable teams up remarkably. This combo pops up in my mind if I think of genuine meals.
How to make this family-friendly?
I know it is tough to serve a new dish for everyone in the family. Where each has a different taste, choosing and making the one recipe that suits them is always more challenging.
This recipe of Chinese garlic chicken has become popular among families because of its adaptability to convert to suit different palettes.
If some of your family members are uncomfortable with this Chinese-style garlic sauce, serve them with the fried chicken alone. To do this, reserve some fried chicken before adding to the sauce.
If this sauce sounds overpowering, you can mellow it down by serving it with rice.
No matter what you choose as the pairing dish, this tastes DELICIOUS.
Variations that you could try
If you make it for the party or potluck, dip the chicken pieces in more garlic sauce. The sauce, which is so much easier to make, increases the quantity of the dish in no time.
For thicker and larger quantities, adjust corn flour/starch.
You can also be substituted with mushroom, paneer, and deep-fried cauliflower in the recipe for Chinese Garlic Chicken.
For the heat, add more green chilies.
Other chicken recipes,
Printable recipe card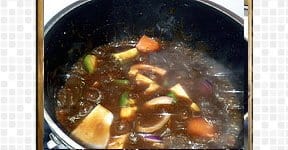 Chinese Garlic Chicken Recipe
Chinese Garlic Chicken Recipe is the Indo-chinese recipe where everyone will love this flavor and this goes very well with roti, naan, and noodles.
Print
Pin
Rate
Ingredients
For making
1

tablespoon

vegetable oil

1

tablespoon

garlic

minced

½

cup

chiccken breast

cut into thin long stripes

2

tablespoon

onion

cubed

2

tablespoon

capsicum

cubed

2

tablespoon

tomato

cubed
Instructions
For prepping
In a small mixing bowl, add cornstarch, soy sauce, chili garlic sauce, and water

Combine well and set aside.
For making
Over medium heat, in a pan add vegetable oil, minced garlic, and chicken.

Stir until chicken is throughly done.

Now add diced onions, green bell pepper, and tomato.

Turn to low heat, and add the spicy sauce.

Stir continuously for 2-3 minutes until the chicken is coated with the sauce well.

Remove from the heat and transfer Chinese Garlic Chicken to plate.

Serve with noodles or rice.
Nutrition
Calories:
104
kcal
|
Carbohydrates:
10
g
|
Protein:
2
g
|
Fat:
7
g
|
Saturated Fat:
6
g
|
Sodium:
924
mg
|
Potassium:
74
mg
|
Fiber:
1
g
|
Sugar:
3
g
|
Vitamin A:
414
IU
|
Vitamin C:
16
mg
|
Calcium:
7
mg
|
Iron:
1
mg
**Disclaimer: The nutritional information provided is an approximate estimate only.
Serving Suggestions:
1. Serve Chinese chicken with garlic sauce as the appetizer or as a fried rice, noodles, or roti dish.
Do you like this Recipe? Follow us on Facebook, Pinterest, Instagram