Indian cilantro chutney is exclusively made to serve with South Indian recipes like dosa and idli. Made with coconut and aromatic South Indian ingredients.
The Green color of this spicy cilantro chutney endorses that it is very healthy. This recipe can be used in multiple ways: as a side dish for breakfast recipes like Idli and dosa, a spread for bread sandwiches, and chat verities. It is also good to serve with rice.
Fresh cilantro has medicinal value. And it is better to add it regularly to our diet.
Indian cilantro chutney is an interesting chutney that can be adapted to any cuisine, I love to have a spread for pizza, bread sandwiches, or as a sauce for pasta. This is one of the healthy Indian chutney recipes.
The spring season brings tons of fresh cilantro to the market for cheaper prices. Try this multi-faceted chutney for a healthy life.
This chutney can also be used as a spread for making coriander spread sandwiches. It best pairs with Indian dishes like idli, roti, or rice.
This is called 'kothamalli chutney' in Tamil, where kothamalli means cilantro.
Other chutney recipes you may like,
How does this taste like?
The texture is smooth and silky, which makes it perfect to serve as a tasty dip. This Indian cilantro chutney is spicy and healthy with all the incredible chlorophyll on your plate. It is always a wonderful experience to serve the dish by retaining the way that nature has gifted us.
Making this spicy cilantro chutney does not involve multiple layers of cooking like any other Indian recipe. No cooking is needed, thus preserving the nutrients that originally cilantro comes with.
Why Indian cilantro chutney?
It is healthy, the first and foremost advantage you could ever think of.
This looks gorgeous with its bright color and refreshing taste.
This spicy green chutney is great to serve as a spread for sandwiches. Once you have tasted this version, you repeatedly make this spicy green chutney for a sandwich.
This is the best hot and sour chutney for South Indian breakfast. Not only do these two items brilliantly match other South Indian breakfast dishes.
Made with generously available ingredients and without coconut. It's so easy to try, even for the first time.
In less than 15 minutes, you please everyone in the family with its tastes and splendid look.
You may also make this cilantro chutney without coconut.
Key Ingredients
Cilantro. This is a universal ingredient in all leading grocery stores throughout the United States. But if you can visit local Indian stores, grab the fresh cilantro leaves; I found the cilantro leaves available in Indian stores have an intense flavor. Cilantro is called 'Coriander Leaves' in India. Make this very refreshing India cilantro chutney today.
Tamarind. This ingredient makes this authentic South Indian version, and this wholesome round tamarind flavor makes it perfect to serve with Idli or Dosa. But in its absence, you may substitute with dry mango powder. Still, this dry mango powder variation is close to the original tamarind version.
What if tamarind and dry mango powder are not available? Substitute with lemon juice in this Indian cilantro chutney recipe. But lemon juice has a sharp, tart taste, which I would suggest serving with paratha, naan, and as a dip for an appetizer rather than with Idli or Dosa.
Coconut. Grated coconut neutralizes all the creamy ingredients and gives the chutney a nice texture. In its absence, you may substitute with the same quantity of white onion. A white onion gives a nice slight sweetness to the chutney, whereas red onions add a strong flavor. So, decide accordingly.
Green chili. The Green chili I have mentioned here in this spicy chutney is the one I got from the Indian store. The perfect substitute in this chutney would be serrano peppers, commonly available in the United States. You may also substitute with a small piece of Jalapeno, deseed them if you feel it is too hot.
Printable recipe card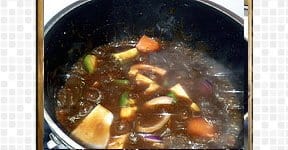 Indian cilantro chutney
Indian cilantro chutney is made in the authentic South Indian style. A versatile side side that is great to serve codiment or as a dip.
Print
Pin
Rate
Instructions
Over medium heat, in a pan, add black mustard seeds, urad dal, red chili, tamarind, grated coconut.

Stir until mustard seeds splutter.

Add cilantro. And stir for a minute.

Allow it to cool to room temperature.

In the blender jar, add the coriander mixture, salt, and water. Grind it to a fine mixutre.
Nutrition
Calories:
215
kcal
|
Carbohydrates:
38
g
|
Protein:
15
g
|
Fat:
4
g
|
Saturated Fat:
1
g
|
Sodium:
419
mg
|
Potassium:
2701
mg
|
Fiber:
8
g
|
Sugar:
7
g
|
Vitamin A:
3567
IU
|
Vitamin C:
352
mg
|
Calcium:
744
mg
|
Iron:
26
mg
**Disclaimer: The nutritional information provided is an approximate estimate only.
Do not forget to check out South Indian fish curry.
Serving Suggestions:
1. Serve it with Idlis, Dosas, Pongal, and rice.
2. Can also be used as a spread for bread sandwiches.
3. Can be used as a green chutney in chat varieties.
Tips and Variations for Indian cilantro chutney recipe:
1. Make it a little watery if serving with Idlis and dosas.
2. Add sauteed onions if you are planning for more quantity.
3. Lime juice can also be substituted with tamarind in this recipe.
Do not miss the latest recipes. Follow us on Facebook, Pinterest, and Instagram.