Corn chaat is actually a spiced Indian corn salad. One of the most popular Indian street food recipes made with a delectable blend of chopped onion, tomato, green chili. A splendid fusion recipe of corn made in Indian style. This is incredibly easy and simple to make.
This Masala corn could turn out to be your most desired finger liking appetizer. Which is super tasty with the correct balances of flavor. Learn how to make this Indian corn salad healthy, delicious with easy to follow steps.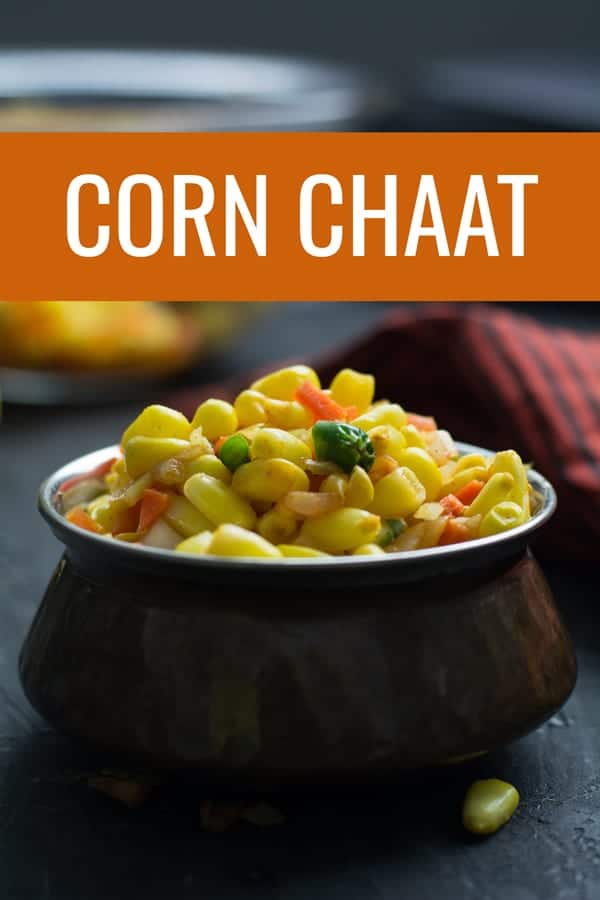 Maybe someone in your family asked you to make a snack, and your mind is wavering between the deep-fried snack and a healthy snack. No one can deny this as this scenario is faced by everyone.
Picking a healthy snack is very difficult in this internet era. As zillions of deep-fried snacks are cluttered in the list. Surprisingly, an easy and healthy snack is also not so many in there. Choosing them is more difficult than you have ever thought of.
Choices in front of you for making healthy snacks are limited. Many times, the recipe might not be popped up in your mind when you need actually. Hence, have this Indian corn salad recipe handy so that you can make whenever you crave for something to eat.
This Indian spicy corn is so effortless and humble recipe you can make it with normal ingredients available in your pantry at home.
It can make with pantry available ingredients like corn kernels, onion, tomato, lemon, green chili, and some fresh coriander leaves. The freshness of the vegetables gives an extravagant flavor that tempts to eat. Furthermore, you cannot stop after trying for the first time.
Have some more vegetables at home? Excellent! you throw to this dish to make it wholesome and rich.
Generally, my family does not prefer deep-fried dishes. Rather we prefer healthy, tasty, and a filling evening snack. Finding a snack that satisfies everyone with these compliances without compromising on its delicious factor is absolutely difficult.
A friend of mine back in India makes this chat excellent Indian corn salad with made dazzling with Indian spices. I always ask her to make for me every time I visit her.
From then on, I became a great admirer of its refreshing taste and its crunchy texture. It is amazing that the different fresh ingredients hit your mouth in every bite.
Wait...
I'm talking too much about the corn chaat-Indian corn salad, if you are new to Indian cuisine you might be curious to know what Chaat is all about? I can understand you!
What is chaat?
Chaat is an Indian style salad which is made and eaten fresh. Usually, it is a combination of fresh vegetables like onion, tomato, lemon juice, grated carrots, cucumbers.
Where onion, tomato, lemon juice, green chili are the basic common ingredients, and others keep varying according to the main recipe and their seasonal availability.
Chaat belongs to Northern cuisine but later it is widespread throughout India. If you make a visit to any part of India, you could possibly hit chaat stalls in every street corner.
Because of its gaining popularity, most of the restaurants also have chaat items in their prioritized menu.
How does this salad taste like?
This spicy Indian corn salad with a sharp taste of lemon juice and green chili. Here the salad has bold flavors that hit you in every mouth. Very refreshing, energetic, and healthy with the zing.
How to make Indian corn salad?
The ingredients and the quantity described here are just to give an idea of making. You may change it according to the availability of the ingredients and your preference.
Preparation does not have any strict thrum rules, this is actually a salad, the limits are open. So, feel free to customize by adding in more of your vegetables and the spices. The ingredients you need for preparing the hot corn dish.
The lemon juice and the green chili or serrano peppers flavor gives the structure which beautifully balances with a kick of salt. For a good measure, I have added a fistful of cilantro leaves that gives a garden-fresh sensation.
Onion: Onion is my favorite ingredient when coming to the salad. This adds crunchy and texture to the salad. If you are serving for kids or if you feel that onion would be overpowering. Then reduce its quantity.
I have added yellow onion in this recipe. As I prefer using it in my kitchen than the red onions. I feel, yellow onions have a mild and subtle flavor and can merge very well within the recipe.
Tomato: Another top preferred ingredient next to the onion. This gives a rich taste and adds contact color to the salad. It incorporates well and turns as a binding agent when combined in the salad.
Green chili: The performance of this ingredient is huge in this salad. It adds heat and amusing smack to the chaat. The onion, tomato, and green chili make a brilliant combination, they adjust and elevates each other's flavor.
Worrying about the heat of the chili peppers? You can overcome this fear by following this
You may deseed them.
you may mince them into tiny pieces so that no one can notice it.
You may slit them and discard them before serving.
You may use Serrano peppers and follow the above steps according to your choice. You may use Thai chili peppers also, but they are a super-hot alternative.
Red chili powder And Coriander powder. These spices are essential and a staple ingredient in an Indian kitchen. If you do not have them handy you may substitute with cayenne pepper and paprika.
Chaat masala. Honestly, chaat masala gives an extra dimension to the recipe. I have mentioned here is a store-bought ready-made one. These are available in your local Indian stores. If you do not have access to it, you may skip it as it will not break the recipe. And the salad tastes yum without this ingredient.
Corn. Though literally you can use dried, fresh or frozen corn. All you need it to cook and bring it to room temperature before making the salad.
Making frozen corn is totally a time saver. In fact, I totally rely on and stock it in my freezer. If you are using dried corn, soaking for 6 hours would help to cook perfectly.
The preparation
Cook corn kernels until it becomes soft and tender. Drain and keep aside until it cools down and reaches room temperature.
In a mixing bowl, add corn kernels, chopped onion, tomato, carrot, green chili, cilantro.
Then add red chili powder, coriander powder, chaat masala salt, and lemon juice. Give a gentle stir until the corn kernels coat well with the other ingredients. Transfer Indian corn salad to the serving bowl and serve immediately.
Other similar recipes you may like,
Indian corn salad
Corn chaat is actually a spiced Indian corn salad. One of the most popular Indian street food recipes made with delectable blend of chopped onion, tomato, green chili. A splendid fusion recipe of corn made in Indian style. This is incredibly easy and simple to make.
Print
Pin
Rate
Ingredients
1

cup

sweet corn

frozen

¼

cup

onion

chopped

¼

cup

tomato

chopped

½

cup

carrot

grated

1

tablespoon

cilantro

minced

2`

green chili

or serrano pepper/minced

½

teaspoon

red chili powder

/cayenne pepper

½

teaspoon

coriander powder

½

tso

chaat masala

1

tablespoon

lemon juice

½

tso

salt

or as required
Instructions
Cook corn kernels until it becomes soft and tender. Allow it to cool.

In a mixing bowl, add cooked corn kernels, finely chopped onion, tomato, carrot, cilantro, and green chili.

The add spice powders like, red chili powder, coriander powder and chaat masala.

Finally add lemon juice and salt.

Combine them well, until corn coated well with the spices.

Transfer to the serving bowl and serve immediately.
Video
Notes
You may substitute red chili powder with cayenne pepper or paprika.
Nutrition
Calories:
116
kcal
|
Carbohydrates:
25
g
|
Protein:
3
g
|
Fat:
1
g
|
Sodium:
282
mg
|
Potassium:
343
mg
|
Fiber:
5
g
|
Sugar:
8
g
|
Vitamin A:
5905
IU
|
Vitamin C:
18.5
mg
|
Calcium:
11
mg
|
Iron:
0.6
mg
Liked this recipe? Follow us on Facebook, Pinterest, Instagram.