Mutter Paneer masala recipe is tasty and easy. Paneer is a good source of calcium. Paneer is low in calories and is easily digestible.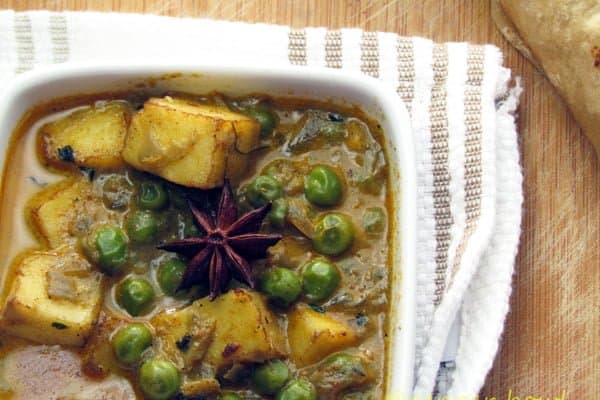 Mutter Paneer is one of my very favorite dish which I prefer in a restaurant. Every bite will get us out of the world….yes, I really mean it. It's healthy too. Paneer and peas combos play a perfect role and make this matar paneer recipe extraordinary. Here we go for the recipe.
Another side dish that could perfectly match with roti along with this paneer masala is Baingan Subzi, Gobi Manchurian, Malai Kofta.
Do not forget to check out another recipe of Aloo-Palak Recipe, here in PepperBowl.
Jump to:
What is Mutter Paneer
This is a traditional Indian curry made with cottage cheese cubes in simple onion and tomato gravy. A flavorful side dish best to pair up with any Indian flatbread or with rice. This makes your regular dinner to a fantastic dinner.
Paneer is the Indian style cottage cheese, which is the most popular and widely used throughout the country. Furthermore, this is also considered as the best vegetarian substitution for the meat.
Mutter is the Hindi word for Green Peas. The green peas and paneer are inseparable combos, which supplement each other in the taste, texture, and the look in this paneer butter masala.
If you have familiar with the Indian restaurant, you might have noticed that the side dishes often have the choice of substituting meat with Paneer. To say in simple words, this is good to use and great in taste.
The Paneer holds its shape even after cooking, which is best to make the side dish and has a great chewy texture.
How does this Paneer Mutter Masala taste like?
This simple Indian side dish recipe tastes extremely delicious, with bold Indian flavors. The paneer has a soft and chewy texture and tastes rich and creamy. The curry retains the green pea's, natural mild sweetness.
If you think about any Indian curry, this is how it does taste like. If you are recently exploring Indian cuisine after your recent visit to the Indian restaurant, this is probably the curry recipe you should start with.
This is a restaurant-style recipe made in a simpler way make it possible for everyone to try this recipe, even those who are new to Indian cooking.
Key Ingredients
This restaurant-style matar paneer recipe needs a few authentic Indian ingredients. We will see where to get them and its substitutions available.
Paneer. Cottage cheese is the primary ingredient in the mutter paneer. You can get them in the nearby Indian stores. They carry them in the frozen aisle. Or you can also make them at home. Making at home is super easy, cost-effective, and no need to run for the grocery store when you plan to make this recipe. Thus you can use store-bought paneer or the homemade one, depending on your preference.
Green peas. You may use this universal ingredient as fresh or frozen. You can get the store-bought frozen peas and reserve it for up to 4 months.
Red chili powder. You cannot find any Indian recipe without this super important ingredient. This is the sole ingredient for making any Indian recipe hot and gives a nice reddish tint to the dish. If this is not available to you. You may use paprika and cayenne powder.
The whole Spices. I have used cinnamon and aniseed for the flavor. The whole spices have to be fried in oil for the rich aroma. But you may use half a teaspoon garam masala instead. If you are substituting whole spices with garam masala powder, sprinkle on the gravy at the final stages of cooking.
Ginger and garlic. I have used them as grated in this recipe, which gives a robust flavor. But you may also use the store-bought ginger garlic paste for the quick cooking.
Cilantro. Cilantro is the coriander leaves. Garnish the curry with the fresh cilantro, which blends well with the curry in respect of taste and also in the aroma. This herb is added for the flavor and also the appetitive looks it provides to mutter paneer.
How to make
Paneer is available as cubed or as a solid block. If you have a big block of paneer, then cut them into small bite-size cubes.
Then shallow fry them in a tablespoon of cooking oil. Shallow frying gives firm texture.
Blanch tomato and grind it in the blender. Or you may also use diced can tomatoes. For blanching cook the tomato in boiling water for about 2-3 min. No need to peel off the skin in this recipe.
In a pan add 2 tablespoons of cooking oil with cinnamon, star anise. Fry until they become brown.
Then add finely chopped onion, followed by grated ginger and garlic. You may also use the readymade ginger garlic paste.
Once the onion becomes translucent, add red chili powder and coriander powder. Fry them for 30 seconds without burning them.
Now add tomato puree, green peas, and half a cup of water.
After the gravy thickens, add cottage cheese and kitchen king masala. Cook it for 5 min in medium flame. If needed adjust the consistency with water.
Once it reaches the desired consistency, switch off the flame, and add fresh cream garnish with cilantro. The fresh cream brings you the restaurant like the taste. But it is purely optional.
Serve Paneer Mutter Masala with hot roti, fried rice.
Other classic curry recipes you may like,
Printable recipe card
mutter paneer
Mutter paneer is a traditional Indian curry made with cottage cheese cubes in simple masala. A flavorful side dish best to pair up with rice or bread.
Print
Pin
Rate
Ingredients
For prepping
1

cup

paneer

/ cottage cheese

1

teaspoon

vegetable oil

for shallow frying the paneer

2

tomato

medium size

6

cups

water

for blanching
For cooking
½

cup

green peas

/ mutter

4

cups

water

1

teaspoon

salt

2

tablespoon

heavy cream

2

tablespoon

cilantro

/coriander leaves-minced
Instructions
For prepping-panner and tomato
Cut paneer into bite-size cubes.

Over medium heat, place a pan and add vegetable oil and paneer cubes.

And shallow fry them till the edges changes to golden brown. And set aside.

Over high heat, in a saucepan, add water and bring it to boil.

Add tomatoes and cook for 2 minutes.

Then remove the tomatoes with a spoon and allow it to cool.

Peel the skin and grind into a smooth paste. And set aside.
For seasoning
Over medium heat, in a pan add vegetable oil, cinnamon, cumin seeds, and fry them for a minute.
For the gravy
Then add chopped onion and saute until onion becomes soft and transulacent.

Now stir in ginger-garlic paste and saute for a minute or until it is fragrant.

Add red chili powder, coriander powder, and garam masala. And stir for 3 seconds but without burning them.

Stir in tomato puree and saute until the gravy thickens.
For cooking
Now toss green peas, water, and salt. Bring it to boil and cook it for 10 min medium heat.

Once peas get cooked, add paneer cubes and fresh cream.

Turn to low heat and cook for 3 minutes. Garnish with chopped cilantro.

Serve hot with Indian main courses.
Notes
I went to the store-bought fried paneer. If you bought raw paneer, then shallow fry for a few minutes.
Or raw paneer can also be added to get a fresh flavor.
It can be made without green peas also
Nutrition
Calories:
300
kcal
|
Carbohydrates:
9
g
|
Protein:
10
g
|
Fat:
25
g
|
Saturated Fat:
17
g
|
Cholesterol:
47
mg
|
Sodium:
667
mg
|
Potassium:
206
mg
|
Fiber:
3
g
|
Sugar:
3
g
|
Vitamin A:
1114
IU
|
Vitamin C:
14
mg
|
Calcium:
318
mg
|
Iron:
1
mg
Liked this Paneer Mutter Masala Recipe?, Follow us on Facebook, Pinterest, Instagram