Cubanelle peppers are long, bright, light green in color. These are long that usually equals 3 times its width size. The flesh is thin compared to bell peppers. And tastes mildly hot than the sweet peppers.
These are most commonly used in Cuban, Puerto Rican, and Italian cuisines. One of the flavorful additions for stir-frying, grilling, and stuffing recipes.
Scoville scale. 100 to 1000 SHU units.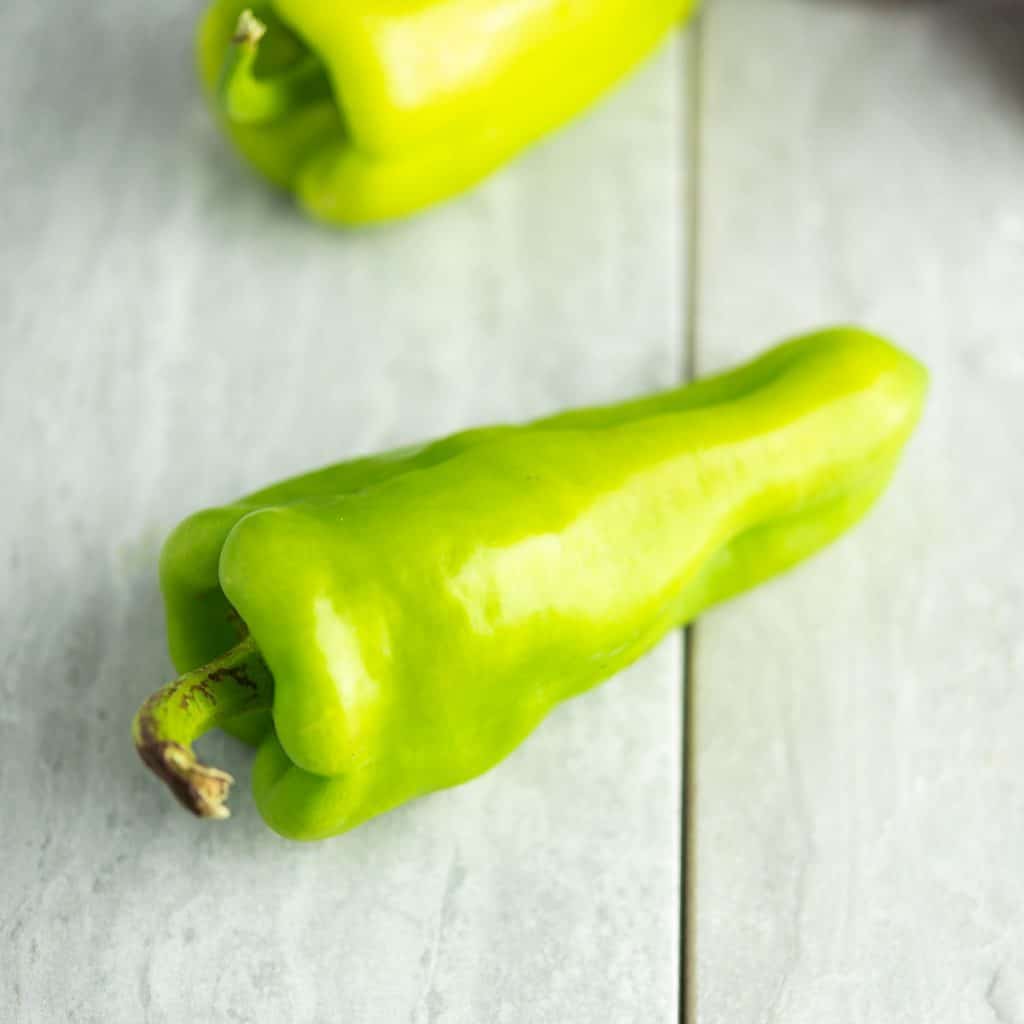 It is one of the mild sweet peppers, and low on the Scoville scale, where jalapeno's Scoville units range from 3000-7000 SHU units.
How do Cubanelle peppers look like?
These are usually 6-8 inches long and around 2 inches in the width. And bright yellowish, light green in color. And have a tapered with a slight bend at the bottom. These peppers have a glossy firm skin, with crinkles on the top.
It has thin flesh, holds seeds and the ribs mostly in the pepper's top portion. The ripen peppers look deep red with bright skin.
To put it comparatively, they look like an elongated form of bell pepper, and the color is similar to the banana pepper.
What do Cubanelle peppers taste like?
It tastes sweet, peppery with a mild heat that hits the taste buds. Its heat level is one level over the sweet peppers and not super hot.
Its heat level varies from 100 to 1000 Scoville units. It tastes mild to moderately hot at times. Its heat level fluctuates for many reasons including the season and the growing methods.
It is slightly hot than bell peppers but milder than jalapeno peppers.
What are Cubanelle peppers used for?
These are commonly used for making sauces, salsa, and salad. These are a great addition to pizza, sandwiches. And excellent in shrimp stir fry, scrambled eggs, or omelet.
Its gentle peppery flavors are perfect for any recipe that needs a mild hint of heat.
These peppers are popular in Italian, Cuban, and other cuisines. The thin wall structure makes it perfect for sauteing, frying, and for topping. The hollow structure inside is excellent for stuffed pepper recipes.
How do you store it?
These peppers are good to be in the refrigerator for up to 7 days. And the red ripen peppers may last for a couple of days. You may follow any of the following to store and pepper for a longer time.
Freezing. Initially, arrange in the cookie sheet and freeze. Later transfer them to a zip lock bag, for easy access and perfect portion control. This works for flash frying and topping variations.
Roasting. Roast them over the stovetop, grill, or oven method. And freeze them later. This method helps to make quick salsa or sauce.
Canning. Though it needs proper skill and your time, this method of preserving tops other methods in preserving the pepper's original flavor.
Pickling. Another classic method of storing peppers in bulk quantity. These fermented peppers are good for pizza toppings or topping the layer in burgers, sandwiches, or casserole.
Dehydrate. Dehydrate the peppers by hanging them in the air, or using the dehydrator. It has a more long shelf life and fits in your kitchen pantry.
Spice mix. Ground the dehydrated pepper to powder form, and use it to spice up any food instantly. And also a huge money saver for making your own spice mix.
Can you freeze?
Yes, freeze them as whole peppers, diced, or striped depending on your future requirements. To thaw leave them in the refrigerator overnight. Or chop them and add to the stir fry as and when.
Cubanelle peppers substitutes
Every type of pepper is unique and varies in its flesh, heat, and taste. The following pepper is the few closest substitutes for their taste.
Bell pepper. Excellent to substitute for the heat, as bell pepper has a mild heat. The bell pepper has thick flesh and is rich in moisture content.
Poblano pepper. These vary in texture and with a more peppery flavor. Remove the seeds to match the heat level of Cubanelle.
Anaheim. Good to substitute for the texture. Make a note that Anaheim is hotter than Cubanelle peppers, and adjust the quantity according to the recipe.
Banana pepper. It matches the texture and has an intense sweet flavor. But a good substitution for flash frying, stir-frying, and for topping.
Cubanelle vs Anaheim Vs poblano peppers
Cubanelle peppers taste mild when compared with Anaheim and poblano peppers. Scoville heat units of the following peppers range from,
Cubanelle peppers: 100 to 1000 SHU.
Poblano peppers: 1000-1500 SHU.
Anaheim peppers: 500 to 2,500 SHU.
These facts clearly show that the Cubanelle peppers have a low heat level when comparing Anaheim or Poblano peppers.
For more pepper recipes,