How to cut pineapple without waste is easy and explained with 5 simple steps along with small video. The method of Pineapple cutting described here is very easy and looks great as well. Browse through the video and step by step pictures below.
Being raised in the tropical country where pineapples are available in plenty throughout the year, we use pineapples not only for the salads and juices but also for cooking. So I thought of sharing my method of cutting pineapple here.
My favorite way of consuming pineapples is just eating them raw with sprinkles of salt and chili powder. I have many recipes here for pineapple like pineapple juice, grilled pineapple salad, pineapple bread, pineapple rasam, Pineapple pancake.
Making multiple pineapple recipes made easy after I learned How to cut pineapple without waste. You may also check How to cut cantaloupe for cutting the melons easily.
In India, these are also available as street side snaking item. The vendors slice the pineapple to thinly sliced rings and they serve by sprinkling salt and chili powder. And they are super yummy, and I try to recreate it in my kitchen and never been as tasty as it from my childhood.
As per its name, pineapple has tons of pines. If you are planning to make the salad, the pines may irritate the throat. This method is easier and removes even a tiny hair-like structures. I know some of you may avoid buying as a whole fruit just because it is difficult to remove the skin and its pine completely.
How to cut pineapple without waste
Cutting pineapples are made easier. Place pineapple on the chopping board.
Remove the skin like in this picture, using the sharp knife.
Remove the skin completely.
Observe the patterns of the dotted pines. They are arranged in a line which runs through the fruit diagonally.
Use the small pairing knife to slide through the edges of these diagonal lines in 45° angle.
On the opposite edge of the same diagonal line, run the knife the same way as before like in this picture.
Use the sharp knife to chop the crown part and the bottom of the pineapple. Then slice the fruit as per your requirement.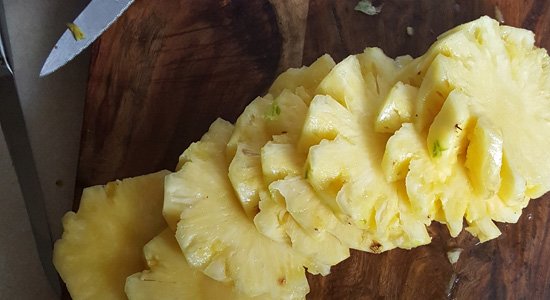 Serve them as salad, or you may also use it for cooking. This way you can minimise much waste still gets best results with this minimal waste pineapple cutting method.
Other fresh drink recipes,
Liked this cutting a pineapple method and Do not miss the latest recipes and its tips, Follow us on Facebook, Pinterest, Instagram