Spicy deep-fried peanuts/masala peanuts are a crispy snack made with chickpea and rice flour. These peanuts are crispy, crunchy, and extremely tasty. It is an addictive snack you can never resist after the first bite. This coated peanut snack is a perfect pairing for any drink.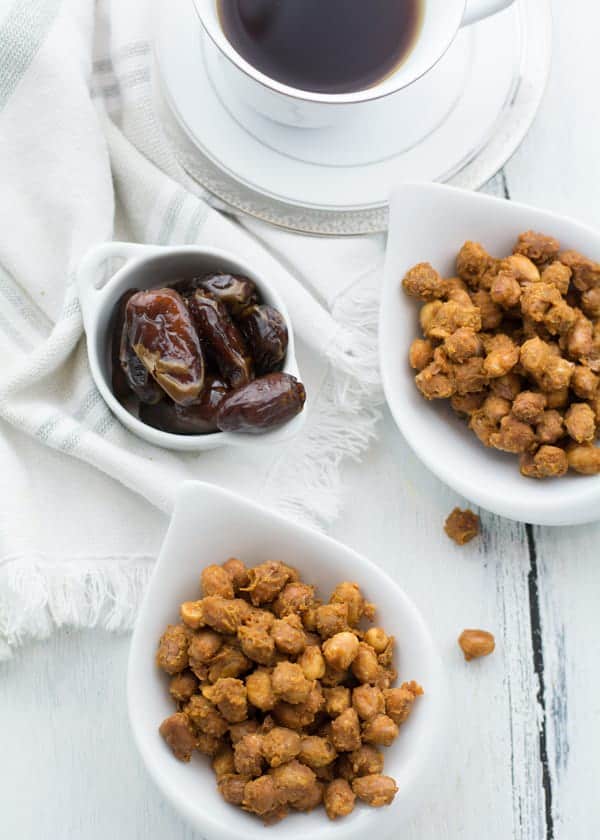 This deep-fried peanuts masala is good to be served for any party. These are great when served with fresh garden salad and your favorite beverages.
I have to mention here that your favorite beverage can range anywhere between wine and Tea. Its range is vast, and it suits almost every other drink in the world, that's what I could say.
These spicy deep-fried peanuts are coated with a thin layer of chickpea and rice flour. And this layer is a bundle of tastes, salty and spicy.
This is the ultimate addictive snack, which you never stop munching it.
We have been eating these deep-fried peanuts since our childhood. I modified this recipe by minimizing the ingredients. So that is it easy for everyone to make at home.
Make these spicy fried peanuts ahead of time. You can store these on the kitchen counter at room temperature. And it is good to use it for a week if you store it this way.
And it's springtime now. You can see verities of vegetables and fruits available in grocery stores. And also, it is time to have your friends and family around.
Make this snack a few days before the party time and avoid all the last-minute messes. I'm sure this snack would be the show stopper among any dishes at the party.
These deep-fried peanuts are great for serving as a snack in the evening. Or as great finger food for the game-day party or to munch on yourself.
Flour coating on these deep-fried peanuts gives a crispy texture to the peanuts. Gives a wholesome flavor to every bite. These masala peanuts are delicious and perfect for serving while it is still hot and at room temperature.
Hot, crispy, deep-fried peanuts are an all-time favorite of ours. The healthy option is to serve dates to balance its spiciness. And this combo works for me and for my family.
The following are great options if you are searching for a crispy finger bite to store on the kitchen counter. Try this corn cutlet.
The advantage of this spicy deep-fried peanuts recipe is it is easy to make. I have also discussed the best way to perfect it every time you make it. I'm also sharing some easy substitutes you cannot find in the classic ingredients.
These substitutes are tasty, but you can find them in your pantry.
Spicy masala peanut coating is made with rice flour, chickpea flour, chili powder, and turmeric powder.
Deep-fried peanuts Ingredient's suggestions:
Chickpea flour: It is a brilliant gluten-free substitution for regular flour. Nowadays, chickpea flour is available in all the leading grocery stores.
But if this is not available to you, you may substitute it with a combination of all-purpose flour and cornstarch. It is crispy when it is warm. And I do not know how to retain its crispness for longer.
Rice flour: This does give a beautiful coating to the peanut. But it can be substituted with corn starch.
Do you ask me about the results of these two flours? Well, I would say that rice flour gives out a soft and crispy layer. At the same time, the corn starch combo would give these deep-fried peanuts a hard and brittle layer.
Chili Powder: It gives spiciness and color to spicy peanuts. But you can substitute it with paprika. The taste and the color will not be affected by this substitution.
Turmeric powder: This ingredient gives a rich golden color to the peanuts for dabeli. You may skip using this ingredient when you do not have it in your pantry.
Asafoetida: This gives out a rich aroma. This is an option to include in the recipe; you may skip it.
Pro Tips
Mixing the ingredients:
The first requisition of perfectly deep-fried peanuts is choosing the perfect raw peanuts. This is the most underlying requirement. So go in for good quality ones.
You may use both skin or skinless raw peanuts. Both taste exceptionally well.
While mixing the ingredients, be cautious while adding the water. Add it a little at a time to avoid a watery base. The mixture has to be perfect, neither too thick nor too thin.
Make sure that the spices are evenly coated, even a single peanut.
Oil for deep-fried peanuts:
You may use any cooking oil, but I suggest using peanut oil. This makes peanuts crispy for a longer time.
Having the right temperature is another critical factor in deep-frying. The entire process of deep frying should be done on a medium flame.
Add the peanut mixture once the oil becomes warm. To test, add a single peanut. If it bubbles up and floats up, it is the right temperature.
A big no for the high flame in this recipe. The high flame quickly burns out the outer coating without cooking the center of the peanuts.
If you have a thermometer, try to balance between 325°F-350°F.
How to deep frying the peanuts perfectly:
Deep frying needs patience and practice.
Do not overcrowd the pan.
Use the spoon to separate the cluster gently.
Gently stir it occasionally.
And fry till it becomes golden brown, and when the oil minimizes bubbling.
The lower intensity of bubbling says that the entire peanuts are cooked perfectly.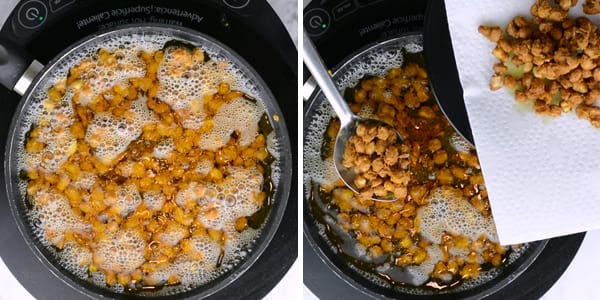 Notes:
Transfer a slotted spoon to a kitchen towel to remove excess oil.
Leave it on the kitchen counter to bring it down to room temperature.
Once cooled down, store it in an airtight container.
These deep-fried peanuts are good to use for a week.
Printable recipe card
Masala Peanuts-Spicy deep fried peanuts
Spicy deep fried peanuts-masala peanuts is crispy snack made with chickpea flour and rice flour. A crispy, crunchy and extremely tasty coated peanut snack.
Print
Pin
Rate
Instructions
In a mixing bowl, combine raw peanut, chickpea flour, rice flour, red chili powder, turmeric powder, asafoetida, salt, water and 2 tablespoon of vegetable oil.

Combine them well, until the mixture coats each peanut well.

In medium flame, heat 2 cups of vegetable oil in the pan for deep frying.

Add peanut mixture without crowding the pan.

Gently stir occasionally.

Fry till the peanuts becomes crispy and golden brown in color.
Nutrition
Calories:
532
kcal
|
Carbohydrates:
11
g
|
Protein:
11
g
|
Fat:
53
g
|
Saturated Fat:
31
g
|
Sodium:
313
mg
|
Potassium:
316
mg
|
Fiber:
4
g
|
Sugar:
1
g
|
Vitamin A:
200
IU
|
Calcium:
39
mg
|
Iron:
2
mg
**Disclaimer: The nutritional information provided is an approximate estimate only.
Liked this recipe? Follow us on Facebook, Pinterest, Instagram.