Drumstick More Kuzhambu is a spiced buttermilk gravy with the vegetable drumstick. Made with buttermilk, a unique vegetable called drumstick and with Indian spices. This authentic Tamil cuisine recipe perfect for busy weekdays.
Are you looking for a South Indian crowd-pleasing recipe or for your family gathering? or for a healthy weekday lunch? Then this more kuzhambu recipe would be a perfect choice.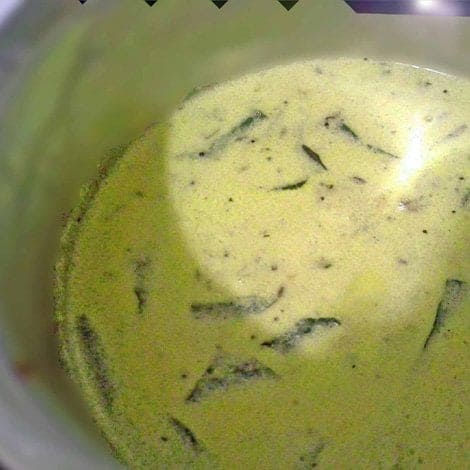 Jump to:
What is Drumstick?
Drumstick is a long stick-like vegetable that looks similar to the drumstick. It has rough skin and soft flesh inside. It's known for its mesmerizing rich taste and flavor.
Where can I get Drumstick?
I have never seen drumstick in the regular stores in the United States. And even it is very rare to get a good quality of drumsticks even in Indian stores as well here. So I always go for the frozen drumsticks that are available in Indian stores.
Personally, I'm not happy with the taste and flavor of the frozen drumsticks. But no complaints, I have convinced myself as it is better than nothing.
What is More Kuzhambu?
This More Kuzhambu(should pronounce like "more kulambu"), is a yellow gravy made with buttermilk, ground coconut, and Indian spices. This is is one of the very popular traditional dishes. This suits both the everyday menu and grand occasion menus, like marriages and other celebrations.
This recipe needs little prior planning and little preparation. But the cooking time is very lesser, it will take a few minutes. Like the amount of time which you spend on making coffee.
There are some dishes that always stay on top of your favorites. And some dishes need prior planning. And some dishes need preparations ahead of cooking. And some are instant and does not need any time or special ingredient.
As I referred earlier, making this dish needs planning and preparations. We will divide this more kuzhambu recipe into two stages.
Planning ahead: It may sound super complicated. But it is not, The one and only plan you should make sure that you have plain yogurt in your refrigerator.
Preparation: Preparation also does not involve too much of a complicated process. All you have to do is soak a tablespoon of rice and a tablespoon of (split pigeon pea) toor dal for about 2 hours. And that is it.
Such a simple and easy process right? I know you would agree that the cooking part is like a breeze.
I make this more kuzhambu whenever yogurt gets piled up to a big bowl in my refrigerator.
This time also, a big bowl of yogurt is waiting for me to make this more kuzhambu recipe.
This kulambu tastes delicious when made with the drumstick or ladies' finger. For the people who are new to South Indian cuisines, these two vegetables may sound weird. Drumstick is a vegetable that is thin and long. Have a thicker skin and have very flavorful flesh inside. And the lady's finger is nothing but okra.
Fresh drumstick is always great for making any South Indian dishes.
As much as I love a more kuzhambu recipe, I try different vegetables sometimes. But to tell you the truth, most of the time I have made only with a drumstick. Though I keep complaining about the frozen drumstick, I keep repeat making it.
I planned to make it for today's lunch. Authentic more kuzhambu recipe genuinely creamy with the mild buttery flavor.
I wanted to make less calorie more kuzhambu, so I made the curd/yogurt with nonfat milk. And this way I can cut down some calories and at the same time, I can preserve the flavor and the taste.
But making curd with whole milk is also a good option to receive all the goodness of the milk. The Kuzhambu will get rich butter flavor if it is made with whole milk.
The kulambu is thickened by adding ground coconut and the rice paste.
If you want to make instant, you can follow the same more kuzhambu recipe. But add chickpea flour(besan) instead of soaking rice and dal.
You may also use Greek yogurt or the plain yogurt which is available in the market.
'Drumstick Mor Kuzhambu' is a gravy made from buttermilk, for steamed rice. This recipe always comes to my mind, whenever my family wishes for some good light food. My mom prepares this kuzhambu as little watery, but guys at my home always opt for the thicker version. The thickness of this kulambu depends on the ground masala. Adjust it according to your preferred consistency.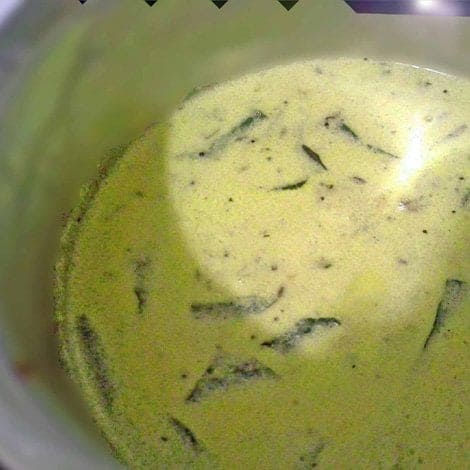 Drumstick More Kuzhambu Recipe needs less than 30 minutes for making from scratch. As you know light food always needs a little time for preparation.
So, If you got lesser time for serving lunch, make this more kuzhambu recipe. And enjoy healthy, light and tasty food.
Today a little bit sultry day, I wished to have lesser spicy lunch. This kuzhambu would be the best option. It does taste great when served with Appalam, Potato Fry.
Few simple tips for making Drumstick More Kuzhambu Recipe:
Buttermilk tends to curdle easily, so always simmer the flame and allow it to cook it slowly.
Drumstick has hard outer skin, so cook it before adding it to the kuzhambu.
It is always a better practice to cook the vegetables before in hand.
The ground mixture of rice, toor dal(split pigeon pea) and coconut acts as thickening agents. Increase or decrease its quantity according to the consistency that you prefer.
Wish to add more spiciness to this more kuzhambu? you can add broken red chili while seasoning.
More Kuzhambu Recipe is great with rice, beans stir fry, Amla Pickle or Lemon Pickle.
Other Side dish recipes you may like,
Printable recipe card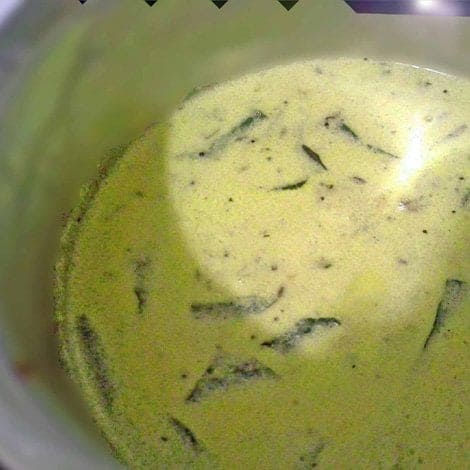 Drumstick More Kuzhambu Recipe
Drumstick More Kuzhambu is a spiced buttermilk gravy with the vegetable drumstick. Made with buttermilk, a unique vegetable called drumstick and with Indian spices. This authentic Tamil cuisine recipe perfect for busy weekdays.
Print
Pin
Rate
Ingredients
Ingredients For Grinding:
1

teaspoon

Toor dal

/ split pigeon pea

1

teaspoon

rice

4

tablespoon

grated coconut

¼

cup

water

or as required
Ingredients to pcooking drumstick
1

drumstick

1

cups

water

¼

teaspoon

salt
Ingredients for the base
1

cup

yogurt

/curd

¼

teaspoon

turmeric powder

1

cup

water

or as required

1

teaspoon

salt

or as required
Instructions
Grinding
Soak Toor dal and rice for about 20 min.

To a heavy-duty blender, add soaked split pea, rice grated coconut, and water. Grind to a fine paste. Set aside.
Cooking drumstick
Cut drumstick into 2" lengths.

Bring two cups of water to boil, add drumstick and salt.

Cook for 10 minutes in medium heat or until the center becomes soft. Set aside.
Preparing the base
In a pot, whisk yogurt to smooth and silky texture.

To this, add the ground mixture, cooked drumstick, water, salt, and turmeric powder.

Combine well and check for the salt and the consistency.
Seasoning
Over medium heat, in a pan add sunflower oil, black mustard seeds, urad dal, red chili, curry leaves, and asafoetida.

Wait till the mustard splutters.

Now, add the sizzling seasoning to the pot we prepped in last step.
Cooking
Over low-medium heat, keep the pot and cook till the surface becomes frothy.

Remove from the heat and serve hot with rice.
Notes
Do not discard the drumstick cooked water. Add it along with the base ingredients. But make sure the base in the right consistency without being watery.
Cook the base till it becomes frothy over the surface. Make sure it should not get boiled, as it curdles the yogurt and it turns into small crumbles when overcooked.
Nutrition
Calories:
129
kcal
|
Carbohydrates:
7
g
|
Protein:
7
g
|
Fat:
8
g
|
Saturated Fat:
5
g
|
Cholesterol:
25
mg
|
Sodium:
800
mg
|
Potassium:
201
mg
|
Fiber:
2
g
|
Sugar:
4
g
|
Vitamin A:
243
IU
|
Vitamin C:
56
mg
|
Calcium:
93
mg
|
Iron:
1
mg
Looking for other kuzhambu recipes? do look at Traditional Rasam, Capsicum Kuzhambu.
Liked our recipe? Follow us on Facebook, Pinterest, Instagram