Hasselback potato recipe-Baked version has crispy skin and soft inside potatoes perfect for the dinner table.
Are you overthinking to impress the fussy kiddos over the dining table? My answer to your question would be 'easy to make baked Hasselback potatoes.'
Dramatic-looking food always has the potential to convert picky eaters to food lovers. Likewise, regular baked potatoes can be turned into Hasselback potatoes to pull everyone to the dining table.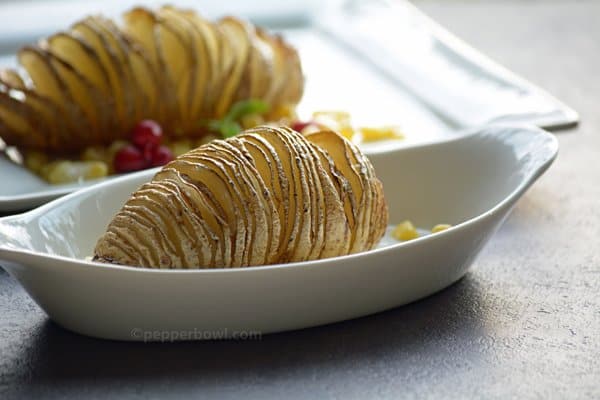 Coming to this Hasselback potato recipe, following some simple steps could result in the best crispy outside and juicy inside potatoes.
Slicing is the most crucial step; if you succeed, you have crossed half of the wall. Get ready with your sharper knife.
Slice them evenly, and keep pencils, knives, chopsticks, or skewers on both sides of the potatoes. This step avoids separating the slices apart.
If you want other delicious potato recipes, check out the hot and spicy baby potato fry, Cumin Potato, and Potato Peas Cutlet recipe.
Potatoes tend to change their color after cutting them. So, after slicing, immerse them in ice-cold water with lemon juice; this also avoids discoloration and removes excess starch.
Baking them covering for the first 20 minutes could produce juicer, fully cooked potatoes. Bake them again uncovered, resulting in a crispier outside. Every oven is unique, so adjust the baking time accordingly.
How to make:

1. Hassle back potatoes? The prime procedure for this recipe is to select the potatoes long enough to give out an electrifying look. Slice thinly and evenly, leaving ¾ inch at the bottom so the slices do not fall apart. Keeping pencils and knives on both sides can make this step easy.
2. Preheat oven to 450° F. Add lemon juice to ice-cold water. Immerse these evenly sliced potatoes in this water and leave it aside. You can take this out of the water for 10 minutes before baking. Mix olive oil, salt, and garlic powder.

3. Squeeze out the excess water and pat dry between the slices. Place this pat dried potatoes in a greased baking tray and grease it with the olive oil, salt, and garlic powder mixer.
Bake it covered for approx. 25 minutes. Then remove it from the oven, apply the oil mixture again, and bake it uncovered for another 20 min or until it gets cooked entirely and crispier outside.
4. Serve as an appetizer, snack, or dinner side. Allow your imagination to grow to add your favorite cheeses and herbs to customize your taste.
Other appetizer recipes you may like