After a tiresome day, the working mom will always have her secret card recipe, like this Egg bhurji recipe that everyone in the family would be in favor of. This Indian scrambled egg is one of my top choice recipes that my family would greet whenever I prepare for them.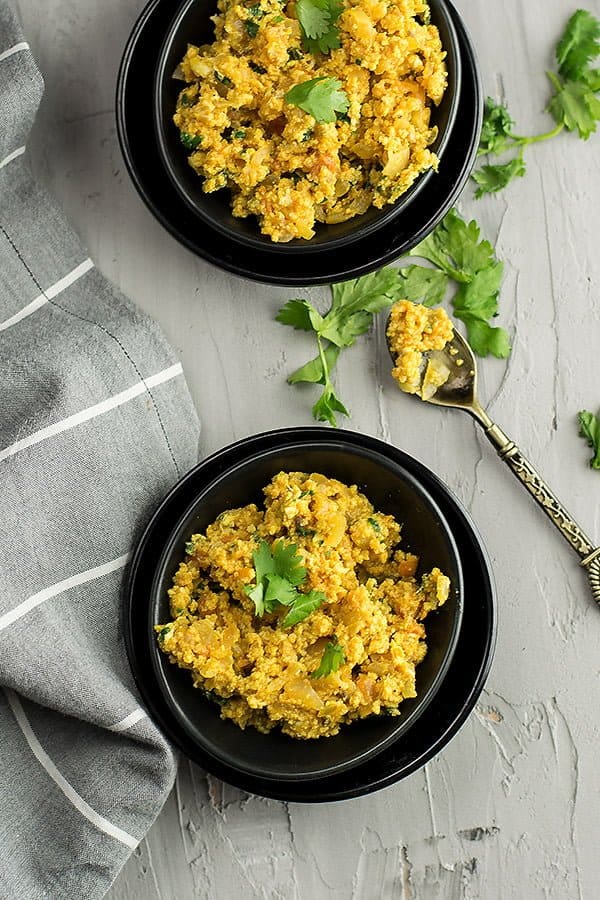 This egg bhurji recipe would fit with any main course as a hot side dish, or add some blanched vegetables and serve as a wholesome dinner. Either way, it works beautifully and honestly. And, of course, an excellent choice to serve with rice, chapati, or any flatbreads.
This Indian-style scrambled egg recipe is so much easier and a lot lighter. And the best part? You can put everything together under 15 minutes. A spicy, flavorsome dish gets ready before your eyes like lightning-fast.
A couple of years before, we had to depend on the hotel's complimentary breakfast for the entire month. Initially, we were comfortable for the first two weeks but later it was so annoying that we started hating even to see the scrambled eggs. Thereafter, we somehow started eating these egg white scrambles by mixing them with the possible combos available in the breakfast buffet.
Whenever I cook these bold and spicy scrambled eggs at home, the above incident constantly flashes in my mind for no reason. This spicy egg bhurji is an exotic way of presenting regular scrambled eggs with bold spices and intense flavors.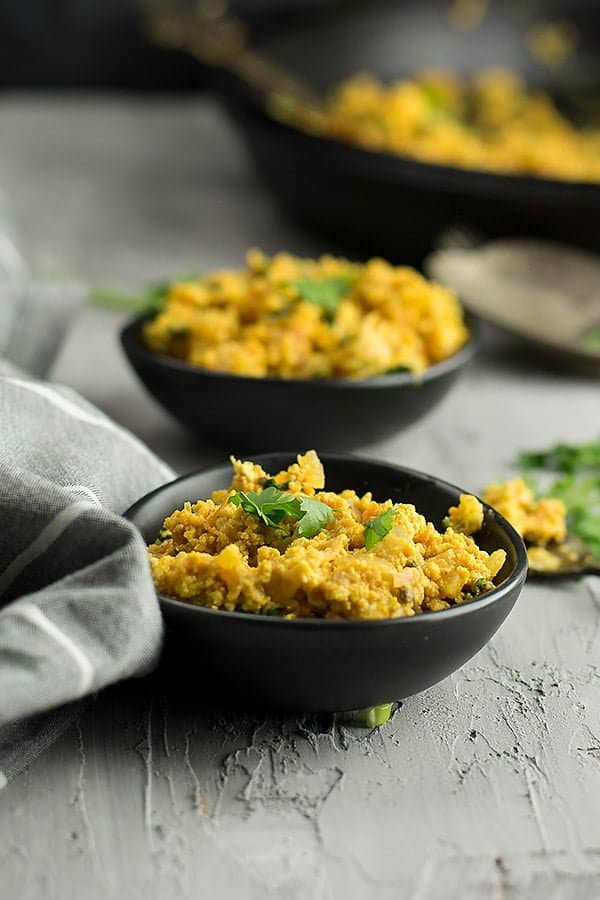 Growing up eating eggs almost every day does not leave us bored by eating the same dish repeatedly. Because we try to include it in our diet in a different form and in other ways that make us attractive, this masala egg bhurji is an essential recipe for including eggs in our diet.
If you want to make all-new breakfast eggs or want to whip up a quick sidekick, this spicy egg bhurji is definitely for you. If you like Indian street food, you should try simple and straightforward recipes like this.
What is egg bhurji?
This is a popular Indian egg recipe, which is also called 'Anda bhurji' in Hindi, where 'ande' means eggs and the bhurji refers to the term scrambled in general. So this recipe is nothing but scrambled eggs made in Indian style.
Furthermore, it is a hot and spicy food made with onion and tomato masala and is usually served along with naan, roti, or other soft bread.
Serving suggestions
I adore enjoying this dish for any occasion or at any time. This masala scrambled egg recipe is flavorful and best to help with any simple and comfortable main courses. I'm happy to have rice recipes like,
or paratha recipes like,
Pro tips for Egg bhurji recipe
When you know something about Indian cooking already, you will be pleased with today's recipe because the ingredients and the procedures are common as most Indian recipes.
When speaking about the tips for making this recipe, the first thing that comes to my mind to share with you is the ingredient's quality. When the ingredients are fresh and that reflects into the dish as well. So always try to buy the ingredients as fresh as possible. And always do not dump your refrigerator with too many vegetables which you are not going to use within a week's time.
Plan ahead of time and buy the amount of the veggies you require for a week. This saves you money and time as well.
This Indian spicy scrambled egg is very simple to put it together and does not involve huge processing methods. All that you should care about sauteing onion and tomato.
Cooking in medium flame solves most problems.
Add few pinches of salt while sauteing onion, and while cooking tomatoes. This salt helps them to cook evenly and by retaining moisture content.
The onion has to turn soft and transparent before adding tomatoes. As it's crisp texture will not change after tomato is added. So make sure the onion not to get burnt or caramelized or undercooked.
After adding the dry spice ingredients saute for few seconds in medium flame. As the spices turn bitter when getting burnt. So proper care should be given just to cook the masalas and not overcooked.
Crack open the egg in a bowl and then a. Because it's easier to remove any broken shells or easy to remove any impurities present.
Other variations
Like many other quick recipes, this tasty egg bhurji daba style(roadside Indian restaurant) is the basic version and has a potential for lot more variations. Add or remove ingredients and present it like you made a new delightful dish every time you make.
Egg bhurji curry. Make a gravy version by increasing the water quantity mention in this post. And cook until the eggs are combined with masalas. And do not overcook the eggs, as the water and eggs become separate which may not be pleasing while serving.
Quick version. For the super quick variation, finely chop tomato and add it along with whisked eggs. Add this mixer with the Indian pav bhaji masala. If you are looking for a quick and reliable method? this recipe is yours where flavorful curried scrambled eggs are ready under 5 minutes.
Paneer. Substitute egg with paneer and make Paneer bhurji.
Tofu. Gently crumble firm or soft tofu and swap with eggs to have vegan bhurji.
Vegetables. Add green peas, carrots, or green beans along with eggs to enhances the dish taste and more texture.
Potato. Add boiled potato cubes to this which makes it tasty and also filling.
How to make Egg bhurji
The objective of this recipe is to coverup the egg's natural odor with the spices to a certain limit without overdoing. But to my surprise, most online recipes are filled with too much oil, which I find it unhealthy.
Though this recipe also calls for cooking oil, it is limited just enough to cook the onion without burning them. The requirement for cooking oil varies-the type of pan we use. Investing in a good quality pan works great to cook with lesser cooking oil. I would suggest cooking with cast iron, which is great and it's nonstick too.
The Directions
Prepping for Indian egg scrambles. Chop finely onion, tomato. Crack open the eggs in the bowl.
Set a pan over medium heat and add cooking oil and onion. Saute until it becomes soft and translucent. Pro-tip. Sprinkle salt over the onion, this speed ups the cooking time without getting caramelized.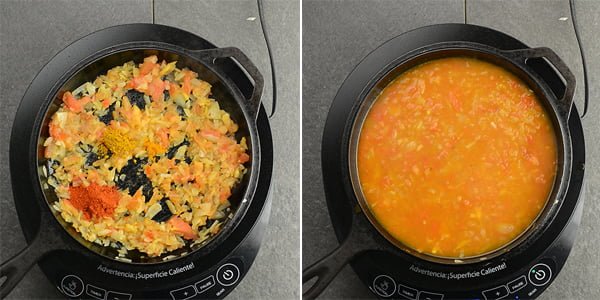 Now combine chopped tomato, and again sprinkle salt over the tomatoes. Pro-tip. As said before sprinkling salt while cooking onion and tomato makes the curry looks silky and smooth.
Add in red chili powder, coriander powder, and turmeric powder. These three are inseparable in any Indian cooking. Saute for few seconds just right enough to make it flavorsome.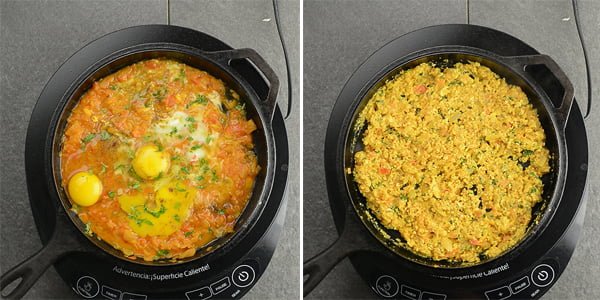 Stir in water and cook to allow all the ingredients to combine well.
Cook until the curry thickens.
Now combine the eggs and stir until the eggs become scrambles and the masala is well combined with them.
Garnish with coriander leaves and serve hot.
Printable recipe card
Egg bhurji recipe
Egg bhurji recipe that everyone in the family would be in its favor. This Indian scrambled egg is one of my family's top choice weekend breakfast recipe.
Print
Pin
Rate
Instructions
Over medium heat, in a pan add one tablespoon of vegetable oil and chopped onion.

Saute until the onion becomes pink and tender.

Then add chopped tomato. And cook until tomato becomes mushy.

Now add red chili powder, coriander powder, and turmeric powder.

Saute for couple of seconds without burning the spices.

Bring it to boil. And cook until the gravy thickens.

Cook until the masala is combined well with the scrambled eggs.

Garnish with chopped cilantro and serve hot.
Notes
Add salt while cooking onion and tomato for silky and rich gravy.
But accordingly adjust the salt while adding finally.
Nutrition
Calories:
214
kcal
|
Carbohydrates:
6
g
|
Protein:
12
g
|
Fat:
16
g
|
Saturated Fat:
3
g
|
Cholesterol:
327
mg
|
Sodium:
1306
mg
|
Potassium:
268
mg
|
Fiber:
1
g
|
Sugar:
3
g
|
Vitamin A:
934
IU
|
Vitamin C:
8
mg
|
Calcium:
58
mg
|
Iron:
2
mg
**Disclaimer: The nutritional information provided is an approximate estimate only.