One of the restaurant's hallmark recipes became a healthy, quick homemade dinner everyone enjoys. This egg-fried rice Indian-style recipe is quick and straightforward, you pat yourself with joy. Made fresh with eggs, rice, cabbage, carrot, green pepper.
This egg-fried rice is an easy and straightforward recipe with leftover rice. A tremendous tailor-made recipe for busy weeknight dinners. The entire dish can be made in under 20 minutes. We will discuss the make-ahead ideas, serving ideas, and more customizations and variations.
Have you ever attempted a culinary experiment? like recreating a restaurant-style dish in your cozy kitchen? No worries, I can answer on your behalf. If you have here, landed on this page, and are reading this. Then I know, your answer would be a big YES to my question.
This egg-fried rice is a Chinese recipe but slightly modified to suit Indian palates. Not to mention that this is tasty with loads of vegetables. therefore, it is loved by everyone.
I make sure that the weeknight dinner menu is healthy and straightforward, like this Asian cabbage salad, spring dosa, madras lentils, and Szechuan Fried rice. Additionally, my family wants it in this friendly way. So it is easy for me to make them and their tummy happy.
Today's recipe is stellar when you have leftover rice that is refrigerated. Even if you do not have, make more rice and save some exclusively for this dish. This makes cooking easier and quick, and you do not need to tire yourself when you have already exhausted the whole day.
It is a perfect, wholesome recipe that nicely suits the lunch boxes. Paneer Manchurian or this Chinese green bean would be the rich pair. The steps and procedures are simple fit even for beginners. You are perfect to go if you have refrigerated white rice and eggs. Add some vegetables; your healthy dinner is ready in minutes.
Egg fried rice Indo-Chinese version is outstanding, and I'm publicly thanking the vegetable in there. These vegetables play a dual role as the sole taste booster and the flavoring agent. There is no need to add extra spices or tastemakers to this recipe, which is why it is nutritious and wholesome.
Similar recipes you may love: Indian coconut rice, Pudina rice, Hibachi soup.
What is Egg fried rice?
A famous Chinese recipe, made with stir-fried eggs and rice. White rice and egg are the base; you can add anything. Like, add in more vegetables and make vegetable egg fried rice. Customize to your preference and explore more about the combinations.
Why Egg fried rice? the positive factors
This is perfect to suit all the age groups, including the kids.
It can be made ahead of time. To be precise, half of the process can be made in advance to minimize the last-minute hassles.
Suitable to serve a large crowd, party, or potluck.
How does an Indian egg fried rice taste like?
This tastes humble, with fresh vegetables. You could feel the natural fresh vegetables' taste and the hint of black pepper. The pungent flavor of the eggs is neutralized with the green pepper's aroma.
Make ahead and Storing Ideas
You may cook the rice and keep it refrigerated.
Chop the vegetables and refrigerate or freeze them.
You may store the leftovers in the refrigerator in an air-sealed container.
Though you may theoretically freeze the leftovers, I would not suggest it. Egg-fried rice tends to lose its fresh flavor once frozen.
Possible variation of various diet
This is naturally vegetarian, clean eating, real food.
Vegan. Skip the eggs or swap with soft tofu. Press the water out of the tofu and add when eggs are added to this recipe.
Whole 30, Paleo, Keto. You may find a healthier option to replace white rice with cauliflower rice.
Healthy diet. The perfect option is to substitute white rice with brown rice or quinoa.
Fried rice twists
Add cooked chicken and cut them into small bite-size pieces before adding. And keep all the instructions the same, and add chicken.
Cooked shrimp is also an exciting addition to this recipe.
You may include any vegetable according to your choice and availability.
You can also make this fried rice only with eggs and without vegetables. This version also tastes excellent.
Instead of white rice, try substituting it with brown rice, quinoa, or cauliflower rice.
Garnish with cilantro or mint leaves. Each addition brings out a whole new flavor and taste.
Key ingredients and their substitutions
Rice. Traditionally, egg-fried rice is made with sticky rice. But getting them may not be possible for everyone, including me. Today, I made it with long-grain rice. If you like, you may opt for the grain which you prefer. Refrigerate it for at least 3 hours for best results.
Fresh vegetables. I use the combo of cabbage, carrot, and green peppers forever. I try to stock them, which is handy for making quick dishes. Though you may throw in any vegetables, I strongly advise using firm vegetables like green beans, carrots, beet, cauliflower, cabbage, and turnips. The squashes and watery vegetables will not suit this dish.
Garlic. Fresh garlic is a must here; garlic provides an intense aroma.
Eggs. This is an absolute game-changer; add the protein and blend the rice and vegetables.
Tips to make rice like a pro
Rice is the prime ingredient, and this egg-fried rice tastes heaven when proper care is given. Rather than freshly cooked rice, refrigerated rice gives better results.
Because warm rice will stick to the pan and become mushy when stir-fried.
Refrigerating 2-3 hours prior will make the rice chill, making the grain firm and separate.
Although the fresh eggs can be added at the final stages of stir-frying, adding the scrambled eggs is always a good practice.
Cut the vegetables into small strips in lengthwise. Julian cut vegetables to give an appetizing look.
You may opt for white or black pepper for a neat look.
How to cook Egg fried rice?
Prepare. Wash and clean the cabbage, carrot, and green peppers. Cut them into match stick-thin sizes. Mince garlic.
Egg Scrambles. Keep a pan, add a teaspoon of cooking oil and egg. In medium flame, whisk until it turns into soft scrambles.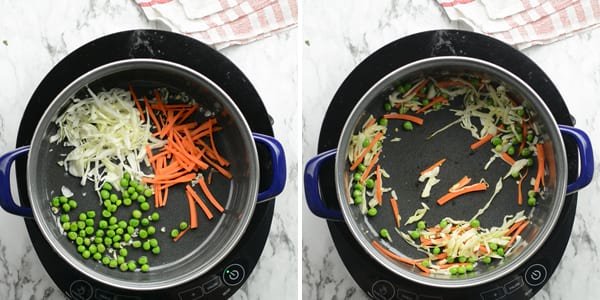 Stir fry. In a large pan, add cooking oil and garlic. When it changes its color slightly, add cabbage, carrot, and green peppers. Stir fry on high flame. Once the vegetables change their color mildly, add rice and stir fry for 3 more minutes.
Add eggs and garnish. Finally, add eggs and garnish with green onion.
Serve. Serve with cabbage Manchurian or tomato ketchup.
Other rice recipes you may like,
Printable recipe card
Egg fried rice
This egg fried rice Indian style recipe which is fast and straightforward, you pat yourself with joy — made fresh with eggs, rice, cabbage, carrot, green pepper
Print
Pin
Rate
Ingredients
for making the rice
2

tablespoon

vegetable oil

1

tablespoon

garlic

minced

1

cup

rice

cooked and refrigerated

1

cup

cabbage

shredded

¼

cup

carrot

Julienne cut

¼

cup

green bell pepper

Julienne cut

1

teaspoon

whole black pepper

2

tablespoon

green onion

chopped for garnishing
Instructions
For making the egg
In a pan add a teaspoon of vegetable oil and egg.

Whisk until it becomes soft scrambles. Transfer and keep aside
For making the rice
On the same pan, add oil and minced garlic.

Saute until garlic fragrant.

Add cabbage, carrot and green bell pepper.

On high flame, stir fry them until they are half cooked

Then add rice and toss them until all combined.

Now add scrambled egg and toss for a minute.

Garnish with chopped green onion and serve hot.
Notes
Make egg scrambles first or in a separate pan.
Use cool cooked rice for stir-frying.
Refrigerated rice gives better results.
Nutrition
Calories:
349
kcal
|
Carbohydrates:
29
g
|
Protein:
6
g
|
Fat:
23
g
|
Saturated Fat:
2
g
|
Cholesterol:
81
mg
|
Sodium:
51
mg
|
Potassium:
201
mg
|
Fiber:
2
g
|
Sugar:
2
g
|
Vitamin A:
2955
IU
|
Vitamin C:
31.1
mg
|
Calcium:
47
mg
|
Iron:
0.8
mg
**Disclaimer: The nutritional information provided is an approximate estimate only.