This homemade Apple Juice Recipe is fresh and healthy. The good part is that you can freeze and use the leftovers later. Furthermore, it is so simple that you can effortlessly make this fresh-squeezed apple juice in your kitchen.
Apple juice, I know, is everyone's favorite. How long did the apple juice container stay on your local store's shelves? Do you know how many preservatives they are loaded to last longer than usual?
If you have the same questions and are thinking for a while, switch over to really healthy, preservative-less juice. No matter what you are all looking out for, you have landed on the perfect page to make a simple apple juice recipe without preservatives.
How many of you are making them at home? maybe not many. Some may avoid making it at home because of the time constraint; others keep postponing because of not having a reliable recipe.
I have a simple recipe for you all. All homemade apple juice recipe is the one-spot solution for your queries.
The recipe for juicing the apple is unique and unlike other fruits. The prep work of apple juice is unlike any other freshly squeezed fruit juice.
Because of its high pectin content, the process of making juice is slightly different than other fruit juices. The juicing process includes cooking, blending, and filtering.
Apples are in season now, and you can see varieties of apples in the stores. Do you have apples sitting on the counter from your recent apple-picking event? or got a huge bag of apples from a friend's backyard? it is the time to use them up for a good cause.
Use this apple juice recipe, convert your apples into juice, and use it whenever needed.
You may also be interested in looking into other refreshing juices, like,
Is apple juice good for you?
Our nursery school has taught us that apples can keep our doctors away. It is always good to eat the fruit as a whole, with all the goodness of its fibers. But it is impossible to eat the whole fruit, as some of us do not like the texture of apples, and some of us are intolerant to digesting the fruits' fibers. In these scenarios, this healthy apple juice is easy to consume and more convenient to carry while going.
Apart from the above, we can inherit the nutrients of the apples even in this juice form. To support this factor, Healthline says It is suitable for hydrating us, a good source of plant compounds, and good for the heart and brain.
Restricting ourselves with the serving size and the amount of sugar added in this recipe will prevent us from the disadvantages of drinking apple juice.
Can we add milk to apple juice?
This apple drink is best consumed as a juice. I do not prefer adding milk here as it may get curled because of the acidity in this homemade apple juice recipe. You may add plant-based milk like almond milk or soy milk. You may also add baking soda, a pinch, to neutralize and avoid milk curdling in the juice.
What is the best time to drink apple juice?
Is there any best time to consume the fruit juices? Yes, it is good to drink along with breakfast in the evening. This apple juice is also great to have as a midday drink.
How long does homemade apple juice last?
This apple juice recipe is great to store on the kitchen counter for a day, for about 4-5 days when refrigerated, and stays longer when frozen. It can be stored for about three months when kept in the freezer. How can I freeze this homemade drink? Yes, we can. Store it in airtight containers and avoid contaminating it with other food, as it will increase its life.
What are the ingredients in apple juice?
Apples. This homemade apple juice recipe is best for any apple. The varieties like Gala, Fiji, red, yellow, golden delicious, Rome, honey crisps, and granny smith. The juice tastes fabulous when we combine two or multiple varieties. So do not restrict yourself to making with a single type; try mixing with another apple family.
Natural sugar. Apples come with raw sugar but will get diluted when mixed with water. So mixing with sugar makes the juice delicious. Using natural sugars like honey and agave nectar makes this drink taste fabulous. When making it at home, keeping the sugar low is healthier than store-bought apple juices.
Pro tips.
While cooking the apple cubes, add water to the immersing level. The sugar required for this recipe also varies according to the sweetness of the fruit. If they are a little sour, then more sugar is needed. Substitute with honey if you prefer.
After filtering, Worried about the tons of residue staying over the strainer? You can very well convert that mashed apple into a delicious Jam.
Homemade apple juice recipe
Select your apples, preferably a sweet variety.
Wash and clean them well in the running water.
Deseed and core them. Cut into small equal-sized cubes.
In a large pot, add cut apples. Add water to the level of the apples. The water line should be equal to the level of apples-just enough to immerse the apple cubes.
Allow boiling until the apple becomes soft and tender. Add honey and allow them to cool to room temperature.
Once the apple cubes are completely cooled down, add these chunks to the blender/mixer. Along with cooled water, run the mixer/blender for a minute.
Keep a strainer or nut bag over a large pot. Add the puree. Allow it to hang for 15 minutes to make the apple juice drip.
Serve apple juice chilled with ice cubes.
You may also check these,
Printable recipe card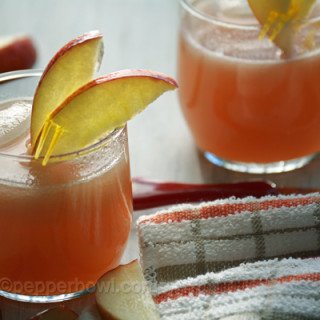 Homemade Apple Juice Recipe
Homemade Apple Juice Recipe, Easy and simple to make. Healthy fresh juice now in your kitchen effortlessly.
Print
Pin
Rate
Ingredients
2

apple

4

cups

water

½

cup

sugar

or as required
Instructions
Select your apples, preferably sweet variety. Wash and clean them well in the running water. Deseed and cut them into small equal size portions.

In a large bowl, add apple cubes. Add water, so the apple cubes are immersed well.

Add sugar and allow to boil, till apples become fork tender.

Then allow it to cool to room temperature.

Add these chunks to blender jar.

Pulse till the mixture becomes smooth and silky.

Using a strainer, filter the juice and discard the residue.

Serve apple juice chilled with ice cubes.
Notes
Adjust sugar's required amount according to the sourness of the fruit.
Nutrition
Calories:
288
kcal
|
Carbohydrates:
75
g
|
Sodium:
2
mg
|
Potassium:
194
mg
|
Fiber:
4
g
|
Sugar:
68
g
|
Vitamin A:
100
IU
|
Vitamin C:
8.4
mg
|
Calcium:
11
mg
|
Iron:
0.2
mg
**Disclaimer: The nutritional information provided is an approximate estimate only.
Did you like this apple juice recipe? Do not miss the latest recipes and tips; follow us on Facebook, Pinterest, and Instagram