Ghost pepper is one of the top 10 hottest peppers in the world. And certified as the hottest chili pepper in 2007 by Guinness world records. It's about 400 times hotter than the standard jalapeno pepper.
These hot and fiery ghost pepper rate more than 1,00,000 heat units in the Scoville scale where the green bell pepper rate as 0 heat units. And jalapeno pepper ranges between 3000-7000 Scoville heat units.
Recently, this hot chili pepper is gaining popularity for its signature heat and its complex spicy flavors. And now, ghost pepper sauces are the best sellers-from the local farmers market to the big online stores.
Apart from regular sauces and salsas, the consumer market is flooded with ghost pepper flavored foodstuffs, like ghost pepper chips or popcorns.
Furthermore, corporate giants started incorporating its flavor to their food products. Recently Burger King launched Ghost pepper chicken nuggets to their product line to satisfy their spicy food lovers.
Its origination
Ghost peppers are believed to be cultivated in north east India, and locally called 'Bhut jolokia'. Which translates into 'bhut' as ghost and 'jolokia' as chili pepper-indirectly referring to its fiery heat.
It is also known in other names like Bih zolokia, Naga morich, Naga jolokia depending on the region or the province in India. On the other side of the globe, in Spain ghost pepper is known as 'pimienta fantasma'.
In earlier days in northeast India, these hot peppers were used to build grenades and bombs. And also used as home protectants against the wild animals.
What does a ghost pepper look like?
These beauty charms look glossy with bright colors with thin flesh and moderately crumbled skin. It has a pod-like structure with seeds intact to the rib at the center.
The size of the matured pepper ranges from 2.5cm to 3.5 cm. Many factors are responsible for its heat and length, including weather and the temperature.
To our surprise, apart from the fiery red color, these are also available in other spectacular colors like chocolate, yellow, green, peach, purple, white, and more.
Not to mention, they may vary in the color but never disappoint with their intense heat.
How hot is Ghost Peppers?
Ghost peppers are extremely hot, that's beyond our imagination. Do you know how many Scoville units is a ghost pepper? It is 855,000 – 1,041,427 SHU in Scoville scale.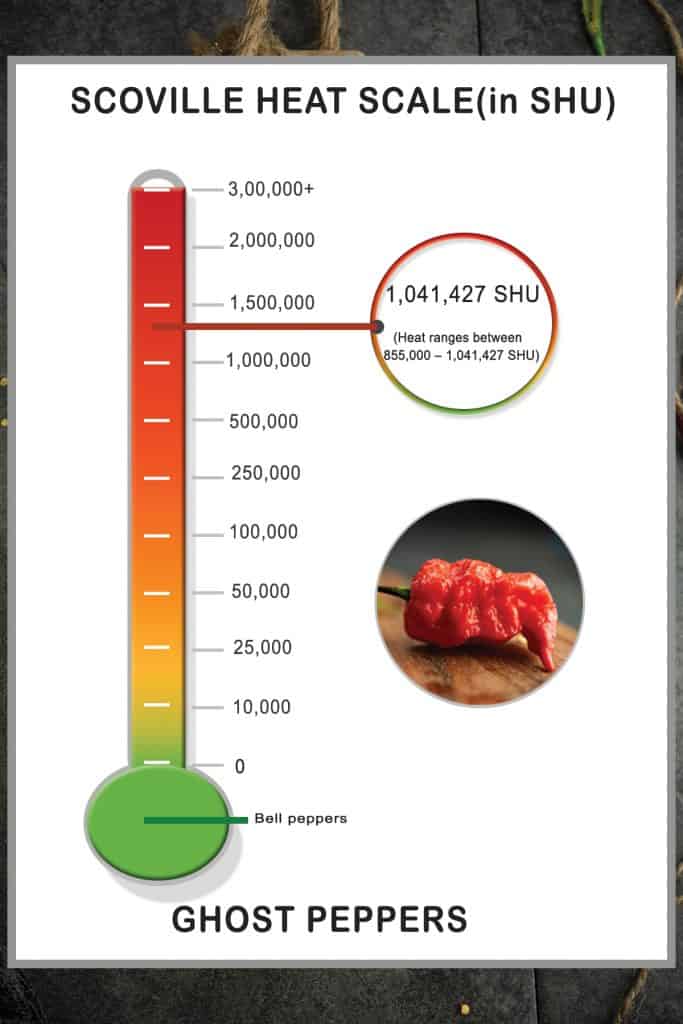 Without getting into its technical background and heat measuring units, its heat is so outrageous that one can feel its tremendous heat even with sniff.
One may even start sweating just by tasting a tiny bit of ghost pepper. And may feel an acute burning sensation that can last upto an hour.
So we strongly recommend wearing gloves while handling this pepper or any pepper of its kind.
How does this taste like?
Initially for a few seconds, it does taste fruity, earthy, and mildly sweet. And once the heat starts developing and spreading over the palate, it becomes more prominent. Taste buds may feel more of heat than pepper's natural tastes.
The heat sensation is fiery hot for about 15 minutes to one hour according to the individual's tolerance level.
Is it safe to eat a ghost pepper?
Like any other hot chili peppers, these are edible and safe to eat.
Ghost peppers are highly enjoyable by keeping the following few factors into account.
The quantity of ghost pepper being served is the key factor. Keeping the pepper's proportion at the right amount in a recipe to match our heat sensitivity is vital.
Cooking with Ghost peppers
It is widely used in North east Indian cuisine and in Bangladesh cuisine for generations. They use them in making curry, soup, chutney, or pickles. The pickles are the most common form of using it.
These are added in least quantity to the food to match the foodstuffs with its intolerable heat.
In western nations, these are generally used in making sauce, salsa, and as a seasoning mix that are similar to jalapeno based recipes.
Ghost pepper hot sauces are making a rule in today's consumer market.
What is hotter than a ghost pepper?
In 2007, ghost peppers were certified as the world's hottest pepper in the Guiness world of records. And later Trinidad Scorpion Butch, Trinidad Moruga scorpion, Naga Viper declared as hottest.
And now 2020, the Carolina reaper was crowned as the new hottest pepper, pushing ghost pepper to the place two.
Which is the hotter ghost pepper or Carolina Reaper?
Of course, the Carolina reaper is hotter than the ghost pepper.
And few other peppers have special mentions like Pepper x, Dragon's breath, Apollo pepper are claiming to be the hottest, but it's not official yet.
Ghost pepper vs habanero
Habanero pepper's heat ranges from 100,000 to 350,000 SHU, where ghost pepper is valued at 1,001,304 SHU by the New Mexico state University's Chili pepper Institute. The key takeaway is ghost peppers are 4 times hotter than habanero.
Both taste fruity in the initial stages, and later the ghost peppers comparatively turn super hot after a few seconds.
Fresh vs Dried
In the USA, the peppers are largely sold in the fresh farms, through farmers markets and grocery stores.
Dried chilies are hotter than the fresh one, as its heat gets intensified through the aging process. And also develops a robust aroma, and tastes Smokey when dried.
Storage
Similar to other chili peppers, these are excellent for storing.
Freeze. Store them in an air sealed container or bag. And freeze them to use up to 8 months.
Refrigerate. These may last for up to 15 days when refrigerated. After the prescribed date, it slowly loses its aroma.
As pickles. Pickling is the best method to use the peppers year round without worrying about the season.
As sauces. Make the final product as the hot sauces, are great and are followed by many of us extensively.
Dried. Drying process provides profound heat and intense flavors. This method is great for commercial purposes and for small families as well. And easy to store and with least maintenance.
As powder. Dried peppers are good to store as powder and are convenient in the kitchen.