Green Peas Pulao Recipe satisfies everyone, from the person who cooks to the person who eats. It is straightforward to make with minimal ingredients.
In the pleasant season, spring and peas are inseparable. I love using them in my recipes as much as possible with these fresh peas.

Peas always add extra value to the food. Peas Pulao is one of a kind. This perfect lunch box recipe keeps everyone smiling during their lunch hours. Conveniently, it a great one-pot meal that can be prepared hurriedly in the morning busy hours.
I made this Green Peas Pulao with regular rice. To make it more special, Basmati rice can also be used. This recipe requires minimal ingredients, too.
You may also interested in looking into other lunch recipes like Chitranna Rice, Methi Biryani, or Mint Rice.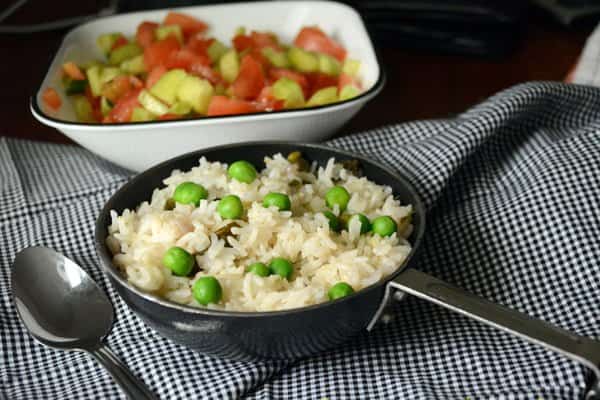 How to make green peas pulao
Wash and clean the peas, chop the onion, and slit the green chilies. Grind ginger and garlic together.
Add butter and cooking oil to the cooker, followed by bay leaf, cinnamon, and cloves. Wait till it gets roasted in the oil.
Then add chopped onion, chilies, and ginger garlic paste, and saute till the onion becomes soft and tender.
Then add peas, saute for 2 min, and curd and 2 cups of water.
Add salt and rice. Test the salt by tasting a few drops of this water mixture and adjust accordingly. Close the cooker lid and cook it on high flame for a whistle and simmer for 5-8 min, or until the rice gets cooked thoroughly.
Once the pressure in the pressure cooker is released, open it and serve Green Peas Pulao with a tangy vegetable salad or cucumber raitha.
Other recipes you may like,