Indian Coconut Rice Recipe is made with grated coconuts, cashews, and cooked rice. The recipe is so simple it takes less than 5 minutes to make effortlessly. The best satisfying food for busy days or weeknight dinners.
A top-rated lunch box recipe in South India is dairy-free, vegan, and vegetarian.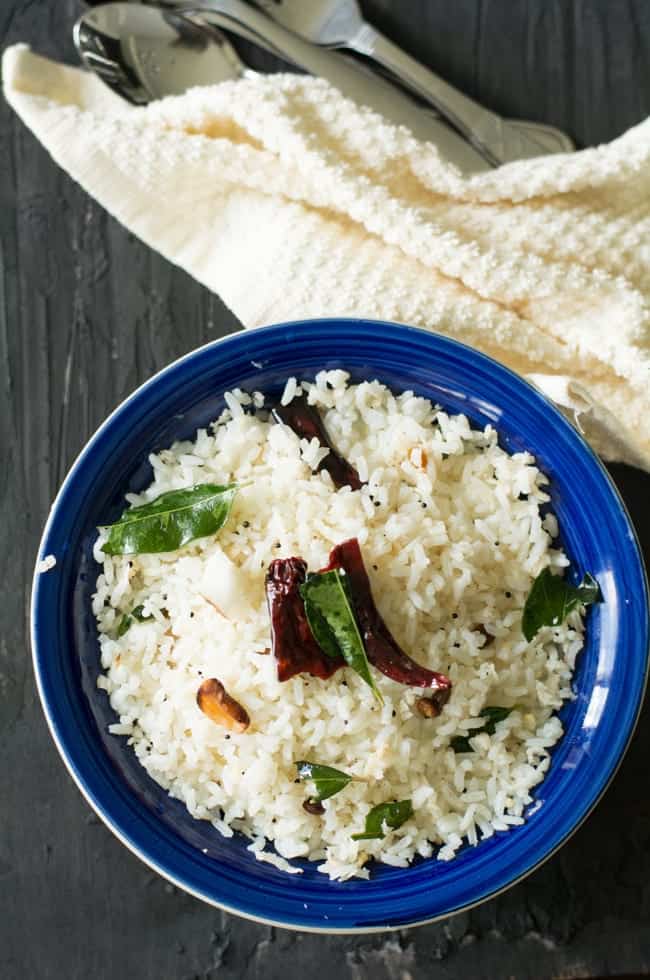 Unlike other Indian recipes, which require a long list of ingredients and long processing time, this is one of the easy recipes made quickly every time.
Indian coconut rice recipe is the best meal for busy days or busy weeknight dinners.
Generally, a single dish will be made in different ways. Every family will have its recipe; remarkably, they have their secret tips and ingredients to bring out the dish to their fondness.
But that is not happening regarding the Indian coconut rice recipe. It does not differ much and tastes similar throughout Tamil Nadu and Andhra Pradesh.
Also known as Thengai Sadam in Tamil and Kobbari Annam in Telugu.
Have you ever tried tasting this recipe in the United States? Probably not. This rice is an everyday home cooking menu and is rarely served in Indian restaurants here.
However, a few restaurants serve this frequently at the buffet counter.
This is a classic South Indian coconut rice recipe made with grated coconut, curry leaves, and red chilies. It is usually made with long-grain white rice and this is one of the dishes I have grown with.
Today is Wednesday; I'm not sure how the middle of the week to you. But for me, it is tiresome and hectic, and I need to scratch a lot in deciding today's menu. Accordingly, I'm looking for a simple, easy, healthy recipe for lunch.
I believe that lunchtime is the most important. It must be a healthy meal and should give satisfaction which can carry you for the rest of the day. In general, you should not feel the craving for the remaining part of the day.
Now you know why I chose coconut rice for today's lunch menu: the tasty Indian coconut rice recipe without coconut milk.
If you are searching for more rice recipes, check Chitranna rice, Coriander rice, or Bagara rice.
Is coconut rice healthy?
Yes, of course. Coconut has many medicinal benefits. It is an excellent source of fiber and good cholesterol. It is great for skin and immunity.
Coconut is commonly used in every South Indian home, especially in Kerala and Tamil Nadu.
The correct quantity is always good for health. Healthy and unhealthy food all rely on what we make and how we eat.
A small disclaimer: I am not a dietitian or nutritionist, and I'm just sharing what I know.
I did not know about the history of any literature references for this Indian coconut rice recipe. But it is a very traditional dish in Tamil cuisine passed on for several generations. Furthermore, this is one of the recipes which is a custom to serve on baby shower day.
Indian coconut rice recipe is usually made with fresh coconut. Break open the coconut and grating them is not as easy as you think. It is the toughest, and you cannot imagine doing this during busy hours.
Not surprisingly, this is very messy and time-consuming. I wanted to cut down the cooking time and the preparation time effortlessly.
Henceforth, I substituted the traditional method with the modern foodstuffs. Frozen or desiccated coconut is fun in Indian coconut rice recipes. These are stress-free and taste perfect when compared to fresh coconut.
Additionally, here in the United States, we are not getting the right coconut suitable for cooking. This means I must rely on frozen grated coconut from the nearby Indian stores. Sometimes, I make coconut rice with desiccated coconut or dry coconut flakes.
My guests from India could not find the taste difference between fresh and readymade grated coconut when they tasted thengai sadam, aka coconut rice.
What goes with the Indian coconut rice recipe?
This would be the first question pop-ups in your mind after reading this long. Coconut rice The coconut has a mild and rich aroma. It is excellent to pair with simple and spicy dry curry. Potato fry, Arbi fry, and cauliflower 65 are some of the dishes that taste delicious along with this.
How to make Indian coconut rice recipe
Indian Cuisine is all about boosting the flavors of the food. Curry leaves, red chilies, and asafetida are the flavor boosters of coconut rice.
Combining these three does the magic and brings a bold, satisfying flavor.
Curry leaves are another unique ingredient, which will be available in Indian stores. You may also get dried versions online.
I strongly recommend using curry leaves in this Indian coconut rice recipe. The flavors of curry leaves and the red chilies give an intense taste to the rice.
I have added Bengal gram. This adds additional protein to the meal and crunchiness to the recipe. Cashews have a richness and make every bite more enjoyable. If you are thinking of variation, you may add chopped almonds, and pistachios also.
To make an Indian coconut rice recipe, first, add cooking oil, mustard seeds, Bengal gram, and cashew nuts in a pan. Allow mustard seeds to crackle.
Add curry leaves, red chilies, and asafoetida. Adjust the red chilies according to your preference. If you are concerned about the spiciness, add the red chilies as a whole. Which indeed gives the flavor but not the heat.
Then add grated coconut. You may substitute grated coconut with desiccated coconut or coconut flakes.
Then, grated coconut gets cooked fast, so the medium flame is always recommended as it gets burnt quickly. Saute for a few seconds until the coconut leaves out its moisture. If you are worried about this, keep the fire low and watch the developments.
Then add cooked rice and salt. Gently combine them well and ensure the rice is evenly coated with the coconut mixture. Serve hot. Coconut rice tastes super delicious after 3-4 hours of making. The rice will be infused with all the flavors.
Other rice recipes,
Printable recipe card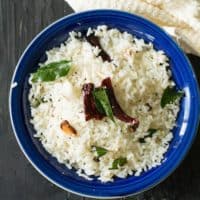 Indian coconut rice recipe
Indian Coconut Rice is simple and quick, learn how to make in less than 5 minutes. A best satisfying food that is dairy free, and vegan.
Print
Pin
Rate
Ingredients
2

tablespoon

vegetable oil

½

teaspoon

black mustard seeds

½

teaspoon

urad dal

/skinless black gram

1

tablespoon

chana dal

/split chickpea

2

tablespoon

cashew nuts

8

curry leaves

2

red chili

or medium heat dried pepper(deseed them for less heat)

½

teaspoon

asafoetida

(optional)

¼

cup

grated coconut

/shredded coconnut

2

cup

cooked rice

1

tsp

salt

or as required
Instructions
Over medium heat, in a pan add vegetable oil, black mustard seeds, chana dal, and cashew nuts.

Fry them until mustard seeds splutter.

Now add curry leaves, red chilies, and asafoetida.

Fry until the red chili's color changes.

Add grated coconut and fry until it leaves out its moisture.

Switch off the heat. Now add cooked rice and salt.

Gently combine them and serve.
Notes
Store the leftover in the refrigerator. And it stays good for 4-5 days in the refrigerator.
Use shredded coconut instead of grated coconut.
If Indian store is near by, make a quick visit. Frozen grated coconut is available for fraction of cost. And this frozen grated coconut is good to use 3-4 months in the freezer.
Nutrition
Calories:
505
kcal
|
Carbohydrates:
59
g
|
Protein:
9
g
|
Fat:
26
g
|
Saturated Fat:
8
g
|
Sodium:
1173
mg
|
Potassium:
323
mg
|
Fiber:
5
g
|
Sugar:
4
g
|
Vitamin A:
580
IU
|
Vitamin C:
144.6
mg
|
Calcium:
53
mg
|
Iron:
2.1
mg
**Disclaimer: The nutritional information provided is an approximate estimate only.
Liked this recipe? Follow us on Facebook, Pinterest, Instagram.