Let's talk about Jalapeno peppers, the important spice quotient that lits up the food instantaneously. Now, let's shed some light on America's popular chili pepper that's being used in its culinary for centuries.
In this post, you learn a lot more about the spicy chili pepper, other than the renowned recipes. This is a small guide to provide you with the information for all the questions you may have about the jalapeno peppers.
Jalapenos are easily accessible and affordable to increase the spice level in a recipe. Irrespective of the season, it is available as fresh throughout the year in the grocery stores and in markets.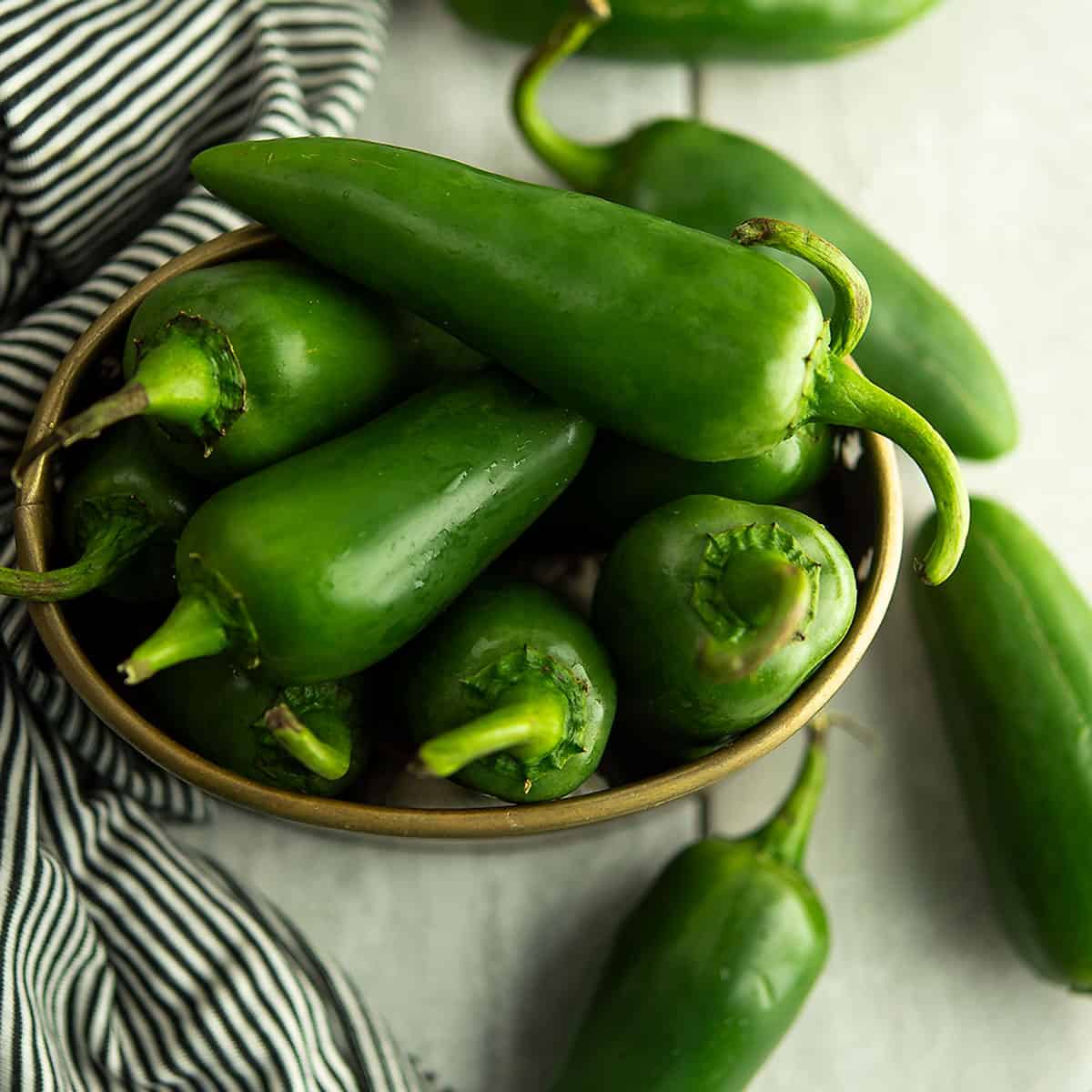 These are normally about 4-6 inches long, plumpy, and look gracious green in color with a shiny surface. This chili pepper has thick flesh and ribs run through from top to bottom that hold the fiery seeds.
These are hot and spicy. Plus, a good source of Vitamin A, B6, and also rich in antioxidants.
How hot are jalapeno peppers?
To understand jalapeno's heat, let's discuss the heat level with the Scoville scale. What is the Scoville scale? it is a process of estimating the spice level and is measured in SHU units. Each type of peppers has its own SHU units.
For the comparison, bell peppers have no-mild heat measuring in the Scoville scale as 0-500 SHU. Poblano peppers are measured at 1000-1500 SHU units. Where the Habanero measures at 100,000–350,000 SHU units.
And jalapeno pepper is reported as 3000 SHU-7000 SHU in the Scoville scale.
Now you can guess where the jalapeno stands in terms of the heat level. Yes, it's spicier than green bell peppers and milder than the Habenero peppers.
To sum up, jalapeno is considered as a mild pepper variety in the broad spectrum of peppers.
Furthermore, not all jalapenos are equally spicy. The spiciness of the pepper depends on various factors, like climatic conditions, soil's PH level, sunlight, and much more. Hence, some products may literally hot, while at times, they may find as toned down.
But, determining mild or too hot depends on your individual heat tolerance. For instance, someone may eat them raw as snacks, and others-who did not expose to spicy food much, may find it fiery hot.
And the Scoville scale helps you to understand where is your own heat sensitivity is.
So, how to determine the heat?
As we have discussed earlier, the seeds and the ribs make the pepper hot. The pepper holds most of its seeds on the top portion, and hence the head is spicy than the tail side. You may test it by tasting the small portion from the bottom side.
Alternatively, remove the ribs and the seeds. And add them in the recipe, test for the heat level. Later, add in more seeds or the rib if you want to increase the heat.
Do jalapeno peppers get hotter when they turn red?
Like the bell peppers, these ones also turn into different colors as they ages. And their heat is also gets concentrated as they mature. The young ones are with smooth shiny skin, with even deep green color, and are less spicy.
They do turn hot and concentrated but transforms into mildly sweeter. As the red jalapeno is actually the pepper's fruity stage. Do you know the red jalapenos dried version is called as Chipotle pepper?
What peppers look like jalapenos?
The serrano peppers and Fresno peppers are look-alikes. These grow about 2-4 inches in size and slightly bend in the tail portion.
The baby jalapeno and the mature serrano looks the same. But the serrano has a thin flesh and more spicy.
On the other hand, Fresno has more similarities with jalapeno with shape, color, and size. Both often get confused, but Fresno turns hotter when they mature.
Are serrano peppers hotter than jalapenos?
Yes, they do. Because serrano peppers measure 10,000 to 23,000 SHU units in the Scoville scale. But, both vary in taste and texture. Jalapeno peppers are used as poppers, pickles, and in other condiments.
While serrano used in curries, chilies for more evenly distributed heat.
There is no exact substitute available. However, in its absence, you may substitute with serrano peppers by removing some seeds to equate the heat. But these vary in the texture.
We have talked so much about the heat factors. But how to slice them without hurting ourselves? Well, it not that tougher task as you think.
Before picking up the knife, pick up gloves to protect your hands. As the chili peppers have chili oil, and that creates a burning sensation when it comes in contact with the bare skin.
Avoid touching the face, eyes, and nose with the hands after chopping, as the face is more sensitive than the hands and palm.
Slice. Firstly, slice the pepper into halves.
Scoop. Using a spoon, remove the seeds along with veins.
Chop. Then cut them into the desired shape.
Or you may slice straightaway into discs for intense heat.
How to relieve burn from jalapeno peppers?
Also simply to call as jalapeno hands. First of all, preventing is better than treating. As a precaution wear a glove, which solves most of the problems.
In case, the skin gets a burning feeling. Then, apply olive oil or coconut oil, and rub until the pain diminishes.
Or dish soap to dilute the chili oil present in the skin and wash thoroughly with water. These will not give instantaneous relief but will make you comfortable for while.
How to store jalapeno peppers?
You may leave in the kitchen counter for a couple of days. Or refrigerate them to use up to 10 days. Because of its thick skin, it gets well refrigerated for a long time. Or freeze to use up to 6 months.
Always use an airtight container for better results. When freezing, ziplock bags are advisable, as they may not occupy much space.
For refrigerating and freezing, you may leave them as a whole without cooking. It stays well in there. For thawing refrigerate it overnight.
How to preserve jalapeno peppers?
If you want to preserve the pepper to use for a longer time, you may consider any of the following.
Roasting. You may make roasted jalapeno with the oven, grill, or the stove-top method.
Pickling. You may preserve them as pickles. And it is delicious to toss as topping in the pizza, in the salad, in the sauces. It tastes fabulous when served as a final topping in the burgers and sandwiches. Also try this Jalapeno pickled eggs.
Canning. Canning is a reliable method but needs some expert skill level and a proper method for processing.
Drying. Easiest of all give excellent results when proper attention is given.
How to cook jalapeno peppers?
There are zillions of recipes available exclusively to make use of jalapeno peppers. The most popular recipes are jalapeno poppers, stuffed peppers, salsa, hot sauce, and more.
This pepper has a perfect spice level to use in our everyday cooking. And good ingredient to get incorporated with any recipe that you would like or this sauteed jalapeno would be the best when you are planning to serve jalapeno peppers as a side dish.
For the extra kick, you may add them as chopped or sliced, in any recipe which calls for green pepper.
Depending on your personal spice level, remove the seeds for the right amount of heat that your family is happy with.
As the dips. Jalapeno spinach dip, Creamy jalapeno corn, Cranberry jalapeno dip, Jalapeno artichoke dip, Jalapeno sour cream dip, Cilantro Jalapeno hummus.
As poppers. Jalapeno poppers without cream cheese, Peanut butter stuffed jalapenos,
As sauces. Jalapeno vinaigrette, Pineapple jalapeno sauce, Jalapeno cheese sauce, Jalapeno ranch, Jalapeno avocado sauce, Jalapeno cilantro sauce
As salsa. Roasted jalapeno salsa, Homemade Jalapeno salsa
As a spread. Jalapeno cream cheese,
As condiments. Jalapeno Aioli, Jalapeno Mustard, Jalapeno pesto recipe, Cranberry jalapeno relish, Jalapeno pineapple jam,
As appetizers. Jalapeno pinwheel recipe, Jalapeno nachos
As the drinks. Jalapeno Simple syrup, Jalapeno Lemonade, Jalapeno mojito
As snacks. Jalapeno popcorn,
In the salad. Jalapeno tuna salad
For the holidays. Jalapeno peanut brittle,
Cuisines. Chinese jalapeno chicken,
The other popular recipes,