Do you often get confused with the jalapeno pepper with its look-alike serrano peppers? No worries, this jalapeno vs. serrano peppers post has it all in.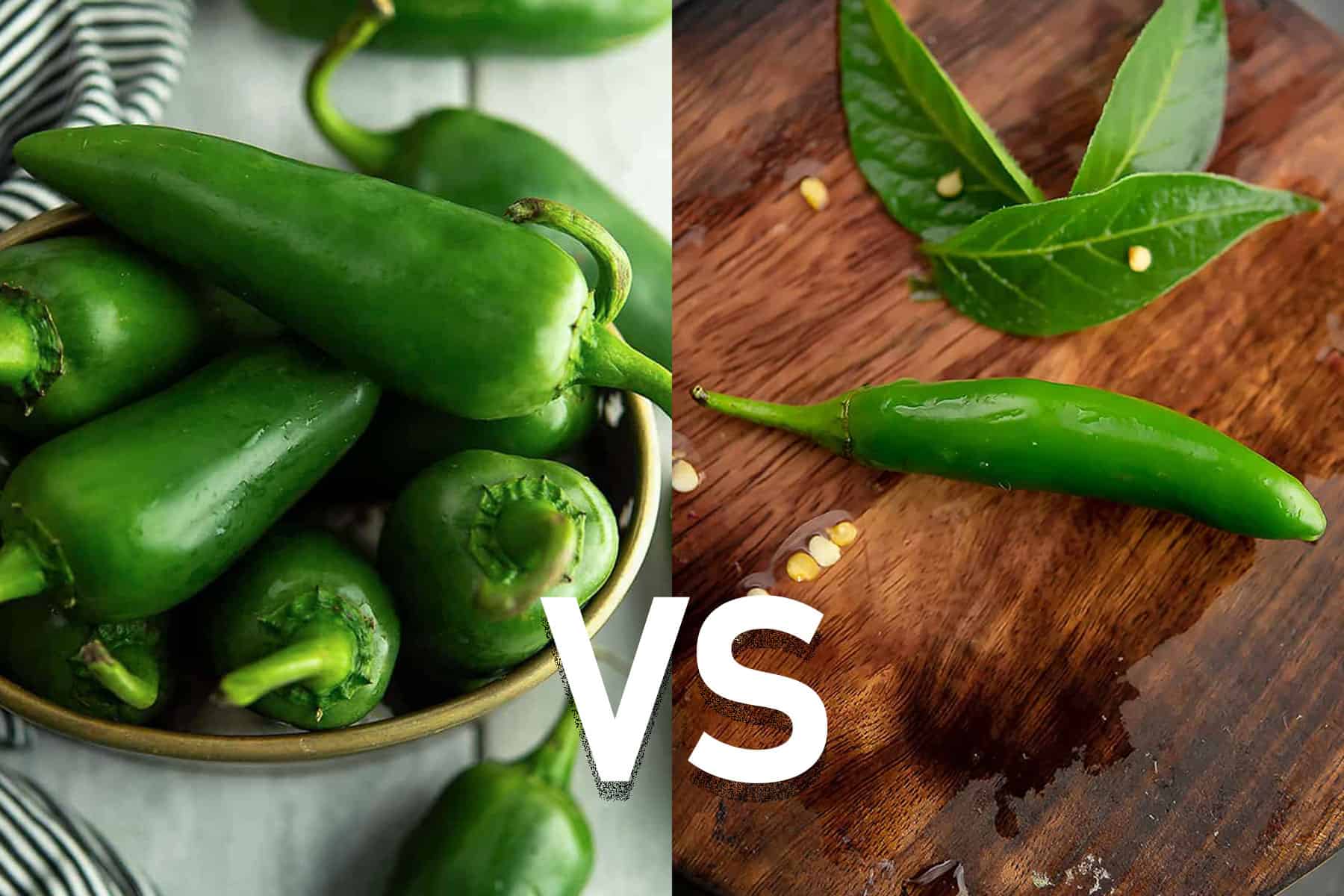 Today's task is to understand the basics of jalapeno and serrano peppers by understanding their origin, culinary uses, appearance, heat profile, and more.
Not to mention that cooking with different pepper varieties may be daunting for some. But understanding their fundamental properties and their unique character makes cooking easy.
Why Jalapeno vs. serrano pepper
Jalapeno is a popular chili pepper variety, often confused with others like the serrano pepper. But do you know that these two peppers are unique with different heat profiles?
Though they have a similar elongated look, surprisingly, the serrano peppers are about four times hotter than jalapeno.
Understanding their heat levels and learning how to adjust them according to our heat tolerance is very beneficial for everyday cooking.
See the detailed report below(similar to jalapeno vs cayenne pepper).
What are jalapeno peppers?
Jalapeño peppers, known for their moderate heat and robust flavors, are widely used in Mexican, North American, and South American cuisines.
Their distinct taste and heat made them popular around the globe. In the United States, they commonly feature pickles, jalapeño poppers, and salsa.
What are serrano peppers?
These moderately hot peppers have a unique grassy and slightly acidic flavor. These are one of the most popular chili peppers across the continents.
And widely used in making authentic Mexican dishes. Considered one of the reliable peppers to instantly increase the heat and enhance the dish's overall taste.
What do jalapeno peppers and serrano peppers have in common?
Both peppers have the exact origins and cultivation method
The jalapeño and the serrano peppers trace their roots back to the rich soils of Mexico, and both belong to the 'Capsicum annuum' family.
These peppers require hot weather to grow. However, serrano peppers can withstand hotter temperatures than jalapeños. Regarding heat, jalapeño is milder, while serrano is noticeably hotter.
They go through the same life cycle
Both peppers start as young green fruits and turn red as they mature. An interesting aspect is their ripening process. As they mature and turn red, they also develop deeper, sweeter flavors without compromising their heat.
Jalapeno vs serrano: Both need the same storage methods
These chili peppers are seasonal; proper storage is essential to enjoy them year-round. Both types should be kept in a cool, dry place. Short-term storage suits refrigeration, while freezing extends their shelf life.
Canning, pickling, or drying the peppers are other reliable methods to increase the storage time.
Prepping methods are common
NIST(The National Institute of Standards and Technology) says, "The levels of a chemical compound known as capsaicin determine how hot a pepper feels."
The capsaicin-an oil-based chemical compound is highly present on these peppers. It's a delegated substance that can quickly spread and stick to surfaces.
This compound is highly present in these two peppers- serrano and jalapeno.
Hence, if you are a beginner or have skin irritations, always wear protective gloves during handling to prevent skin irritations.
The cooking methods are similar too
A chili pepper's seeds and white membrane contain most of its heat. Therefore, removing these parts before adding the peppers to a recipe can significantly reduce the dish's spiciness.
How jalapeno and serrano peppers are different from each other
Although jalapeño and serrano peppers belong to the same family and share similar growing patterns, they differ significantly in their heat levels and flavor profiles.
Serrano peppers are hotter
Are serrano peppers hotter than jalapeno? Even though both types of peppers are classified under the moderately hot category, serrano peppers tend to be hotter than jalapeño peppers. Jalapeño peppers are moderately hot, whereas serrano peppers lean more toward the hotter end of the spectrum.
Serrano pepper has higher Scoville scale units
According to the Scoville scale, serrano peppers measure 10,000 to 23,000 units, while jalapeño peppers range from 2,000 to 8,000 units.
It's worth noting that the heat levels of peppers can vary greatly depending on environmental factors such as weather.
Jalapeno peppers are larger
Serrano peppers typically measure about 2 to 3.5 inches long and about half an inch to 1 inch at their widest part, making them smaller and slightly thinner than jalapeños.
Interestingly, the smaller the peppers are, the hotter they typically are.
Jalapeños, on the other hand, measure about 2 to 3.5 inches long and around ¾ of an inch at their widest part. They also have a rounder end, whereas serrano peppers have a tapered and slightly pointed end.
Serrano peppers have glossy skin
When comparing skin textures, serrano peppers tend to have a glossier and smoother skin than jalapeños.
The flavor profiles are different
Although both have similar flavor profiles, serrano peppers bring slightly more heat, while jalapeños offer a milder, grassy flavor. Serrano peppers present a rich, complex pepper flavor.
The tips to keep in mind when using jalapeno or serrano peppers
Adjusting the heat. If a recipe calls for serrano or jalapeno peppers, experiment by increasing or reducing the quantity of the pepper the recipe calls for. Or remove the seeds and the center pith for less heat(note that the pepper's flesh still holds some heat).
Troubleshooting the heat. If you find a dish too spicy after adding the peppers, you can balance the heat by adding some lemon juice or vinegar for acidity, sugar for sweetness, or cream or cheese for a touch of fat.
Prevent skin irritation. To avoid any skin irritations caused by the peppers, wearing gloves when handling them is best. Wash the affected area thoroughly with running water if you encounter a skin-burning sensation.
Do not overcook. Be mindful of the cooking time, as overcooking can make peppers bitter. Add them to the cooking process's end to retain their maximum flavor and a slight crunch.
The bottom line: Jalapeno vs Serrano
Since both these chili peppers are hot, with the similar punch(Again, serrano peppers are slightly hotter than the jalapenos), typically, these are great additions in most of the recipes.
However, if you are thinking about precise instructions, jalapeno peppers are excellent to use in any recipe, while serrano peppers are a great addon for authentic Mexican style dishes.