Paruppu Vadai or masal vadai, whatever name you call it, it doesn't matter. Popular and delicious food will be always called by different names in different regions. This is the most popular street food in Tamil Nadu and the best snack to have it with Tea. It is also a tasty side dish for the South Indian lunch menu.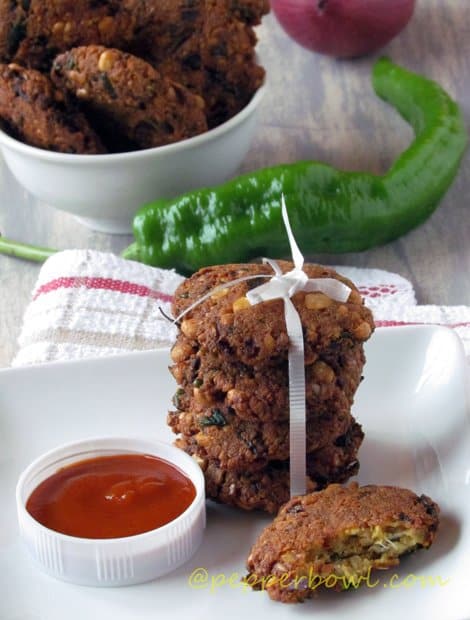 Bengal gram(Split chickpea) is rich in proteins and it is ideal for kiddos too. It is freezing rain outside and masal vadai in this weather...hmmm.. makes me swim in the clouds.
The other South Indian snacking recipe of Crispy Pakodas, Easy Murukku, Namkin Pare could help you surprise you guests instantly. Let's dive into the recipe now.
Jump to:
What is Paruppu vadai?
This is the combination of words from the language Tamil, a widely spoken language in South India. To explain this term, we are diving it into three words. The first one 'paruppu' is translated to the lentils. This is actually is Bengal gram or chana dal in Hindi. 'Vadai' refers to the authentic Tamil style deep-fried fritters.
To put it all together Paruppu vadai is the traditional Indian fritters made with Bengal gram. One of the important snacks that you get from the roadside vendors.
A great crowd-pleasing recipe. If you have a party or potluck at home, you can make this for the huge crowd effortlessly. At the same time is very delicious as well.
How does this masala paruppu vadai taste like?
This is spicy, crunchy, crispy outside and soft, moist inside. It is a mixture of beautiful flavors, like garlic, ginger, cilantro, curry leaves. It is something like a vegan bean patty from the United States restaurants but packed with tones of flavors.
Key Ingredients
Kadalai paruppu: Chana dal/Bengal Gram/Split chickpea. This gram is perfect to make a crispy deep-fried snack. Soak at least for two hours to get the perfectly done vada. This looks yellow in color, and hence it is more appetitive with the super luscious golden color crust. I do not find a close substitute in Indian ingredients. You can get them from the Indian stores. It has a long shelf time, so you can store for up to a year in kitchen counters.
Ginger & Garlic: Fresh ginger and garlic are great for making this recipe. And now, ginger is commonly found in leading grocery stores. If not you may skip this flavorful ingredient.
Cilantro: This fresh herb makes the dish to smell more genuine with the bold Indian flavors. If you have a chance to visit Indian stores, grab the cilantro from there. I find the Asian store's cilantro has more robust flavors than the others.
Curry Leaves: As I always say, curry leaves are hard to find outside the Indian stores. You may skip if you do not have at home.
How to make South Indian lentil fritter crispy?
This is one of the important questions that you have in mind when you are landed here in this post. Getting them crispy is not involves any techniques or secrecy.
The chana dal has to be soaked perfectly to achieve nongreasy crispy vadas. Soak for one and a half to two hours. Try to break it between your thumb and forefinger with the nail. It has to split into two or three portions easily.
Over soaked dal leads to soggy and oily masal vada.
How to make Paruppu vadai?
Preparing: Soak the Bengal gram for the minimum for 11/2-2 hours. This stipulated time is perfect for the crispy, tasty vadai. If it is soaked for a longer period of time, it can be soggy and can absorb more oil while frying.
Then wash and rinse a couple of times until clear water is seen. Drain and keep aside.
Grinding: In a mixer blender, add chopped ginger, garlic, fennel seeds, cumin seeds, red chili, green chili, salt, and drained Bengal gram.
Grind it until it becomes a coarse and in thick consistency.
Note-Do not add water, the moisture for the soaked paruppu is more than enough for the consistency.
Mix: In a mixing bowl, add the ground mixture, chopped coriander leaves/cilantro, curry leaves, finely chopped onions.
Taste and adjust the salt.
Divide into equal sized small balls.
Deep-Fry: Heat oil in a heavy-bottomed pan. When it raches hot enough for frying,
Press each ball between the palms and gently slide into the cooking oil. In the medium flame, cook it until all the sides are golden brown in color.
Serve: Transfer these vadas to the kitchen towel, to remove the excess oil. Serve hot with coconut chutney or tomato ketchup.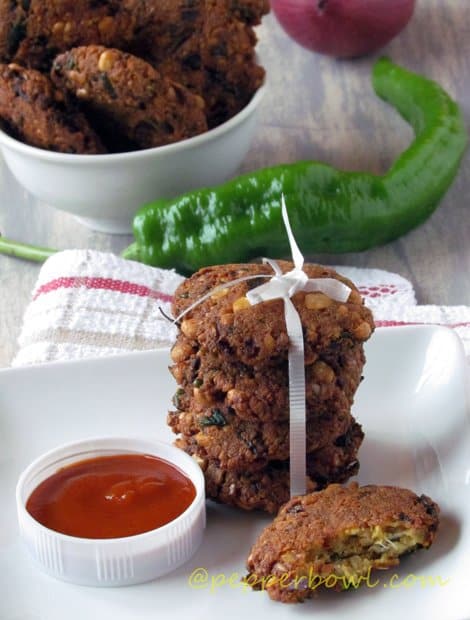 Do not forget to check out other interesting South Indian snack recipe, Banana Bonda.
Printable recipe card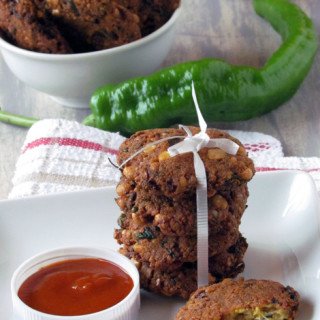 Paruppu Vadai - South Indian lentil fritter
Paruppu Vadai or masal vadai whatever name you call it, it doesn't matter. Popular and delicious food will be always called by different names in different regions.
Print
Pin
Rate
Ingredients
For prepping
1

cup

chana dal

/ split chickpea-soaked for 2 hours
For grinding
1

teaspoon

fennel seeds

1

teaspoon

cumin seeds

2

tablespoon

ginger

roughly chopped

4

cloves

garlic

½

teaspoon

salt

or as required
For making
1

onion

finely chopped

10

curry leaves

chopped

1

green chili

/ serrano pepper-minced
For deep frying
4

cups

vegetable oil

for frying
Instructions
For grinding
Soak chana dal for about 2 hours.

In the blender jar, add ginger, garlic, fennel seeds, cumin seeds, red chili, soaked chana dal, and salt.

Grind it to a coarse mixture.
For making
In a mixing bowl, add this ground mixture, finely chopped onion, curry leaves and minced green chilies.

Make small 20 balls out of the mixture. And take a chana dal mixture ball, and pat it to a thin flat circle by pressing in between your palms.
For deep frying
Over medium heat, place a pan and add vegetable oil.

Once the oil becomes medium hot, gently slide the chana dal vada into the oil.

Without crowding the pan add upto five-seven vadas-accoding to the size of the pan.

Deep fry them until the vada becomes crispy on both the sides, by flippinng them occasionally.

Serve hot with coconut chutney.
Notes
Do not soak more thant 6 hours. Then the vada absorbs more oil while frying.
Nutrition
Calories:
322
kcal
|
Carbohydrates:
35
g
|
Protein:
8
g
|
Fat:
18
g
|
Saturated Fat:
13
g
|
Sodium:
333
mg
|
Potassium:
112
mg
|
Fiber:
12
g
|
Sugar:
3
g
|
Vitamin A:
202
IU
|
Vitamin C:
70
mg
|
Calcium:
113
mg
|
Iron:
2
mg
Serving Suggestions:
1. It is a crowd-pleaser recipe, Best for making South Indian Parties. 2. Usually served as a snack for the evening time or as a side dish for lunch in South Indian homes.
Tips and Variations for paruppu vadai:
1. If the Bengal gram/ kadalai paruppu soaked for longer than the prescribed time, then it may be consuming more oil, while frying.
2. Fry the vadai/fritter in medium flame, these makes the vadais to cook completely.
3. For a very crispy version, pat the vadai mixture into flat circles before frying them in oil.
4. In our home, we call them as amai vadai(maybe it resembles tortoise shell shape pattern), to get this pattern, we need to keep the ball mixture in between the center of our palms and press them gently to get, elliptical shape, makes the amai vadai, crispier extremes and softer in center.
Liked this Masal Vadai recipe? Follow us on Facebook, Pinterest, Instagram