Masala Pori Recipe-Spicy puffed rice, is a crispy and spicy snack. I love to have a bowl of masala pori to be my side when I watch horror or thrilling movies at home. This is an Indian puffed rice snack which keeps you to take a break from your daily chores. I'm telling you, you will be out of the world for sure 🙂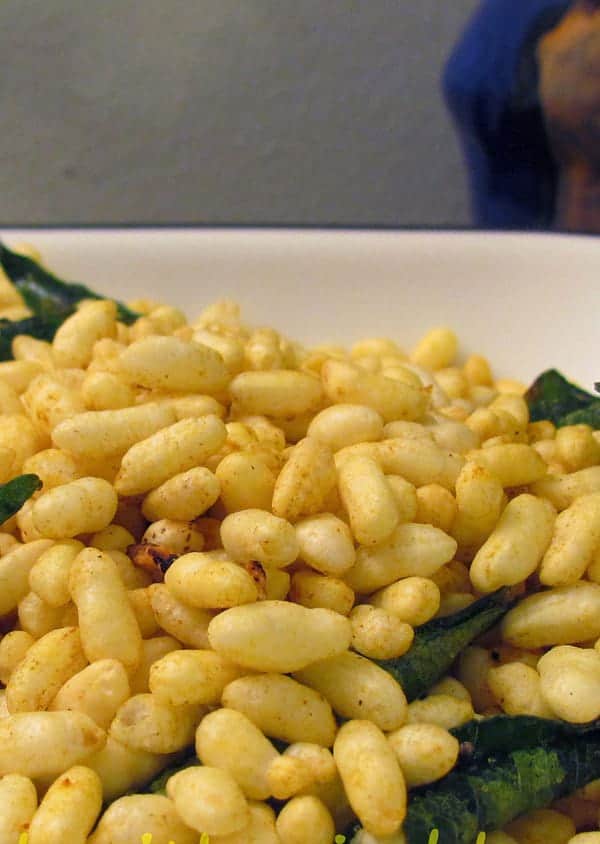 This snacking recipe is great nongreasy, low-fat evening snack and can be prepared in minutes. This is the basic preparation and can be customized to everyone's taste.
Searching for other munchies for the evening? try these crispy pakoda, mini murukku etc.
What is masala pori?
Masala pori is an Indian puffed rice snack made with mild spices. This is the savory version of Rice Krispies.
Moreover, this is a low-calorie filling snack, to the outside world; this is one of some less known traditional foods and dishes from India. Contradictally very famous street food in Bengal and as well as in South India.
What do people eat for breakfast in India? Well, it varies according to the region. But this puffed rice is considered as breakfast in Eastern India. This masala pori recipe is similar to 'Bengali Jhal Muri', which is also called as 'Spicy Murmura'(Spicy Puffed Rice) in other northern and western part of India.
This is one of my favorite Indian snack, which I stock in my pantry. This recipe is versatile; it serves as a quick snack, I throw this as a topping for my salad or soup.
I eat a handful masala pori, whenever I feel hungry in between my meals. This is one of my recent find from my old recipe book to solve my evening craving.
How does masala pori tastes like?
This puffed rice recipe-Indian style is crisp with the dominant flavor of turmeric and garlic. Which smells and gives a pleasure of munching like popcorn. If you are looking for a Friday movie night's exotic snack, this is for you.
Or pack this for the long driving, which helps me to feel that I'm not stuffing my stomach with some junk food. I will come up with another post, to talk about what I pack for the long travels.
Variation
The is the base recipe and has tonnes of possibilities to convert to various dishes. These are some of my recommendations, and you can go way beyond these.
Add roasted peanuts, which is an attractive addition which adds texture, color, and the taste. And to view this in the health point of you, it also adds up the proper amount of protein.
Add roasted chickpea/chutney dal, this is the authentic add on for Masala pori. I still remember we all have been served pori(puffed rice) with roasted chickpea. I do not know why it is not in the habit anymore. Is it because of the flavor of roasted chickpea's character is strong? I do not know, but in recent days, this has been swapped with roasted peanuts. These are good also, so no complaints.
Add in grated vegetables like carrot, cabbage, cucumber, onion, etc. Toss them together, and serve immediately. This is the healthy variations, and this way I make when I'm preparing a full-fledged evening snack.
Serving suggestion
Serve this is a self-sufficient munching snack.
When serving with finely chopped vegetables, you need to make sure to serve immediately. Because the puffed rice absorbs the moisture and becomes soggy very quickly than you expect.
Mixing with nuts is the high nutrient-rich option of serving this masala pori. This addition makes it drool-worthy, healthy, and makes it a filling snack.
Making a fruit salad, add this spicy garlic puffed rice as a crispy topping: the texture and its taste compliment well with the fruits.
Are you searching for an exotic salad topping? Add these as the top layer in your salad and expect for pleasing results.
Masala Pori Recipe
Masala Pori Recipe yields crispy and spicy snack. I love to have a bowl of masala pori to be my side when I watch horror or thrilling movies at home.
Print
Pin
Rate
Ingredients
2

Cups

Puffed Rice

2

tsp

Cooking Oil

2

Cloves

Garlic

8

Curry Leaves

1

tsp

Turmeric Powder

1/4

tsp

salt(as required)
Instructions
Gently crush with its skin.

In a big pan add cooking oil, crushed garlic, and curry leaves.

Once the garlic becomes fragrant, add turmeric powder.

It's the time to add puffed rice.

Now a big bowl of masala coated crispy puffed rice snack ready.

In medium flame, stir for 3-4 minutes till the puffed rice becomes crispy and flavorful.

Serve immediately or store in air tight container.
Notes
Serve as a tea time snack, add chopped cucumber, tomatoes or shredded cabbage finally to make this snack more healthy.
Test for the crispiness of the puffed rice before stirring. If it is not crispy, stir them in the hot pan for a couple of minutes, by stirring them constantly.
Nutrition
Calories:
59
kcal
|
Carbohydrates:
8
g
|
Protein:
1
g
|
Fat:
2
g
|
Potassium:
13
mg
|
Vitamin A:
75
IU
|
Vitamin C:
40.5
mg
|
Calcium:
11
mg
|
Iron:
2.6
mg
Do not forget to check out another healthy recipe of Baked Peanuts, here in PepperBowl.
If you are searching for other authentic recipes? visit how to make ven pongal.
Liked this Masala Pori Recipe? Follow us on Facebook, Pinterest, Instagram