Masala raita, a simple side dish from Indian cuisine, is best served with rice or grilled meat. This delicious, spicy dipping sauce is made with yogurt and warm Indian spice powders. It's an easy and super delicious side dish that requires a few minutes to assemble.
This spiced masala raita recipe is a classic simple dish I always rely on when I have a few minutes to make the meal. This raita recipe perfectly pairs with any spicy main course, like nachos or spiced rice recipes.
On the other hand, this recipe is soy-free, nut-free, and low-carb, but we have more options to convert to other dietary concerns.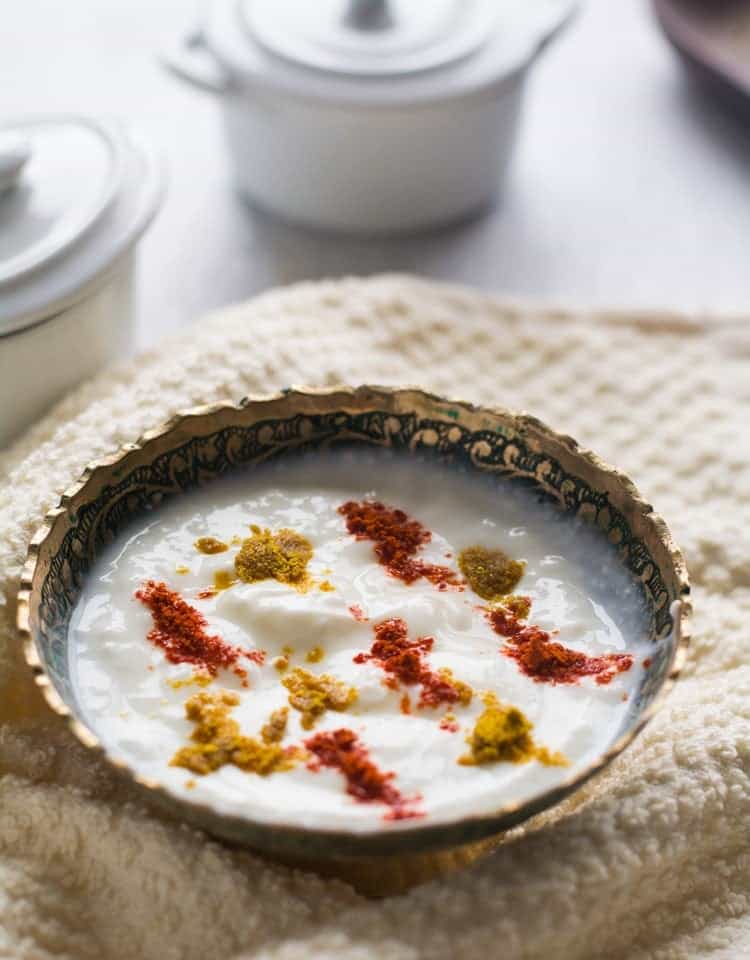 Raita is a yogurt sauce usually made by combining other vegetables and spices. And masala raita is a spiced yogurt sauce.
What and how does this taste like?
This masala raita tastes spicy but not hot, but we could feel the warm spice blend but not hot as in 'heat.' This spice, the cooling property of the yogurt, and the roasted cumin powder make the sauce an excellent and addictive finger-licking taste.
Usually, I ended up making this raita masala more often than I planned. The first and foremost reason is that it's my family's favorite, and next, it's super fast to whip up.
Other raita recipes you may like,
Any main course tastes excellent according to the side dishes served. But only a few could pair with any main dish. This masala raita tastes exceptionally good with naan, roti, biryani, and tomato rice.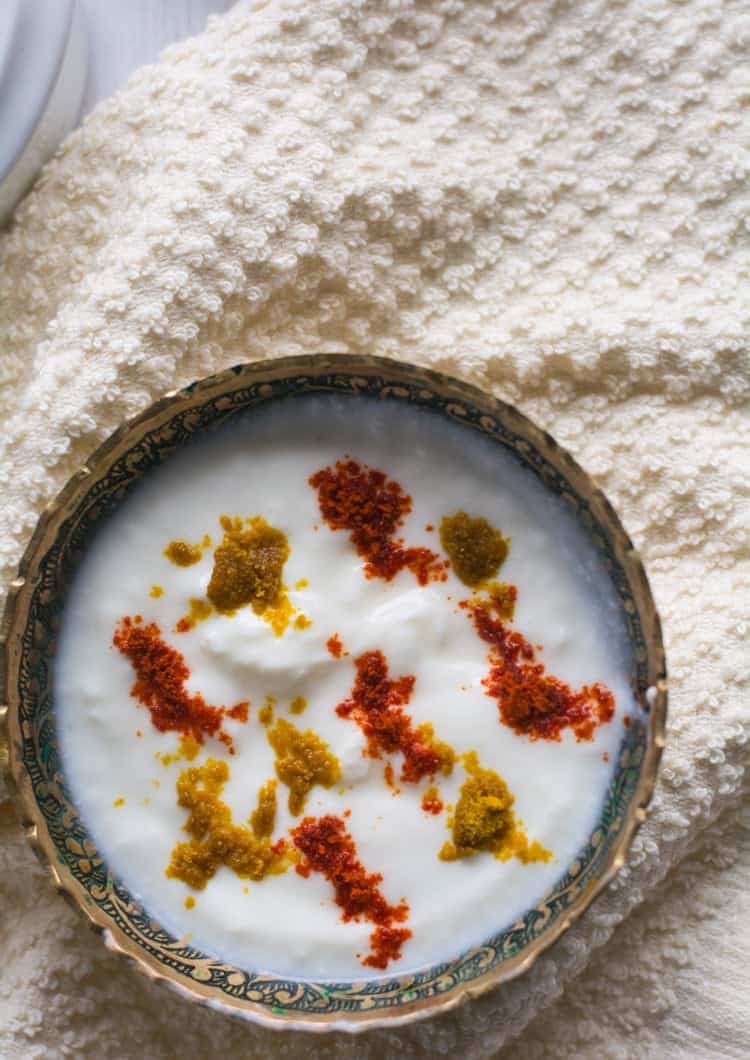 How to make masala raita?
I usually make this spiced yogurt sauce directly into the small serving bowls that give a pleasing appetitive look. Plus, the work involved is the same when making in the mixing or serving bowl. I love using yogurt whenever possible, and I always have a stock of plain yogurt in my refrigerator.
Ingredients
Yogurt. Plain yogurt is a must for any raita as the flavored yogurt contradicts the flavors of the spice mix here. This is an Indian recipe, and Indian cuisine mostly requires plain yogurt. However, feel free to use your favorite low-fat, no-fat, or full-fat yogurt, but make sure it is plain yogurt.
Red chili powder. This is the Indian red chili powder. If you feel it is too hot to handle, substitute it with paprika or cayenne pepper.
If you do not have red chili powder for the raita, you may substitute it with half a quantity of cayenne pepper and half a quantity of paprika.
Coriander powder. This gives a robust flavor to the recipe; I would strongly advise not to skip this spice.
Ground cumin. Any store-bought cumin powder is OK here. A little more do not go overboard in adding more than the specified amount, as it can turn the masala raita bitter. This is also called jeera powder.
If you have cumin seeds, you can make roasted cumin powder by dry roasting cumin in the pan. Grind to a fine powder using a spice jar or mortar and pestle.
The raita recipe directions
Arrange. Arrange the serving bowls in a tray.
Fill. Pour about four tablespoons of yogurt into each bowl.
Sprinkle. Start by sprinkling salt, then red chili powder, coriander powder, and ground cumin.
Serve. Serve raita along with any spicy main dishes.
Pro Tips
Here, I have added chili powder to add color and heat to the dish. Adjust it according to your taste buds. To make this raita more healthy, use nonfat yogurt. Or, if it is homemade, remove the creamy layer and use it.
Any main course tastes excellent according to the side dishes served. And this masala raita tastes exceptionally good with naan, roti, biryani, or this Tomato rice.
Sprinkle pepper powder, chopped coriander leaves/cilantro, or store-bought masala powder to enhance this raita.
Where to get the spice powders? You can get in the Indian stores or the international aisle in leading grocery stores.
Variations.
For the variations to this masala raita recipe-substitute salt with black salt. The black salt has a unique aroma that boosts Indian flavors.
Add garam masala or chaat masala. Each ingredient brings out an entirely new taste and flavor in raita.
Try adding different spice powders every time you make raita and enjoy feeling a new taste each time.
Add salad vegetables like cucumber, carrot, and sweet pepper to make a new side dish with the same base masala raita recipe.
Sprinkle minced mint leaves or cilantro.
To make vegan raita by swapping regular yogurt with plant-based yogurt.
Best to serve with
This masala raita is best to pair up with spice foods. To name some, here are my hand picks.
Printable recipe card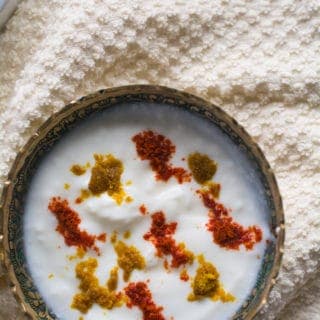 Masala raita
Masala raita, a delicious side dish from Indian cuisine, best to serve with the spicy main dish. This spicy dipping sauce made with yogurt and masala mix.
Print
Pin
Rate
Ingredients
1

cup

plain non-fat yogurt

/ curd

¼

teaspoon

salt

¼

teaspoon

red chili powder

¼

teaspoon

coriander powder

¼

teaspoon

cumin seeds

roasted and ground
Instructions
In a serving bowl add yogurt.

On the top add salt, sprinkle red chili powder, coriander powder, roasted cumin powder

Serve masala raita immediately
Nutrition
Calories:
47
kcal
|
Carbohydrates:
6
g
|
Protein:
4
g
|
Cholesterol:
1
mg
|
Sodium:
260
mg
|
Potassium:
208
mg
|
Sugar:
6
g
|
Vitamin A:
65
IU
|
Vitamin C:
0.7
mg
|
Calcium:
163
mg
|
Iron:
0.2
mg
**Disclaimer: The nutritional information provided is an approximate estimate only.
Do not miss the latest recipes and its tips, Follow us on Facebook, Pinterest, Instagram