Mashed chickpea salad, is a satisfying and most comfortable recipe. That has become one of my favorite recipes now.
This is one of the easiest and most versatile recipes that can be transformed into any form. This can be modified as stuffing for your sandwich wrap. It can be served as a guilt-free and gluten-free dip for an appetizer.
It is made with the most vibrant ingredients. Yes, it is made with all the garden-fresh vegetables. And it is springtime; you will get a variety of vegetables perfect for this mashed chickpea salad.
I made my mashed chickpea salad with cucumbers, celery, carrot, tomato, and onion. But you may add any vegetable that is available to you. You may throw in avocado or asparagus beets or any other vegetables.
Want to sit back and relax? serve this salad as a wrap, without compromising on the taste. A guilt-free salad recipe is a simple dish.
Why do I prefer mashed chickpea salad?
Spring brings all the vibrant vegetables to the market. And I cannot stop grabbing all the vegetables by looking at their freshness. Buying all the vegetables does not mean I will spend my entire day in the kitchen cooking and cleaning.
Another factor I was diving into vegetables is that I want to shed my winter pounds.
I do not want to stuff myself more weight with unwanted fatty food. I was looking for exciting, straightforward recipes to use vegetables to make my dish skinny. Finally, I found this mashed chickpea salad recipe nearer to my heart.
Other chickpea recipes you may like,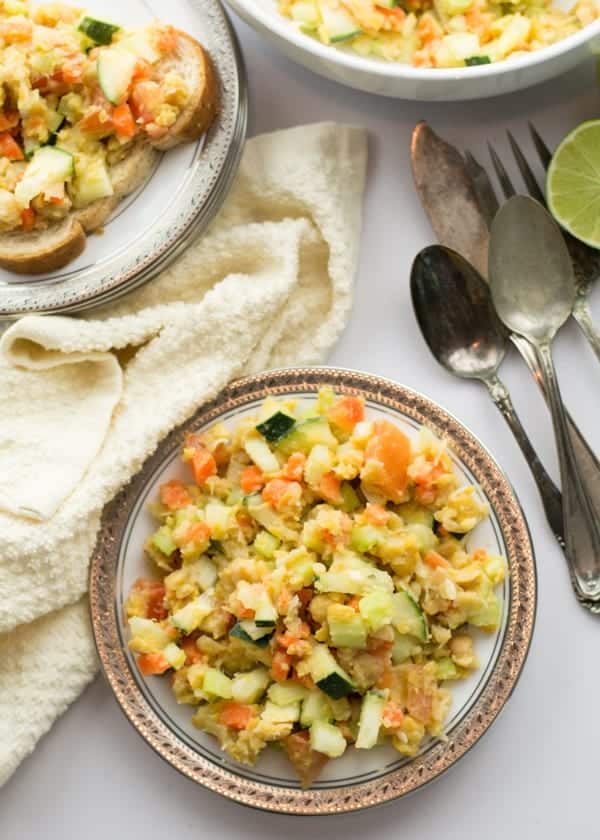 This mashed chickpea salad is another solution to today's problem.
I started making delicious salads So that I could munch on and on until I felt full.
A great advantage is having this as an essential ingredient. You can make several other recipes. Give your regular dish a makeover with smashed chickpea salad. And create a more refreshing experience for everyone.
Chickpeas, also called garbanzo beans, are available in all the stores. Make this for parties or a large crowd with the most refreshing ingredients. Perfect on-the-go food for summer with a wrap or sandwich.
How to make mashed chickpea salad
Mash the chickpeas. Chickpea need not be crushed smoothly. It can be coarse with visible chunks.

Combine. Add a bowl of finely chopped onion, tomato, carrot, cucumber, lemon juice, and salt. Combine them well until all the ingredients blend.
Store. Store the leftovers in an airtight container in the refrigerator. And it is good to use for a couple of days.
Pro Tips
Soak the chickpea for 8 hours if you are using dry chickpeas. Then, cook them until soft.
If you use the pressure cooker, cook it on a medium flame for 15 minutes.
If you use an Instant Pot, cook it on a manual timer for 15 minutes.
And if you are using the slow cooker, soaking is unnecessary. Add chickpea and 2.5 times water with salt. Let it cook for 4 hours until it gets soft when touched.
You may also use canned garbanzo beans, otherwise also called chickpeas.
Variations for this mashed chickpea salad:
I have added fresh vegetables like onion, tomato, carrot, and cucumber. You may add any vegetables that are available at the moment of making.
You may add mustard sauce to enhance with a punch.
I have not added Tahini sauce, mayo, or any cheese to make it low-calorie as far as possible. But add if you prefer.
Believe me, this Mashed chickpea salad tasted delicious. But you may add cheese or sour cream if your calorie chart permits.
You may add Greek yogurt to make it creamy and rich.
Printable recipe card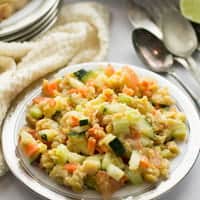 Mashed Chickpea Salad
Mashed chickpea salad, a Mediterranean style vegan recipe. Made with cucumber, carrot, tomato, onion. Serve this salad as warm or cold.
Print
Pin
Rate
Ingredients
11/2

cup

cooked chickpea

/15oz garbanzo can

¼

cup

onion

or celery

¼

cup

cucumber

¼

cup

tomato

¼

cup

carrot

2

tablespoon

lime juice

½

teaspoon

salt

/adjust the salt for canned chickpea
Instructions
In a mixing bowl, add cooked chickpea.

Mash it until it becomes coarse.

Add chopped onion, cucumber, carrot, tomato, salt, and lime juice.
Notes
You may add mustard sauce to add spiciness.
You may also also tahini sauce, mayo or feta cheese to make this salad more exotic.
Substitute green peppers with jalapeno to add heat.
Nutrition
Calories:
211
kcal
|
Carbohydrates:
33
g
|
Protein:
11
g
|
Fat:
4
g
|
Saturated Fat:
1
g
|
Sodium:
634
mg
|
Potassium:
403
mg
|
Fiber:
11
g
|
Sugar:
1
g
|
Vitamin A:
1482
IU
|
Vitamin C:
13
mg
|
Calcium:
82
mg
|
Iron:
3
mg
**Disclaimer: The nutritional information provided is an approximate estimate only.
Liked this recipe? Follow us on Facebook, Pinterest, Instagram.