A warm welcome to the Spring's color green, which is always a center of attraction stopper at any party. This Indian Mint chutney for dosa recipe is a versatile condiment that goes with any dish, you name it.
This is perfect for serving South Indian breakfast food like Idli, dosa, and appam, or North Indian dishes like roti, paratha, samosa, chaat, and rice. Serve as a dip or as a spread; I can't stop myself when talking about its versatility.
This spicy mint chutney is silky, smooth, hot, and slightly tangy; alternatively, it is the perfect blend of all tastes. Ideal for a hungry crowd. It is made with fresh mint leaves, cilantro, serrano peppers, and lime juice.
Making the mint chutney recipe is a joyful way to celebrate spring. And it officially springs here in Pennsylvania. And I have already started noticing the beautiful garden transformation around my home. The grasses and the bushes started with their baby leaves.
And it is also the perfect time to enjoy the greens inside our kitchen. This Mint chutney is one such recipe to celebrate the spring healthily.
Are you searching for a side dish or condiment recipe everyone likes, whether at a family gathering, party, or potluck? This cilantro-mint chutney recipe would be the supreme choice that everyone will fall in love with.
You may check these easy chutney recipes,
cabbage chutney, mango chutney, celery chutney, radish chutney, tomato chutney, coriander chutney, garlic chutney, Coconut chutney.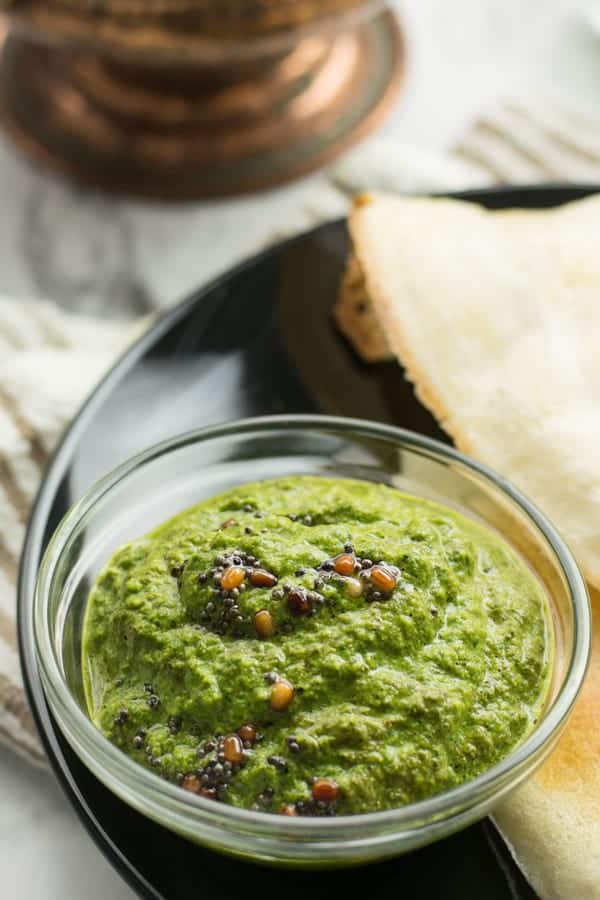 Mint chutney is called pudhina chutney in India, as you might come to know. And it is made in different ways across the other regions. This version of chutney is universal and would ideally fit North and South Indian cuisines. Furthermore, it is ideally suited to serve as a condiment for Western dishes.
If you love real food and love to have your food on the healthy side, I promise this mint chutney recipe is for you. Do not hesitate to use this chutney as a salad dressing, dip for the nachos, or as a sidekick to grilled chicken. All the ingredients listed here have medicinal qualities, so it is healthy to try. So spread the positive energy with this brilliant chutney.
We make this in various ways, with coconut, onion, lentils, etc. But the essential ingredient remains the same.
I have made the best mint chutney for dosa, making it accessible even in the non-Indian kitchen and with the ingredients available in our general grocery stores.
Benefits of Mint Chutney
This has come with multiple positive factors,
First of all,
It is very healthy, with only fresh herbs as the main ingredients.
It is cool and refreshing.
Simple to make, in less than 15 minutes.
Easily available ingredients.
It does not require cooking skills, making it easy for beginners to try their hands.
Finally, it is delicious.
How does this mint chutney taste like?
This recipe is an excellent example of a typical Indian recipe. It is a bundle of flavor and rejuvenates the taste buds. It is delicious with the fresh aroma of mint and cilantro with a hint of lemon flavor.
Can I make Mint chutney in advance?
Obsoletely you can, assembling and grinding part is easy as it would take less than 5 minutes. The only time-consuming part of the recipe is cleaning mint and cilantro leaves. So, you may wash, rinse, and refrigerate it a day before blending.
How to preserve mint chutney?
You can stock this by refrigerating or freezing. This can stay fresh for about 2 days when refrigerated and is good to use for up to 2 months when frozen. Be sure to store them in an air-sealed container for the best results.
Serving Ideas
Best to serve as a side dish for Idly, Dosa, paratha, and rice.
It is also an ultimate condiment for samosa and chat items.
Use as a spread to make a mint chutney sandwich like this coriander chutney sandwich.
It would be out of the world if served with grilled chicken or tandoor dishes.
Variations
Since this is the base recipe, it can be modified into multiple means with the addition of other ingredients. These are the common variations that are authentic to different states of India.
Add coconut to this recipe while grinding. And this is how South Indians usually make.
Swap lemon juice with tamarind pulp; this is one of my favorites.
Replace serrano peppers with Thai green chilies or red chilies.
Lemon juice can also be substituted with tomato. This tomato mint chutney increases the volume of the chutney.
Season with oil-fried cumin seeds or oil-fried mustard seeds.
Whisk in yogurt/curd and chutney, which would be impeccable to serve with tandoori or grilled dishes.
Each of these substitutions or additions makes the chutney take different faces, but all of these are enjoyable.
Mint Chutney- Ingredients
These are the main ingredients
Mint leaves. Fresh mint leaves are required to make the best use when available in the spring and summer.
Cilantro. Another herb that compliments well with the mint leaves, The cilantro subtly down the mint's original overpowering flavor. It also gives the chutney a good texture.
Garlic. This is a flavor enhancer; a tiny bit of garlic would do wonders here.
Lemon juice. This is added to give a nice kick. You may substitute lemon juice with tamarind pulp or tomato.
Green chilies / Serrano peppers. These make the taste wholesome. If you cannot bear the heat, deseed before using them. On the other hand, if you prefer to have a hot mint chutney, add in extra serrano peppers.
How to make
Wash and clean. Rinse at least 2-3 times before using. Also, remove the stalk.
Cook. This step is to remove any raw smell of the mint. In a pan, add garlic, mint, and coriander leaves. In medium flame, cook for 2-3 minutes or until the herbs shrink to half their original size.
Cool. Allow till it reaches room temperature, which makes it easy to handle when blending.
Grind. Add serrano peppers, garlic, lemon juice, and salt in a blender. Add water. Water decides the consistency of the chutney. Add according to your desired consistency. Grind it until it becomes smooth and silky.
Serve. Transfer to a small container and serve.
Printable recipe card
Mint chutney recipe
This healthy Mint chutney recipe is a versatile condiment that goes with south Indian breakfast food like Idli, dosa, appam or North Indian dishes like roti, paratha, samosa, chaat, rice. It also tastes great when serving as a dip or spread.
Print
Pin
Rate
Ingredients
1

teaspoon

Vegetable Oil

1

clove

Garlic

small size

2

Serrano pepper

/green chili

1

cup

Mint leaves

fresh and loosely packed

½

cup

Cilantro

fresh and loosely packed

½

teaspoon

Salt

or as required

1

tablespoon

Lemon juice

⅙

cup

Water

or as needed
Instructions
In a pan add vegetable oil, garlic, serrano peppers, mint leaves, and cilantro.

Cook until mint leaves shrink down to half.

In the blender, add the cooked mixture, salt, lemon juice, and

water.

Grind it until it becomes smooth.

Transfer to serving the dish and serve.
Notes
Mint leaves and cilantro has to be 2:1 ratio. But slight changes in the proportion will not make any noticeable changes in the taste.
Collect only the leaves and remove the stalk of the herb.
Wash and clean, mint and cilantro leaves.
Nutrition
Calories:
21
kcal
|
Carbohydrates:
2
g
|
Fat:
1
g
|
Sodium:
296
mg
|
Potassium:
83
mg
|
Fiber:
1
g
|
Vitamin A:
640
IU
|
Vitamin C:
7.2
mg
|
Calcium:
27
mg
|
Iron:
0.6
mg
**Disclaimer: The nutritional information provided is an approximate estimate only.
Liked this recipe? Follow us on Facebook, Pinterest, Instagram.