Paneer Manchurian means cottage cheese in hot and sour gravy. This is a popular fusion recipe in India made using the Chinese cooking method. Healthy food and you won't be sad to eat.
An easy weeknight dinner. Perfect to go with any dish. It can be served as an appetizer or as a side dish. Not a guilty food that has all the goodness of milk.
Have you ever tried a Chinese recipe which is called the influence of India? Have you ever tried a Chinese food recipe that is most popular in South Asian countries like India and Pakistan? Then you should try this Paneer Manchurian.
This is one of the most popular vegetarian recipes in India. Made with cottage cheese, pepper, green pepper, and soy sauce. But it is still skinny compared to that of any cheesy dishes.
Ready-made mixes may also be available in your local Indian store. But you can make your own Paneer Manchurian, which has significant leverage of adjusting the ingredients according to your preferences.
I advise making the sauce at home rather than getting it from the stores. It is a simple task that you could make within 5 minutes. If all the ingredients are ready, you can make this paneer Manchurian within 10 minutes. The best way to surprise guests or have lazy dinners.
It is not necessary that you need to sweat a lot or be in the kitchen for a long, long time to make an exotic dish. The main factors required to complete an exotic dish are having the right recipe and planning. Planning before cooking makes cooking a pleasant experience in the kitchen.
Are you interested in looking into other Indo-Chinese recipes?
Chinese wonton with veggies, spicy Szechuan noodles, cabbage manchurian, tofu steak recipe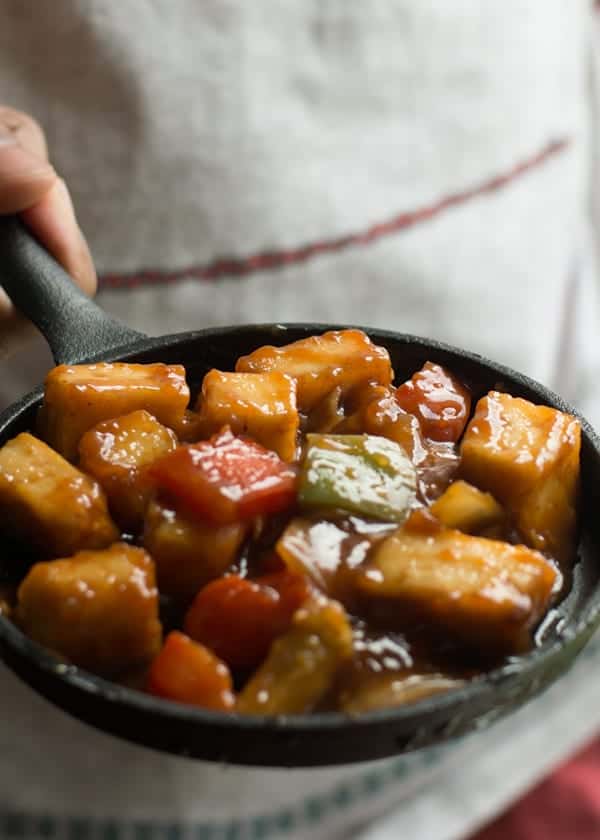 Suffering yourself to make your family happy with the food is irrelevant. All you need to do is to be more innovative and wiser than the hard worker. And still, make your family and guests happy.
And this Paneer Manchurian is such a recipe, all these introductory lines of perfect matches. If you make it once, I bet you will also accept these words I say here.
Furthermore, you know I'm the person who wants to spend the least time in the kitchen. And this is the most Wanted item in our household. This is a tasty dish for my son and an effortless dish for myself.
To make this recipe, all you need is handy with ingredients like cottage cheese/paneer, soy sauce, sriracha sauce, cornstarch, green peppers, and onion.
The key ingredients for paneer Manchurian:
Cottage cheese/paneer: Paneer is homemade cottage cheese, which is very popular in India. It's easy to make it home with vinegar. Alternatively, you can get them in your nearby Indian stores in the Frozen aisle.
If Indian stores are not accessible to you, you can make your cottage cheese at home by curdling the milk with vinegar. Strain them for 2 to 3 hours in a cheesecloth. And cut them into cubes. There are multiple videos available online on how to make paneer at home. I will also, soon come up with the recipe for making it.
Soy sauce: It is not an International Ingredient anymore. It is available in almost all the leading grocery stores in the United States.
Sriracha Sauce: Same as soy sauce, sriracha sauce may now be available in your nearby grocery stores.
The other ingredients for Paneer Manchurian are very generic and may be available in most out pantry.
What is Manchurian?
Manchuria is a state in Northeast China known for its spicy dishes. but I did not know the origin or story behind the Manchurian recipe. I did not see how this is authentically made or prepared in the Chinese States. But this is how Manchurian is made and served in India. It is a trendy dish among vegetarians in the country.
What is Paneer Manchurian?
This Indian-style Chinese recipe has been famous in India for over half a century. Now, it is gaining popularity slowly around the world. Paneer is a Hindi word that refers to the homemade cottage cheese. This is a fusion recipe between the Indian ingredient 'Paneer' made in Chinese style cooking. This is a vegetarian and high-protein dish suitable for all ages.
What does paneer Manchurian taste like?
This dish tastes like a cheese ball in a sweet and sour gravy. You can understand what it tastes like if you have tried hibachi or Chinese food. The sauce does have a sharp taste of soy sauce and the sharp taste of sriracha sauce with flavors of green pepper. The sauces taste extremely good with paneer.
What is the main course to pair with?
Paneer Manchurian is best served with Indian flatbreads like roti, naan, chapati fried rice, or steamed rice or noodles.
Easy variations:
Many variations can be made for the paneer Manchurian recipe by adding different ingredients. Each additional component brings out a whole new flavor in the dish.
You may add chopped ginger, which brings out the wholesome tropical flavor.
You may also add green pepper, yellow pepper, and red peppers. These three peppers together make the dish look exotic and vibrant.
It makes it worth serving for a party or a large crowd. In addition, this is an easy recipe that satisfies the entire crowd.
Few tips for making Paneer Manchurian gravy:
A small amount of cornstarch will thicken the gravy more than you expect, so add one teaspoon of cornstarch and wait to see its results. Then, you may add more diluted cornstarch to thicken the gravy.
You may add shallow-fried paneer. By this, the paneer becomes firm and crisp, which makes it tastier. I always like to add that shallow fried paneer than the fresh ones. The Indian store also carries fried paneer and as well as fresh paneer.
Make the gravy ahead if you plan to make it for parties. Add the paneer just before setting the table. This way, you may not end up in soggy Paneer.
You made refrigerate the leftovers for 4 to 5 days.
I advise you to reheat it over the stovetop and then the microwave. The microwave may cause the paneer to become stiff and rubbery.
How to make Paneer Manchurian:
Add two tablespoons of cooking oil in a pan, followed by a teaspoon of minced garlic. Saute until it becomes golden brown. Then, add diced red pepper, green pepper, and onion. Remove the layers of onion before adding.
Then add soy sauce, sriracha sauce, tomato ketchup, brown sugar, and diluted cornstarch. Bring it to a boil.
Then, add paneer cubes and cook until it reaches the desired consistency. Serve paneer Manchurian hot with bread, rice, or noodles.
Other related food,
Printable recipe card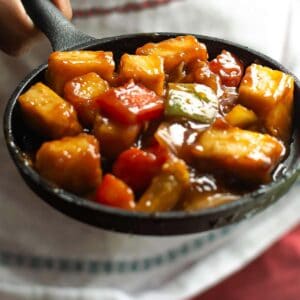 Paneer Manchurian
Paneer Manchurian is actually means cottage cheese in hot and sour gravy. This is a popular fusion recipe in India made using Chinese cooking method.
Print
Pin
Rate
Instructions
For prepping
Dilute 1 tablespoon of cornstarch with ½ cup of water and keep aside.
For making
Over medium heat, in a pan, add vegetable oil and minced garlic.

Saute until it becomes golden brown.

Now add diced green pepper, red pepper, onion and saute in medium heat.

Then add soy sauce, sriracha sauce, tomato ketchup, brown sugar, and diluted corn starch.

Switch to low heat, add paneer cubes and bring it to boil.

Stir for a couple of minutes until it reaches to the desired consistency.

Transfer to serving bowl and serve hot.

Notes
The gravy thickens up really fast, so cook low-medium heat.
Nutrition
Calories:
261
kcal
|
Carbohydrates:
9
g
|
Protein:
10
g
|
Fat:
21
g
|
Saturated Fat:
14
g
|
Cholesterol:
37
mg
|
Sodium:
1229
mg
|
Potassium:
110
mg
|
Fiber:
1
g
|
Sugar:
5
g
|
Vitamin A:
345
IU
|
Vitamin C:
26
mg
|
Calcium:
277
mg
|
Iron:
1
mg
**Disclaimer: The nutritional information provided is an approximate estimate only.
Liked this recipe? Follow us on Facebook, Pinterest, Instagram.